NBC Insider Exclusive
Create a free profile to get unlimited access to exclusive show news, updates, and more!
Sign Up For Free to View
6 Heartbreaking Deaths on Chicago P.D. That Fans Are Still Mourning
Sgt. Voight has been forced to make several heartbreaking goodbyes throughout the years. 
Deaths on Chicago P.D. are rare but always heartbreaking. Because One Chicago fans grow close with these characters over time, watching them pass is a rollercoaster of emotions. Granted, stakes are always high for Chicago P.D.'s fearless team, but when someone is killed in the line of duty, we enter a new ballgame. 
Some deaths in Chicago P.D. have been especially tough to handle. Below, see six of Chicago P.D.'s most heartbreaking deaths that had Chi-Hards reaching for the tissues. 
How did Julie "Jules" Willhite (Melissa Sagemiller) die on Chicago P.D.?
Jules Willhite is the first major death experienced within CPD's Intelligence Unit. She was killed in Chicago P.D.'s pilot episode, titled "Stepping Stone." Willhite died after suffering mortal wounds from being shot by the drug lord and criminal Adres "Pulpo" Diaz, who the squad later arrested in Season 1. 
Willhite might have been a short-lived character on Chicago P.D., but her death sparked a wild chain of events and left Sgt. Voight (Jason Beghe) shattered. Willhite was a wife, mother, and partner to Officer Antonio Dawson (Jon Seda), the brother of Chicago Fire's Gabby Dawson (Monica Raymund), so her death impacted many people. 
RELATED: The Biggest Villains from All 11 Chicago Fire Seasons
How did Alvin "Al" Olinsky (Elias Koteas) die on Chicago P.D.?
Detective Al Olinsky was a fan favorite for several early seasons of Chicago P.D. He was framed and murdered. 
If you've noticed a trend of Voight losing the people closest to him, Olinksy's tragic demise only hammers that point home further. Olinksy was one of the Intelligence Unit's most dedicated and resourceful detectives from Seasons 1-5 of Chicago P.D., helping arrest dozens of nefarious wrongdoers.
That said, everything went belly-up after an infamous gang member framed Olinksy for murder by planting his DNA on a body. Al was shockingly arrested, and before Voight could get justice, an imprisoned gang member mortally stabbed Al while he was in custody. After experiencing significant blood loss in the hospital, Al passed away from his injuries in Season 5. 
How did Detective Shelton Jin (Archie Kao) die on Chicago P.D.?
Detective Shelton Jin was a beloved character in Season 1 of Chicago P.D. and the squad's go-to tech and surveillance expert. Jin was found murdered in Season 1, Episode 15 ("A Beautiful Friendship"). 
In one of the biggest twists of the season, Jin is discovered to be a mole working for CPD's Internal Affairs Division. He was sent to spy on Voight and search for incriminating evidence within his belongings. As the Unit's longtime tech genius, it was a shocking revelation for Chi-Hards everywhere. Jin was eventually killed by the corrupt Internal Affairs director after he failed to gather enough evidence to arrest Voight. 
How did Anna Avalos (Carmela Zumbado) die on Chicago P.D.?
Anna Avalos was a cherished C.I. and close friend of Voight's throughout Season 9 of Chicago P.D. until she was shot and killed in the tear-jerking season finale. 
Fans met Anna in Season 9. Tasked with bringing down the Los Temidos gang, Voight saw potential in Anna and recruited her as an undercover investigator. Anna soon felt the hardships of undercover life, and she came undone in the Season 9 finale shortly after killing the gang's leader.
RELATED: What Happened to Vanessa Rojas on Chicago P.D. (and Chicago Fire)?
Sleep-deprived and distressed over the consequences of her actions, Anna accidentally shot Voight in the arm after hearing police sirens, leading Upton (Tracy Spirdakos) to shoot her twice in the chest. Viewing Anna as a daughter figure, a guilt-stricken Voight accompanied her to the hospital, where she was pronounced dead. Voight was left heartbroken and without a friend yet again. 
How did Nadia Decotis (Stella Maeve) die on Chicago P.D.?
Perhaps one of the most horrifying deaths in all of Chicago P.D. was that of Nadia Decotis, a former addict and administrative assistant for the Intelligence Unit. After turning her life around, Nadia was found murdered after being abducted and killed by a rampaging serial killer. 
Introduced in Chicago P.D.'s debut season, Nadia was an underage prostitute and drug addict who got support and changed her lifestyle thanks to her friend and later roommate, Detective Erin Lindsay (Sophia Bush). By Season 2, Nadia had excitedly taken a job as an administrative assistant for the Intelligence Unit, where she thrived while taking criminology classes to become a cop someday.
Everything changed as soon as Nadia landed on the radar of Gregory Yates, a serial rapist and murderer who also appeared in several episodes of Law & Order: SVU. Nadia was abducted, tortured, and left for dead by Yates, much to the horror of Benson (Mariska Hargitay) and the Intelligence Unit. (They discovered her body along with Yates' other victims in a nail-biting P.D./SVU crossover episode.) Yates was ultimately killed after breaking out of prison, but losing Nadia was a hard blow for Chi-Hards everywhere. 
How did Justin Voight (Josh Segarra) die on Chicago P.D.?
As the troubled son of Chicago P.D.'s tenacious sergeant, Justin Voight's death is one of the most heartbreaking deaths in the series. Justin was shot in the Season 3 finale. 
Justin was a complex Chicago P.D. character from Seasons 1-3 of the show.  He caused many problems for his father, including asking him to cover up a drunk driving incident.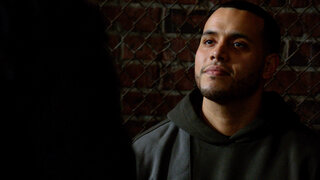 In Season 3 of Chicago P.D., Justin was shot in the head and left for dead in the trunk of a car. Voight found his son on the cusp of death and rushed him to the hospital, but it was too late. Voight got revenge against the murderer (not legally, of course). That said, he was forever traumatized by the painful loss of his son.