NBC Insider Exclusive
Create a free profile to get unlimited access to exclusive show news, updates, and more!
Sign Up For Free to View
The Biggest Villains from All 11 Chicago Fire Seasons
These bad guys definitely kept Firehouse 51 busy.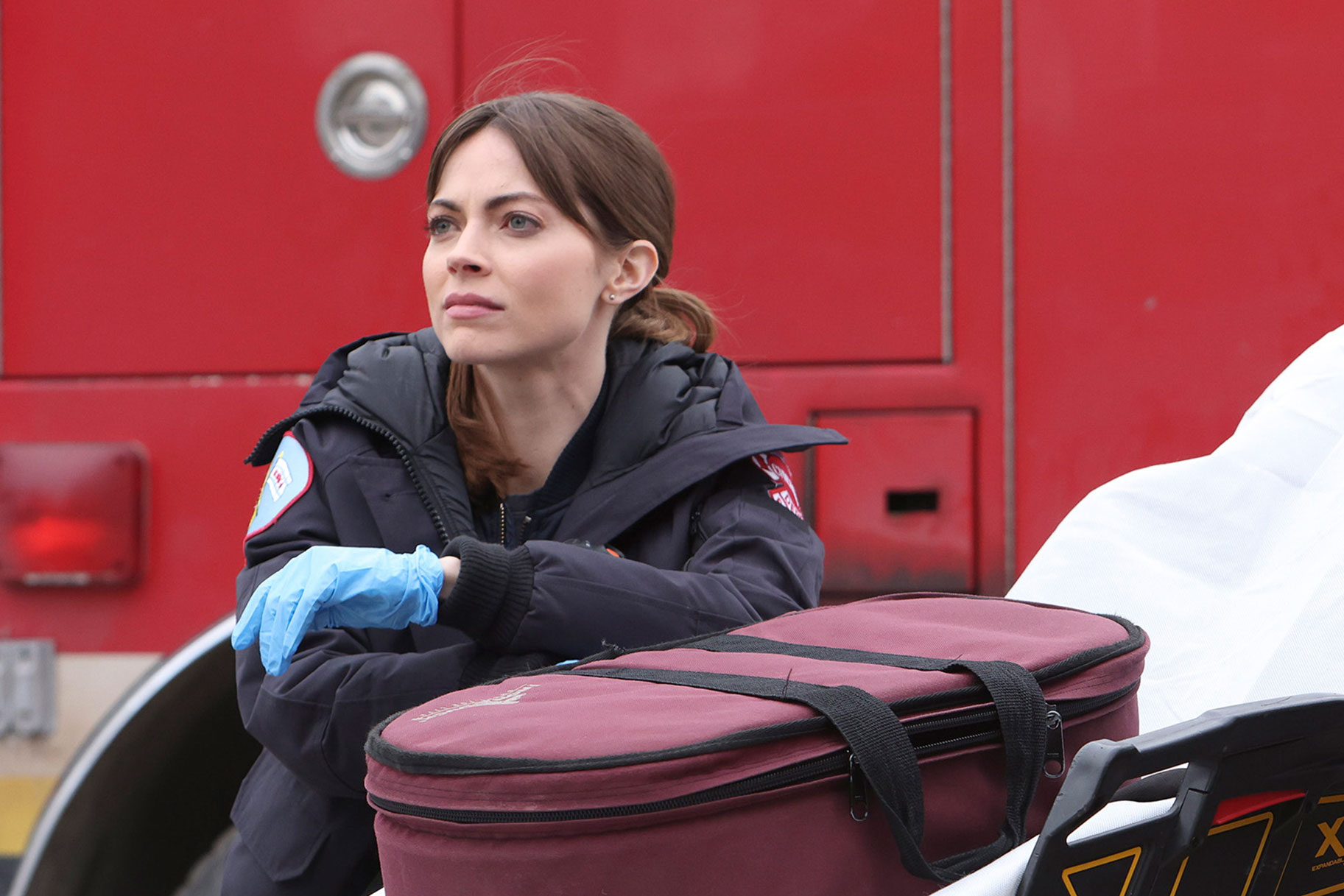 One Chicago is all about heroes, focusing on the people who save lives by running into burning buildings, chasing criminals or making game-changing medical calls. But all of that heroism means there must be some dark forces at play, too. 
Throughout its 11 seasons (and counting), Chicago Fire has featured quite a few people who have created problems for Firehouse 51. Whether they're corrupt staffers or regularly-appearing perpetrators, here are the show's biggest villains.
Emma Jacobs: Blackmailer 
Emma Jacobs (Caitlin Carver) came onto Firehouse 51 as a paramedic, filling in for Sylvie Brett (Kara Killmer) as Violet Mikami's (Hanako Greensmith) temporary partner. She didn't want her position to be short-term, though, so she tried to do whatever she could to stay on the squad — which meant blackmailing Evan Hawkins (Jimmy Nicholas) in an attempt to get Mikami fired so there would be room on the paramedic team for her. 
But during a house fire in Season 10, Episode 22 ("The Magnificent City of Chicago"), Jacobs ran out of a burning building, abandoning her partner and the pregnant woman they were supposed to be helping. When the team saw this, she was immediately fired, but that didn't mean she was gone for good. 
In Season 11 Episode 9 ("Nemesis"), Jacobs returned to the show as an investigator for the Internal Affairs Department (IAD) and immediately caused problems. She interviewed Sam Carver (Jake Lockett), who had pushed a public worker out of the way in order to save a biker's life by lowering a bridge. Jacobs's questioning was clearly overstepping, but she let him off the hook and boasted to Mikami that she was "happy to help" the firehouse. "Don't pretend like you did 51 a favor," Mikami said angrily. 
During Season 11 Episode 10 ("Something For The Pain"), Mikami asked Chief Wallace Boden (Eamonn Walker) to help her report Jacobs to the IAD. In her meeting with Jacobs's boss, he said that there was "nothing actionable" because Hawkins's subsequent death meant that he could not provide further evidence or backup. Jacobs visited the firehouse to threateningly tell Mikami, "I know all about your meeting with my boss." 
Luckily, later in the episode, Mikami found Hawkins's recorded memoir while going through his old things. He had discussed Jacobs's blackmailing scheme, thereby providing incriminating evidence. Mikami turned it into the IAD and Jacobs was promptly called into her boss's office, never to be heard from again. 
Thomas Campbell: Drug Dealer and "Stellaride" Stalker
Thomas Campbell (Eric Slater) was attached to a string of massive drug violations in the city of Chicago, which Kelly Severide (Taylor Kinney) helped bust. In the Season 10 finale (Episode 22, "The Magnificent City of Chicago"), Severide was misdirected to the courthouse where he was meant to deliver a testimony incriminating Campbell. 
Instead, Campbell sent one of his men after Severide, which ended in a physical fight in a public building. Severide pushed the man off of him and in the process, the man fell out of the glass window to his death. 
That wasn't the end of things, though. At the end of the episode, after Severide and Stella Kidd (Miranda Rae Mayo) got married, audiences saw a creepy car pull up to their honeymoon location. Season 11, Episode 1 ("Hold On Tight") began with Severide and Kidd running for their lives. Thankfully, they made it out of the situation unscathed and Campbell was arrested. 
Tommy Welch: Sexist Boss 
Tommy Welch (Kenny Johnson) was an unforgettable character who wreaked havoc on the CFD. When Gabriela Dawson (Monica Raymund) decided to pursue firefighting instead of her career in paramedics, she was told she'd be sent to Firehouse 105, where she and Welch met in Season 2 Episode 21 ("One More Shot"). 
Welch approached Matthew Casey (Jesse Spencer) after finding out he might end up getting Dawson for a long-term placement and mentioned that there was a lot of "drama" attached to her. Casey, meanwhile, went to warn Dawson about Welch's house's negative track record: "Austin got their first female firefighter last year and she barely lasted two weeks, filed some grievance against the guys in the house," Casey warned Dawson. 
In the following episode ("Real Never Waits"), Casey approached Welch about Dawson, saying that he hoped she gets respected at their firehouse regardless of the interpersonal relationships at play. "I assume she can cook and clean, right? Along with all the other requisite female skills?" Welch asked Casey. An angry Casey in turn told Welch, "What you need is to get your ass whipped," leaving on a negative note. 
Welch's attitude was also seen when he tried to beat the Firehouse 51 team to the scene of a fire on multiple occasions. In Season 3, Episode 3 ("Just Drive the Truck"), Welch's team was clearly trying to beat Casey's truck to a case so that they could have command. Welch told his driver to do whatever it took to win the race, which Casey did not even want to partake in, and it ended in a messy, injury-filled collision of the two trucks. Welch was ultimately stripped of his title so Casey and Dawson no longer had to deal with his antics. 
Jerry Gorsch: Underminer and Embezzler
In Season 7, audiences met Chicago Fire villain Jerry Gorsch (Steven Boyer), who was assigned by the new Fire Commissioner Carl Grissom (Gary Cole) to keep "a closer eye" on Boden and his squad — as stated in the aptly titled season premiere (Episode 1, "A Closer Eye"). Gorsch immediately accused Severide of making a bad call, even though it ended up saving a man's life. "If you don't like my methods, report me to your boss," Severide told him, and Gorsch threatened that Grissom "already has a lot to say" about Severide.
Having witnessed the threat, Boden brought allegations to the major about Grissom's campaign to be promoted to commissioner being unethical, but the mayor ended up unjustly interfering because, as Gorsch reported back to Boden, "the mayor and Grissom share the same perspective." 
Gorsch extended his stay at Firehouse 51 for a chunk of Season 7, to the squad's chagrin. In Episode 3 ("Thirty Percent Sleight of Hand"), Gorsch made it clear that he wanted his brother-in-law Trey Jennings (Matt Trudeau) to become an Engine Lieutenant on the squad, despite not being qualified. Boden didn't let it happen: At a CFD-wide party later in the episode, Boden announced he was appointing Herrmann to the role, angering Gorsch. 
In Season 7, Episode 6 ("All the Proof"), Gorsch tried to establish his authority by telling Boden, "From here on out, I'll supervise 51 on all of their calls. You can hang back and man the fort." Boden told him, "You have no experience commanding units in the field," but Gorsch didn't back down.
Ultimately, his time as a field supervisor ended in disaster: He made massive mistakes on a call and put the squad in danger. Grissom ended up pulling Gorsch from his role so that he could spend his time "outside the field," and Gorsch left the firehouse with one final threat to Boden, saying he was "waiting for another opportunity."
That threat fell flat when Gorsch got into even deeper trouble: In Season 8, Episode 13 ("A Chicago Welcome"), the squad discovered they'd been gifted a brand new firetruck to replace the old Truck 81, but nobody knew how the expensive change had happened. Boden spotted Gorsch watching the team respond to a call, and the dots were connected when Gorsch said, "I wanted to see that your men were enjoying their new truck." 
Gorsch's gifts didn't stop there: He also told Boden and Severide that he had a "multimillion dollar order in for turnout gear for each firefighter on the CFD." While the idea was promising, Boden and Severide tracked down some discrepancies and realized that Gorsch had funneled the money into his high school friend's business — which had never made fire gear — so that he could take a cut of the order. After putting the CFD at risk and being exposed for this embezzlement scheme, Gorsch was promptly fired. 
Kevin Hadley: Prank-Player and Arsonist
Disgraced firefighter Kevin Hadley (William Smillie) had once been a member of Firehouse 51, but was asked to leave the squad during the first season. At the time, Peter Mills (Charlie Barnett) had just joined the team and Hadley decided to lead some welcoming "pranks" on him.
After faking a robbery on Mills's car and spiking the recruit's food with dog's food, Hadley spewed insults at Mills that Boden simply could not forgive. He was forcibly transferred to another station, and his dismissal left him even more angry. 
In Season 2, the team began to see arson cases on the rise, and they grew suspicious. Severide suspected Hadley of the crimes, especially when he saw Hadley watching them put out a fire, and finally caught him in Episode 4 ("A Nuisance Call") after Hadley found an abandoned building and began to set it on fire with a multitude of homemade devices. 
Severide found Hadley with a container of gasoline, threatening to further explode the building. "You can still walk out of here alive," Severide said, trying to get him to put the fire starter down. "Or we can all go out together," Hadley told him, lighting himself up. The damage was not fatal, and Hadley ended up going to prison to serve time for his arson. 
Catch up on all of the villains and heroes from Chicago Fire by streaming all episodes on Peacock.