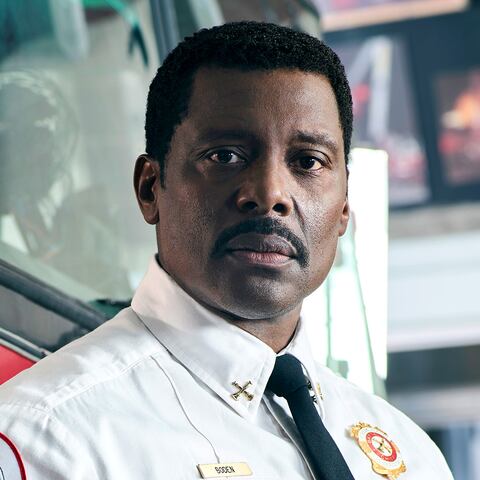 Chief Wallace Boden
Played by
Eamonn Walker
Actor Bio
Eamonn Walker stars as Battalion Chief Wallace Boden, a fireman's fireman on NBC's drama "Chicago Fire." As chief of the firehouse, it's Boden's job to keep everything in line and running smoothly.
Walker is a talented, compelling performer known for his depth, integrity and ability to give life to the most layered of characters. He credits Sidney Poitier's performance in "In the Heat of the Night" as the inspiration that led him to become an actor.
Born in London, he is perhaps best known in the United States for his portrayal of Kareem Said, the Muslim leader on the critically acclaimed series "Oz." His work on this show earned him a Golden Satellite nomination and a Cable Ace Award for Best Actor in a Dramatic Series.
On the big screen, Walker received stand-out notices for his performance as Howlin' Wolf in "Cadillac Records," opposite Adrien Brody, Jeffrey Wright, Mos Def and Beyonce Knowles. He also has given memorable performances in such films as "The Messenger," opposite Ben Foster, Woody Harrelson and Samantha Morton; "Lord of War," opposite Nicholas Cage and Ethan Hawke; "Duma," Carroll Ballard's critically acclaimed film; "Tears of the Sun," opposite Bruce Willis; Laurence Fishburne's "Once in the Life"; the psychological thriller "Legacy"; and M. Night Shyamalan's "Unbreakable."
Moving seamlessly between film and television, his numerous credits include the NBC series "Kings," where he garnered rave reviews; the Jerry Bruckheimer series "Justice"; and the award-winning BBC series "Moses Jones." He portrayed a modern-day John Othello in the BAFTA and Peabody Award-winning adaptation of London Weekend Television's "Othello," and Tom Fontana invited Walker to portray the sympathetic killer in the "Homicide" finale, the two-hour teleplay "Homicide: Life Everlasting." Other credits include a special arc on the critically acclaimed series "Lights Out," a topical multi-episode African-based narrative on John Wells' "ER," and the miniseries "The Governor" and "Supply and Demand." More recently, he appeared on the BBC's groundbreaking Martin Shaw series "Inspector George Gently" and with Charles Dance in several episodes of the Cinemax series "Strike Back."
In 2005, Walker was nominated for a Drama Desk Award for his Broadway debut as Marc Antony alongside Denzel Washington and Colm Feore in "Julius Caesar" at the Belasco Theatre. He later performed to sold-out audiences and great critical acclaim as the first black actor to portray Othello at the historic Old Globe Theatre in London.
Walker co-founded the Flipside Theatre Company in London and starred in their production of "Danny and the Deep Blue Sea." He also appeared in London's West End and in plays on such venerable stages as the Citizens Theatre, the Royal Exchange and the Hampstead Theatre.
In the summer of 2016, Walker starred in Chicago's famous Steppenwolf Theatre for the company's premiere of Stephen Adly Guirgis' "Between Riverside and Crazy." Walker was nominated for a 2016 Jeff Award, which celebrates excellence in Chicago theater, in the category of Best Actor in a Principal Role.
Walker resides in both Los Angeles and London.