NBC Insider Exclusive
Create a free profile to get unlimited access to exclusive show news, updates, and more!
Sign Up For Free to View
Matthew Casey's Most Memorable Moments on Chicago Fire
Revisit the making of the fan-favorite fire captain played by Jesse Spencer.
Chicago Fire has given us a decade (and counting) of dramatic, nail-biting rescue missions navigated by heroic characters with big hearts. And there's no debate that Matthew Casey, played by Jesse Spencer, is high on the list of people we'd trust with our lives. 
During Chicago Fire's 200th episode in Season 10, Casey left the team to move to Portland, Oregon so he could take care of the two sons of Firehouse 51's own Andy Darden. His tight relationships with Kelly Severide (Taylor Kinney), Sylvie Brett (Kara Kilmer), Brian "Otis" Zvonecek (Yuri Sardarov), and Gabby Dawson (Monica Raymund) added a lot of love and connection to the show, so the goodbye was emotional for a lot of reasons. Luckily, he returned to Chicago just 17 episodes later for the Season 10 finale.
RELATED: How Matthew Casey Became the Heart of Chicago Fire
His romantic relationship with Brett escalated after his departure to Portland, and he proposed to her in the Season 11 finale.
Fans have to wait until Season 12 premieres in January to see Brett's answer — so while we wait, here are some of Matthew Casey's defining moments.  
Matthew Casey stood up for Otis Zvonecek
Season 3, Episode 15 ("Headlong Towards Disaster") brought us a defining moment for multiple characters when Chief Pridgen (Matthew Del Negro), who was filling in for Chief Wallace Boden (Eamonn Walker), mocked Zvonecek for tripping in a waxed bowling lane during a rescue. Casey immediately refused to chime in on the bullying and later approached Pridgen, saying "Don't talk to my guy like that... Otis and everyone else here at 51, they've already proven themselves, and you ought to treat them with respect." 
Matthew Casey defended a risky decision
In Season 6, Episode 3 ("An Even Bigger Surprise") Casey used an unconventional method to save a man from jumping off of a building. The save was a classic Casey move — he was known for his out-of-the-box thinking — and was backed up by more familiar behavior when he took full accountability for his actions.
After using a rope to save the man, Casey told an angry Captain Mullins (John Gatins), "If it's the liability you're worried about, put it on me." 
Matthew Casey's Promotion
The building rescue led to a bigger moment for Casey, when Captain Mullins came around and actually requested that Casey receive a meritorious promotion. During his swearing-in ceremony, his team celebrated his bravery and leadership. 
"There are firefighters who play the game, work the system, bide their time and climb up the chain of command. And then, there's Matthew Casey," Boden said. "A true, honest-to-God smoke eater."
Casey again used his shining moment to uplift others, saying to Dawson, "I appreciate this honor, I do, but if anyone deserves to be honored today, it's you Gabby." 
Matthew Casey saved Gabby Dawson after a garage collapsed
In Season 6, Episode 4 ("A Breaking Point"), one of Casey's first heroic acts as a captain was to save Dawson's life. Dawson was walking through the city when she saw construction workers causing serious damage to a parking structure. She ran in to tell civilians to exit the garage, but it collapsed on top of her.
After piecing together information, Casey got a hold of Dawson and told her how to exit the rubble. As the other survivors exited, Casey learned that Dawson was still deep inside trying to save the final victim, so he ran in to help pull both of them out.
The "Dawsey" Breakup
Casey was always a good leader and teammate to his crew but, outside of the job, he also showed a lot of heart. His relationship and then marriage with Dawson was not always easy but, when she decided to leave Firehouse 51 to move to Puerto Rico in Season 6 (and ask for a divorce in Season 7), Casey was nothing but understanding.
He wanted to support Dawson in doing what was best for her: "I'm just lucky I got to walk alongside you as long as I did," he told her. 
Mattew Casey stood up to Captain Delaney
In Season 8, Episode 11 ("Where We End Up"), Firehouse 51 was faced with a bedbug problem and forced to move in with the Firehouse 20 team for a short time. Tensions escalated between the two groups, especially in the midst of new territories being drawn through the city, and Captain Greg Delaney (Robert Bogue) ultimately asked Casey and Severide to park their trucks in the street.
The two Chicago buddies called out this unfairness and stood up to Delaney in a moment that finally broke the heightening tension, and fans applauded Casey's ability to always fight for his fire family and stand by Severide's side. 
Matthew Casey took care of Ben and Griffin Darden
Leadership never began nor ended in the firehouse. After the loss of his best friend, Andy Darden, and the subsequent arrest of Darden's wife, Heather, Casey heroically stepped in to take care of Darden's two children, Ben and Griffin. His bond with the kids lasted for the full series, as it's ultimately why Casey left Chicago; the glimpses into his stand-in parenting skills warmed fans' hearts in a memorable way. 
Matthew Casey and Kelly Severide's "Final" Rescue
As Casey braced to leave the squad in Season 10, Episode 5 ("Two Hundred") he had one last fiery fight during which he and Severide saved a civilian by using a church pew as a bridge. The two crossed over their makeshift path, grabbed the victim, and exited the area just before it went up in flames.
RELATED: Taylor Kinney Says This Chicago Fire Scene With Jesse Spencer Is One of His Best Memories
The mission was a perfect goodbye to the duo's long-lasting partnership — and when Severide pointed out that it might be their last fire together, Casey assured him that he'd never truly be gone.
Matthew Casey returned for Kelly Severide's wedding
After his emotional departure in Season 10 — and over a decade of brotherhood — there was no doubt that Casey would return to support Severide on his big day. After telling Blake Gallo (Alberto Rosende) he was "no longer fresh blood" in a heartwarming moment, Casey and Severide reunited for a sweet one-on-one moment in Episode 22 ("The Magnificent City of Chicago").
"I don't want to get too sappy, but it's your wedding, so I'm going there," Casey told Severide. "I'm really grateful to be a part of this, Kelly. You guys are meant to be." 
Matthew Casey proposed to Sylvie Brett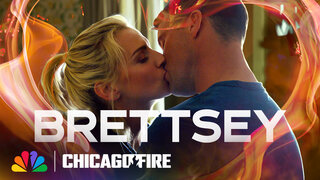 Despite the distance between them following his departure for Oregon, Casey and Brett couldn't let go of their romantic spark and intense bond, but his return in Season 11, Episode 18 ("Danger Is All Around") was marred by the realization that Brett had become involved with a man named Dylan (Christopher Allen).
When Casey returned to Chicago during Season 11, Episode 22 ("Red Waterfall"), he discovered that Brett was planning to adopt a baby, Julia — and that Brett's on-again-off-again partner, Dylan, had broken up with her as she pursued motherhood. Dylan said he wasn't interested in parenting a child and claimed that Brett was clearly still in love with Casey. 
After all of these realizations, Casey asked Brett to marry him so they could unite as a family. "Sylvie Brett, we were meant to be. Will you make me and three kids the luckiest family in the world, and marry me?" he asked, kneeling in front of her at the door to her apartment. 
And that's where the season ended. While we anxiously await Brett's answer, see more of Chicago's unbreakable bonds and determined spirits, by streaming all episodes of Chicago Fire on Peacock. 
Originally published Mar 18, 2023.