NBC Insider Exclusive
Create a free profile to get unlimited access to exclusive show news, updates, and more!
Sign Up For Free to View
Monica Raymund Reveals the Very Relatable Reason She Left Chicago Fire
"Sometimes you have to take a risk," she said.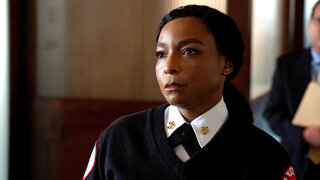 Even as Chicago Fire approaches its epic 11th season this fall, fans have never forgotten about an amazing character: first responder Gabby Dawson, played by Monica Raymund. There's no doubt Dawson added an undeniable spark to the show, but her character unfortunately left at the end of Season 6, when Dawson moved to Puerto Rico.
But why exactly did Raymund leave the show? In a 2018 interview with Chicago Tribune, she explained that the departure was a personal choice on her part. Read details, below.  
Why did Monica Raymund leave Chicago Fire?
In the interview, Raymund explained why she decided to leave the show. "I'm not sure the exact moment when it happened, but I knew that my six-year contract was coming to an end and I felt like I was hungry to explore a different role, a different story," she said. "I wanted to explore a different world. I had been in Chicago for five years and just personally where I was in my life, I was ready to create my home and kind of plant some roots in Los Angeles."
She continued, "It's kind of a double-edged sword because on the one hand, it's wonderful to be employed for that long and to have job security. And to be able to delve into a storyline and to flush it out over that amount of time. To get that opportunity is extremely rare and special. Job security is always the two favorite words an actor can say! But sometimes you have to take a risk to diversify your opportunities."
She then opened up about what her time on Chicago Fire meant to her. "I loved being able to play a first responder. I don't have anyone in my family that's a first responder and I didn't really know the different trials and tribulations that they face everyday," she said. "So that was the greatest part about playing Gabby, that I got to get to know the paramedics, I got to know the firefighters in Chicago, and hopefully to the best of my ability, represent them honorably."
"The paramedics are doing all these intricate procedures that actually require true extensive academic knowledge, so I got to learn a lot. I had to learn about anatomy and physiology, so I understood what I was actually doing and I could have an actual authentic response," she added.