NBC Insider Exclusive
Create a free profile to get unlimited access to exclusive show news, updates, and more!
Sign Up For Free to View
11 Law & Order: SVU Villains Fans Are Still Terrified Of
These SVU criminals are the worst of the worst.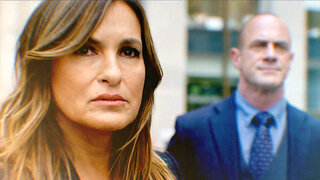 Law & Order: Special Victims Unit deals with criminals of an especially horrific nature, with Olivia Benson (Mariska Hargitay) and her team racing against the clock to keep the streets of NYC safe. With 23 seasons under its belt, dozens, if not hundreds, of horrendous bad guys have graced SVU screens. These 11 are particularly terrifying. 
Hunter Mazelon
Played by Sterling Beaumon
Season 12, Episode 23 ("Delinquent")
Hunter is a juvenile delinquent who sexually assaults numerous older women due to lingering trauma from being assaulted by a babysitter. In the end, he is institutionalized rather than imprisoned, but not before throwing Law & Order: Organized Crime's Stabler (Christopher Meloni) and Benson through the wringer. 
Bart Ganzel
Played by Peter Jacobson
Season 13, Episode 23 ("Rhodium Nights")
Jacobson developed an incredibly insidious SVU character playing Bart, a man in charge of an escort service who ended up poisoning several women he employed. Bart also framed Captain Cragen (Dann Florek) for murder, using hitmen to kill people on his list. 
Andre Bushido
Played by Andrew Divoff
Season 10, Episode 7 ("Wildlife")
Andre led an expansive animal smuggling operation as well as engaged in human trafficking. He also shot Stabler once he discovered he had gone undercover. 
Merritt Rook
Played by Robin Williams
Season 9, Episode 17 ("Authority")
Merritt Rook was an audio engineer who coerced his victims into doing his bidding by putting them into real-life versions of the Milgram experiment. Not only was he conniving, he kidnapped Benson and recorded her screaming to torture Stabler.
Victor Gitano 
Played by Lou Diamond Phillips
Season 7, Episode 19 ("Doubt")
While kidnapping a pair of siblings, Benson is grabbed and Victor slashes her throat, causing Stabler to rush to her side during the chaos. Thankfully, it turns out to be a surface wound, but because Stabler didn't pursue Victor, he kills one of the children. Later, Victor holds Stabler at gunpoint, causing Benson to pause in taking him down. Victor was scary for many reasons, including the fact he forced Benson and Stabler to question their partnership and ability to do their jobs. 
Sheila Porter
Played by Brooke Shields
Season 19
Sheila is the grandmother of Benson's adopted son, Noah. Initially, Benson approves of introducing her to Noah, but their relationship quickly takes a turn when Sheila kidnaps him. 
Rob Miller 
Played by Titus Welliver
Season 20, Episode 18 ("Blackout")
Miller sexually assaults a defense attorney at a police charity ball, and through legal and illegal intimidation, he avoids charges. He convinces many of Benson's witnesses to step away from the case against him, and even stalks and harasses Noah to send Benson a message. Later, he murders a young woman, and the SVU is able to finally gather enough evidence against him...but it's not without countless obstacles along the way. 
Lowell Harris
Played by Johnny Messner
Season 9, Episode 15 ("Undercover")
In this episode, the SVU investigates a prison after several women are found raped and murdered. Benson goes undercover as a prisoner to investigate a culprit that the SVU suspects: a prison guard. The SVU is correct in its assumption: The prison guard in question, Lowell Harris, attacks Benson, who only narrowly escapes assault herself.
Dr. Carl Rudnick
Played by Jefferson Mays
Season 9, Episode 16 ("Closet")
It's never simple when the monster is inside the house, which is exactly what happens when the SVU discovers one of their medical examiners, Dr. Rudnick, is a serial rapist and killer. Rudnick is meticulous, altering details of his own crimes when examining his victims right under the SVU's nose.
Dr. Greg Yates
Played by Dallas Roberts
Season 16 - Season 17
Yates is an accomplished doctor who is secretly a serial rapist and murderer. He kidnaps Chicago P.D's Nadia Decotis (Stella Maeve), torturing her and eventually killing her once he arrives in NYC. Like Bundy, he chooses to represent himself for his trial and is only caught once the jury sees how excited he becomes seeing evidence photos of Nadia. 
William Lewis
Played by Pablo Schreiber
Season 14 - Season 15
Lewis kidnaps Benson and forces her to watch as he sexually assaults numerous women, then he tortures her in an abandoned cabin in the woods. Benson escapes and almost kills Lewis in the process.
Lewis' trial is nothing short of a circus, with his death only happening after he escapes custody, kidnaps Benson again, and plays a horrific game of Russian Roulette. 
Season 24 of Law & Order: Special Victims Unit premieres September 22 at 9/8c on NBC.