NBC Insider Exclusive
Create a free profile to get unlimited access to exclusive show news, updates, and more!
Sign Up For Free to View
This Timeline of Benson and Stabler's Relationship Will Make You Emotional
These two partners have 24 years of history!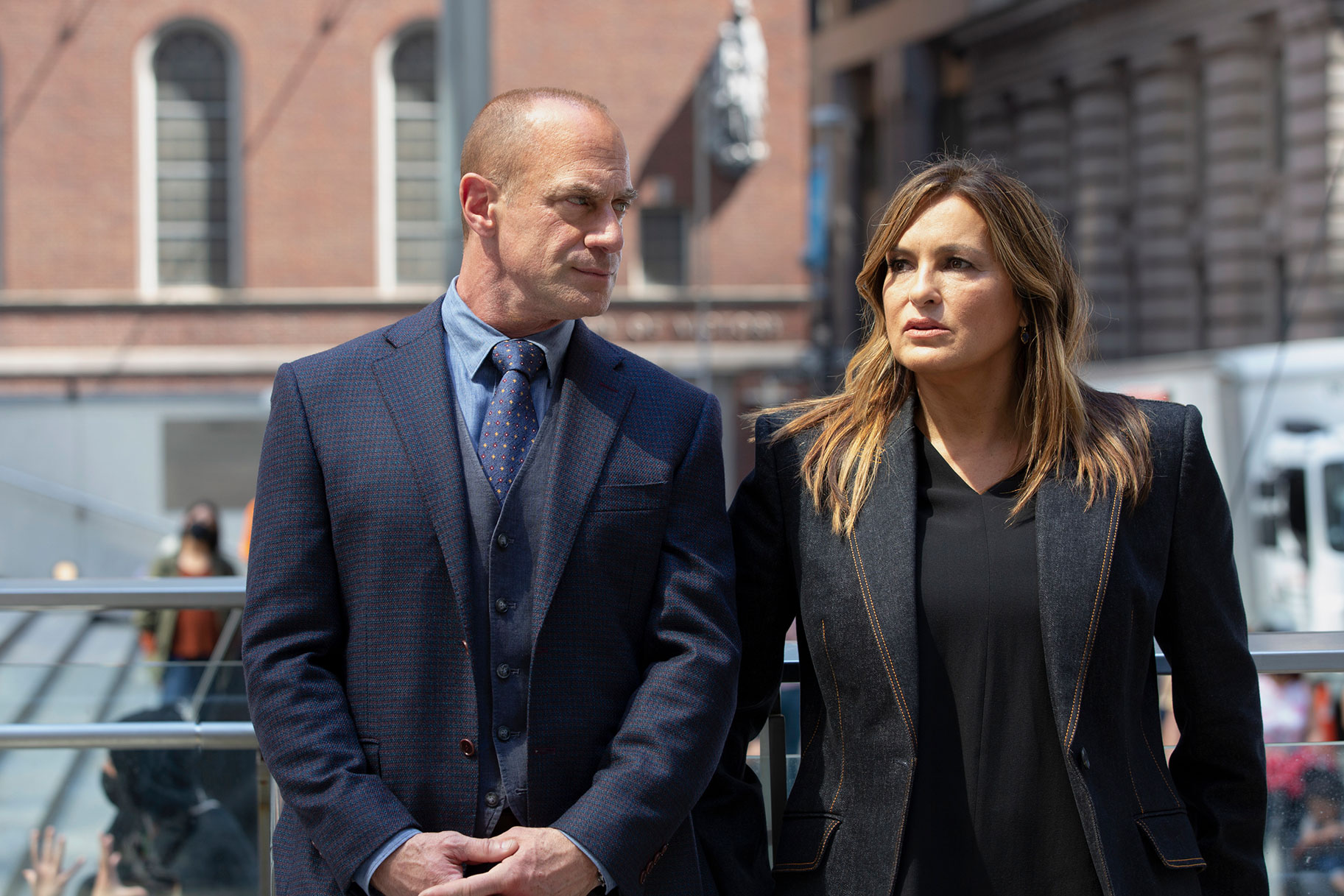 There are standard TV police partnerships, and then there's the one between Law & Order: Special Victims Unit's Olivia Benson (Mariska Hargitay) and Elliot Stabler (Christopher Meloni). 
The two were partners for over a decade, taking down countless heinous criminals in NYC. While many legal dramas will star a good cop and a bad cop who argue back and forth, SVU instead embraced two complex and flawed characters who play at the other's strengths.
Benson is vulnerable and empathetic, while Stabler is cryptic and brash, but at the end of each shift, they treat each other with respect and compassion. Benson and Stabler, also known colloquially as "Bensler," have become the new schematic for well-written police partnerships. After 12 seasons of SVU, Meloni took a step away from Law & Order, which saddened many Benson and Stabler fans. However, that heartbreak was resolved a decade later when Meloni returned to the Law & Order franchise in Law & Order: Organized Crime, reprising his role as Stabler and frequently crossing paths with our SVU leading lady.
With 24 seasons of SVU and three seasons of Organized Crime, Benson and Stabler's relationship has evolved fairly dramatically throughout the years. Read a complete breakdown, below. 
Benson and Stabler: Meet the SVU's best detectives
Let's start this at the very beginning in 1999. The first episode of Law & Order: SVU airs and fans meet Benson and Stabler. SVU's first season is packed with countless great scenes between these two rockstar detectives. Benson and Stabler know how to get the villain and always find moments of connection with each other while doing so. 
Benson and Stabler grow close fast
When you're a fundamental cog within the SVU, balancing work and personal life can be quite challenging. Throughout the early seasons of SVU, Benson and Stabler grow very close, resulting in Benson opening up about her childhood. Benson is a child of rape, growing up with an alcoholic mother and an absent father. Her tough upbringing causes our SVU powerhouse to question if she should be a mother due to her family history, but Stabler doesn't hear it. Stabler is always there to assure Benson of her worth and does so in a touching way in this Season 6 scene. 
Stabler reveals to Benson that his wife left him
While Benson has a few romantic flings throughout her SVU run, Stabler begins the series married to Kathy, but their marriage is a rocky one due to the strain his job puts on their lives. A fan-favorite SVU episode takes place in Season 6 when Benson and Stabler have complete opposite stances on a rape case, with Benson taking the survivor's side. The pair argue, and throughout the deliberation, Stabler grows increasingly upset. It is later revealed that his wife has left him and that the stress of the separation is likely contributing to his vitriol. While the verdict is left unrevealed to the audience, the episode ends with Benson comforting Stabler as he approaches a potential divorce, proving that the pair will always be friends even if they disagree as partners. 
Benson and Stabler choose each other first
Season 7 of SVU is when Benson and Stabler's partnership begins to get complicated. Seven years is a long time to be anyone's coworker, and in Season 7's "Fault," the pair is forced to confront their relationship when both Stabler and Benson choose each other over the job. (Stabler chooses to help a wounded Benson rather than chasing down the culprit, and later Benson refuses to take a shot at the man while he holds Stabler hostage.) The fallout results in Benson realizing that they've chosen each other first, which makes doing their job a tad difficult. So, what does Benson do? She asks for a new partner.
Benson tells Stabler that their partnership is complicated
During the fallout of Benson and Stabler's growing closeness, Benson attempts to maintain professionalism by asking for a new partner. Stabler clearly feels some type of way about this decision and decides to confront Benson head-on about her reasoning. Stabler typically keeps a cool disposition, but you can tell that he struggles with the idea of working with someone else and misses Benson dearly. 
Benson and Stabler become partners again
Thankfully, it's hard to keep Benson and Stabler separated for too long. While Benson and Stabler take a brief hiatus as partners, they are reunited toward the beginning of Season 8 only a few episodes later. While the moment is initially awkward for both of them, the pair fall back into their typical banter very fast.  
Benson and Stabler are classified as "too close"
In Season 7, we see Benson and Stabler first question their allegiance to each other and how it might affect their productivity as cops. The question comes back up in Season 8, Episode 16's "Philadelphia" when they are both analyzed by a workplace psychologist. Their captain is informed that Benson and Stabler "have a degree of mutual reliance and emotional dependence that compromises their effectiveness as police officers." So, does their boss split them up? No dice. Even the psychiatrist explains that by separating Benson and Stabler, NYC would be losing two of its "best detectives."
Stabler has a kid and shares his first hug with Benson
While Stabler and Kathy are briefly separated, they hook up, which results in Kathy getting pregnant and the two getting back together. In Season 9, Benson volunteers to drive Kathy to a doctor's appointment while Stabler is out of town, which results in a life-threatening car crash and Kathy going into labor prematurely. Benson is there for Kathy the entire time, and when Stabler finally arrives at the hospital, he is very thankful to his long-time partner. The tension results in the first Bensler embrace, a rare and memorable moment for many SVU fans.
Benson and Stabler go undercover as a married couple
Some of the best scenes in SVU are when Benson or Stabler go undercover for a case, as we see each of the detectives shed their skin for a moment. One of the most entertaining scenes is when Benson and Stabler are forced to go undercover as swingers to track down the culprit. The look of panic on Stabler's eyes? Iconic. 
Stabler shockingly leaves the SVU
SVU fans thought Bensler was forever, but Season 13 begins with Benson learning Stabler has left the SVU. Even worse? Stabler gave Benson no heads up; he just takes his entire life and moves to Europe. We rarely see Benson break down, but with Stabler gone, it's an understandable upset. 
Benson mentions Stabler after being tortured
The William Lewis plot of SVU is one of the most horrifying and memorable series of episodes of the show, with Benson's safety in question. After Benson is kidnapped by a serial rapist intent on torturing and killing her, she is able to escape and apprehend the culprit using an iron bar from a bed. After, Benson questions how she should proceed after the traumatic experience. "My old partner, he'd know what to do," Benson says, referencing Stabler. "He wouldn't question himself after what you've done. He would kick your teeth in, break your legs, break your arms, break your back—break your face. Maybe I should call him. Maybe I should get him to use that metal bar on you and make you beg for your life." Benson rarely brings up Stabler during his Law & Order hiatus, so this moment was heart-wrenching for Bensler fans everywhere.
Benson and Stabler are reunited
With the launch of Law & Order: Organized Crime, Stabler returns to NYC to see Benson as she receives an important award. She fails to attend the ceremony because there has been a horrendous accident: Stabler's wife is mortally wounded in a car bombing intended for Stabler. A shell-shocked Stabler sets his sight on Benson for the first time in over a decade, and the scene is powerful. 
Stabler apologizes to Benson for abandoning her
Did you think Stabler was going to get away with leaving Benson without any notice after 12 years of partnership? No way! Benson and Stabler share a tense scene in the hospital after Kathy's accident where Benson tearfully asks Stabler why he left her without any heads-up. Stabler delivers a heart-wrenching apology, revealing that he didn't think he could leave if he saw Benson's face. Pass the tissues! 
Stabler gives Benson the infamous letter
Organized Crime begins with Stabler giving Benson a letter, and it left fans in an uproar. The contents of the letter are left unrevealed, but Benson is very upset after reading it. At this point, Stabler is still processing the death of his wife, so his behavior is fairly unpredictable. Benson, understanding the turmoil Stabler must be going through, is there for her friend, but it isn't without a few complications along the way. 
Benson organizes an intervention for Stabler
Stabler is left reeling after the death of Kathy, mainly because the car bombing was intended to kill him. PTSD and survivor's guilt are no joke and are something that after many years in the SVU Benson is very good at identifying. She arranges an intervention with Stabler and his children, and the dialogue is loaded, to say the least. At one point (while making eye contact with Benson), Stabler blurts out, "I love you." He quickly processes his words, adding, "I love all of you." Stabler is usually the one that keeps it all together, so watching him struggle throughout the first season of Organized Crime is a hard watch for many SVU fans. 
Stabler finally reveals the contents of the letter
So, what was in the letter that made Benson get so upset at Stabler? SVU fans wanted to know, with an online conversation surrounding the letter in the weeks and months that followed. Finally, in Season 2 of Organized Crime, Stabler confronts Benson about having never talked about the letter. Take note: Stabler is drugged during an undercover operation and arrives at Benson's apartment to have this important chat while still under the influence.
Stabler reveals the letter contents, essentially that Benson and Stabler weren't good for each other, that he hopes Benson finds a loyal and faithful man, and that they both got in each other's way as growing individuals. Stabler shockingly reveals that he didn't write the letter, but that it was penned by his wife, Kathy. But hold up, one line was written by Stabler: "In a parallel universe, it will always be you and I. I wrote that. I slipped it in there before sealing the envelope." Stabler then passes out from the drugs, leaving SVU fans everywhere with their jaws on the floor. 
Stabler settles back into NYC for good
At the end of Season 22 of SVU, Stabler reveals to Benson that he is looking for NYC apartments, essentially telling her that he is back in NYC for good. While Benson and Stabler both have their individually strong paths in motion, it's clear to SVU fans that the decades-long friendship was back in full force once Stabler settled down in the Big Apple.
Stabler admits to being in love with a mystery woman
In Season 3, Stabler opened up about his love for a certain mystery woman. "You said there's a woman you're in love with," Stabler's friend tells him, and while the woman is never explicitly named, all signs point to Benson. Stabler gets pretty dodgy about the topic while his friend reminds him that love isn't supposed to be complicated. 
Benson opens up about Stabler after some wine
In Season 24, Episode 9, Benson and Rollins got honest with each other after sharing some boxed wine. In the wake of Sonny Carisi (Peter Scanavino) and Rollins' wedding, Rollins asked Benson when she would be open to a relationship. Benson then revealed she once felt she could have a romantic future with Stabler. However, she is struggling to trust him. Benson also finds it hard to explore those feelings without feeling horrible about Kathy's death. "And with her gone, there's nothing but possibility, which is paralyzing," Benson admitted. 
Stabler tries to kiss Benson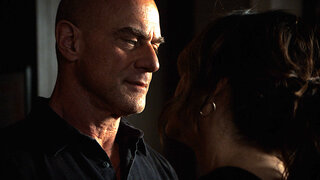 On both SVU and the OC, Benson and Stabler have established they both feel some type of way about each other. It all came to a head in Season 24, Episode 12 of SVU, titled "Blood Out," when Stabler and Benson were in close quarters for the first time in a while. After realizing Benson was hurt on the job, Stabler asked her why she didn't call him. Benson, all too aware of Stabler's nature, admitted she was concerned Stabler would try to protect her. 
"Is there something wrong with that? I care for you," Stabler confessed.
"Why didn't you call me?" Stabler asked.
"Because I knew that you would try to protect me," Benson admitted while avoiding Stabler's eye contact.
"Is there something wrong with that? I care for you," Stabler explained while scanning Benson's every movement. "Liv, look at me."
Benson and Stabler finally locked eyes, and the chemistry between the two ignited. As Benson and Stabler inched closer, it became clear: They may have officially passed the point of no return. But just as Stabler leaned in for a kiss, Benson pulled away at the last moment. 
"Elliot I want to. I want to, but I can't," Benson admitted, clearly conflicted. 
"Why not?" Stabler asked (along with every SVU fan rooting for Bensler).
"Because what if it doesn't work out?" Benson revealed, echoing the worries she shared with Rollins during the midseason finale about ruining their longtime friendship.
"And what if things work out?" Stabler counters. 
"Elliot, I'm not ready for this," Benson said.
Find out what happens next by watching Law & Order: SVU and Law & Order: Organized Crime on Thursdays on NBC and the next day on Peacock.