NBC Insider Exclusive
Create a free profile to get unlimited access to exclusive show news, updates, and more!
Sign Up For Free to View
A Look Back at Fin's Rocky Yet Romantic Relationship History on Law & Order: SVU
Romance tends to take the back burner for the SVU fan favorite, but he found his perfect someone.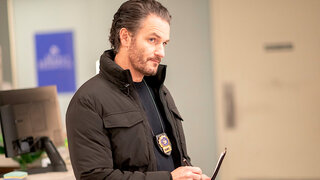 He's a man of few words, but that doesn't mean Sgt. Odafin "Fin" Tutuola (Ice T) doesn't have a romantic love story on Law & Order: Special Victims Unit.
Let's face it: When you're working hard at putting NYC's worst criminals behind bars, a healthy romantic relationship might not be high on the priority list. And for SVU's fan-favorite detective, it was definitely difficult for him to find his perfect someone, but Fin finally found his other half with his fiancée, Phoebe Baker (Jennifer Esposito). Fin may not have the most traditional love story, but it's a thrilling one that SVU fans adore. 
Below, check out Fin's rollercoaster relationship history on Law & Order: SVU.
Teresa Randall
By the time we meet Fin in Season 2, he has already separated from his ex-wife, Teresa Randall, with whom he shares a son. Fin and Teresa divorced while Fin was working in the Narcotics division, with the stress of Fin going undercover constantly leading to their relationship's demise. Fin has connected with Teresa at numerous points throughout the series, with viewers first meeting her in Season 7 of SVU. The last time fans saw Teresa was in Season 14 ("Presumed Guilty"), when she asked Fin for help after her brother was wrongfully arrested for a carjacking. Fin and Teresa have mostly kept to their own paths, especially considering Fin is going steady with...
Phoebe Baker
Get ready for one of the best second-chance romance stories ever. Phoebe is Fin's first partner from when they worked in Narcotics and is currently a sergeant with the Manhattan South Vice squad. We first meet Phoebe in Season 20 of SVU when she assisted the Manhattan SVU on a sex trafficking case. Fin wrongfully accused Phoebe of being involved, leading him to later apologize. He asked her out on a date, and despite there being clear chemistry between the two, she revealed she was dating someone new. 
However, they happily reunited after Fin learned she broke up with her boyfriend. Fin proposed to Phoebe in "Sightless in a Savage Land," and she joyfully accepted. In the Season 22 finale, their precinct compatriots gathered for their wedding, but the couple decided to call off the marriage at the last minute. But have no fear: Fin and Phoebe didn't break up.
After a day of needless back and forth, they decided to ditch the marriage papers because Fin didn't want the government to "spoil" the relationship. "We just realized we have a good thing going," Phoebe told the wedding guests. "So consider this our not-getting-married ceremony, but we still want to have a great evening with our friends and our family, and why let a free bar go to waste?"
Fin and Phoebe may have taken a non-traditional route to romance, but their relationship is as strong as ever. Fin has truly found his other half in his former partners, and SVU fans couldn't be happier for him. We're always rooting for Fin!
Watch Law & Order: Special Victims Unit Thursdays at 9/8c on NBC and the next day on Peacock.