NBC Insider Exclusive
Create a free profile to get unlimited access to exclusive show news, updates, and more!
Sign Up For Free to View
Ice T's Exciting New Career Move Will Literally Be Your Morning Ritual
"Hopefully this inspires people and motivates people," the Law & Order: SVU star said.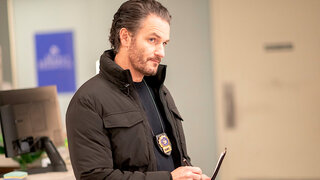 Anyone who follows Ice T on Twitter knows that the Law & Order: Special Victims Unit star is an endless source of knowledge. And it looks like he is adapting those tweets into a new podcast called IceT's Daily Game. 
The podcast episodes, which are a bite-sized five minutes long, can be streamed on iHeartPodcasts. Start your day off right with a morning ritual hosted by an SVU legend!
"Every day I give out something called an ice-cold fact or a daily game. And it's just things that I've learned or quotes that I use from my life. A lot of them come from me, a lot of them come from other people I respect," Ice T reveals in an interview with ET. "I recorded 200 of them, and they'll come on every day. And hopefully this inspires people and motivates people. I think we all need motivation and we all need some of the keys that some successful people use to win."
"It's something that you can drink your coffee to and get up in the morning and say, 'Man, I got to listen to this one today,' and hopefully it'll help you. I have quotes from Wesley Knight, quotes from philosophers, quotes from different people that I come across, and I explain my experiences with them, and then you hear their knowledge. I hope it improves their life," Ice T says. I hope at least one of them says, 'Man, I needed to hear that.'"
As for his most essential piece of advice?  "I think my favorite one, I've always told people, is only take advice from people you admire," Ice T says. "And admiration is a big word, not somebody you like, somebody you really admire."
"You're going to love the daily games," he continues. "You going to get hooked on them. And hopefully what happens is people tell other people about them and it makes the world better. You know what it is? It's giving back. The best thing I can give you back is the knowledge. I can give you the knowledge of what worked for me and works for others. That's it. You can take that anywhere and everywhere."
Everyone's morning just got brighter!
Watch Law & Order: Special Victims Unit Thursdays at 9/8c on NBC and the next day on Peacock.