NBC Insider Exclusive
Create a free profile to get unlimited access to exclusive show news, updates, and more!
Sign Up For Free to View
Ice T Almost Turned Down the Grammys Hip-Hop Tribute—But This Star Convinced Him
And we're eternally grateful—because the Law & Order star was absolute fire on stage!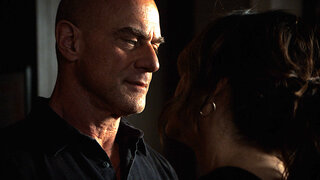 Ice T took a quick break from playing Law & Order: Special Victims Unit 's Sergeant Odafin "Fin" Tutuola to make an epic appearance at the 2023 Grammys.
As a pioneer of gangsta rap in the late 1980s, the Los Angeles native was one of more than 20 legendary Artists to appear in a 50th anniversary celebration of hip-hop. Ice T performed his 1991 hit "New Jack Hustler (Nino's Theme)" alongside other stars like LL Cool J, Queen Latifah, Run-D.M.C., Missy Elliot, and more.
The segment was produced by Questlove and the Roots, who also happen to be the official band at NBC's The Tonight Show Starring Jimmy Fallon. As it turns out, Ice T revealed that he almost didn't do the show, but it was Questlove who convinced him. 
"I get a call from Questlove and he says, 'We're doing a thing in L.A. this weekend. I say, 'I can't make it,'" he told People in a red carpet interview. "He says, 'The Grammys.' And I go, 'Eh.' And he goes, 'You don't wanna be sitting home Ice, watching it—all your homies—and saying I was invited but I didn't go. And I got my Black ass on the plane. He put it in perspective." 
He continued, "The Grammys didn't even respect hip-hop for so long. And now to be here and to be honored like this, we'll take it."
The actor attended the awards with his wife of more than 20 years, Coco Austin. He shared a photo of the two of them together from the glamorous night on his Instagram. 
"A little Red Carpet action! 💎 #2023GrammyAwards," he said in a caption. 
He also shared a behind-the-scenes snap of from his seat in the star-studded audience. "Ok…. My Grammy table is Fire Coco 🔥🔥🔥 Future and Lil Durk," he said in a caption.
So, any chance that we'll ever see Ice's musical talents appear in SVU? If it's up to the rapper, it's very unlikely.
"I wouldn't do that: That would be corny," he told TODAY, "because Fin would be able to rap as good as I rap. So, they would have to try to make me rap half-assed, which I wouldn't do. Now, I got to draw the line somewhere."
Watch Law & Order: Special Victims Unit Thursdays at 9/8c on NBC and the next day on Peacock.