NBC Insider Exclusive
Create a free profile to get unlimited access to exclusive show news, updates, and more!
Sign Up For Free to View
Ice T Just Appeared in a Rare TikTok With His Wife and Mini-Me Daughter
He and his family were having a blast! Watch Law & Order: Special Victims Unit on NBC.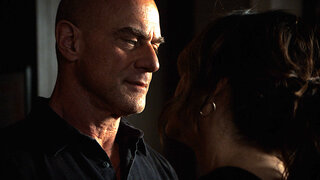 Ice T is now officially a TikTok star!
On February 2, his wife, Coco Austin, posted a sweet video of their family on her official TikTok page, making it the debut of the Law & Order: Special Victims Unit star on the social media platform.
In the video, Ice T, Austin, and their 6-year-old daughter, Chanel, are seen dancing and mouthing along to the lyrics of "Sure Thing" by Miguel. The montage clips first show Austin lip-synching while sitting on a couch. It then cuts to the adorable Chanel (who looks just like her dad!) taking off her sunglasses adorably. Then, Chanel sits on her mama's lap while the two look towards the camera at the same time in a hilariously-choreographed move. The two then play on the ground together in a heartwarming moment.
And in a special twist : Ice T himself then appears on camera! Austin affectionately puts his head in her hand as the two mouth the lyrics together. "Cause you're the cigarette, and I'm the smoker. We raise the bet, 'cause you're the joker. You are the chalk, and I can be the blackboard. You can be the talk, and I can be the walk, yeah," Ice T lip-synchs with confidence while the two groove together.
The final part of the video shows Ice T, Austin, and Chanel swaying to the music while a digital heart appears on-screen. The three then do a synchronized move together before sharing a sweet family hug.  
"I finally got Ice to do a TikTok !! Please Like and follow so he will do more! 😘 #icelovescoco #icet #follow #trending #viral #family," Austin captioned the video, celebrating the milestone of Ice T's first TikTok appearance.
Ice T and Austin also made an appearance at the 2023 Grammy Awards. During their red carpet moment, Ice T posed in a patterned velvet suit with subtle turquoise detailing. He also sported a fedora and some cool shades. Meanwhile, Austin stunned in a mesh maxi gown with a plunging neckline, while her long platinum blonde hair reached her waist in elegant loose curls.
"A little Red Carpet action! 💎 #2023GrammyAwards," Ice T captioned the post on his official Instagram page.
Watch Law & Order: SVU on NBC Thursdays at 9/8c and next day on Peacock.