NBC Insider Exclusive
Create a free profile to get unlimited access to exclusive show news, updates, and more!
Sign Up For Free to View
Inside the Exhilarating Career of Law & Order: SVU's Ice T
Ice T was very famous long before his days as Sgt. Fin in Law & Order: SVU.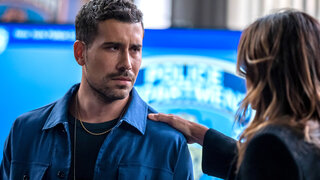 Ice T is a force to be reckoned with, both on-screen as Sgt. Odafin "Fin" Tutuola on Law & Order: Special Victims Unit and off-screen in his acclaimed music career.
Ice T has been thriving since long before his SVU days, obviously, as a musician, emcee, and actor. The iconic performer first rocked radio waves with his larger-than-life lyricism and emcee abilities in the 1980s, later releasing music and launching his acting career in the late '80s and early '90s. Ice T is a hip-hop icon, a speaker of truth, and a certified hitmaker who has been widely credited for popularizing gangsta rap in the 1980s. As one of Hollywood's Renaissance men, it's no wonder Ice T will earn a star on the Hollywood Walk of Fame for his career. 
Let's take a look back at Ice T's remarkable career and life that led to his fame today.
What is Ice T's real name?
Long before his days as a legendary rapper and performer, Ice T (real name Tracy Marrow) was born in 1958, growing up in Newark, New Jersey. After losing both of his parents, Ice T moved to Los Angeles to live with an aunt. While growing up in L.A., Ice T was exposed to the inner-city violence and gang lifestyle that would become the main inspiration for his music later on. After graduating from high school with great grades, Ice T joined the army and was on active duty for four years before returning to L.A. At a loss for funds, Ice T became a hustler, but the criminal career wasn't sustainable for him. To change his lifestyle completely, Ice T began rapping and producing music, which would change his trajectory forever.
How did Ice T get his name?
After renouncing the gang lifestyle, Marrow decided to become a DJ to support himself. Marrow decided on the stage name Ice T as an homage to the novelist Robert Maupin Beck III, who published works under the pen name "Iceberg Slim." Beck was an ex-pimp who gave up the job to become a writer, crafting nail-biting works that described the seedy underbelly of criminal organizations. After DJing proved lucrative, Ice T noted his rapping gained even more attention from audiences, so he shifted focus to a rap career. A poet in his own right, Ice T quickly became known for his witty lyricism and vulnerable lyrics, leading him to be signed by Sire Records in 1987.
Ice T's albums and songs
After earning a record deal, Ice T hit the ground running by releasing his debut album Rhyme Pays in 1987. The album is a must-listen for all hop-hop fans, with Ice T embracing the west coast sound while tackling hard-hitting political themes. Ice T's topical lyrics and musical poetry ring true throughout his eight studio albums: Rhyme Pays, Power, The Iceberg/Freedom of Speech...Just Watch What You Say, O.G. Original Gangster, Home Invasion, Ice-T VI: Return of the Real, The Seventh Deadly Sin, and Gangsta Rap. 
Ice T is also the frontman of his long-running heavy metal band, Body Count, which led to the release of one of his most controversial tracks, "Cop Killer." The song is essentially exactly what it sounds like, and it earned the band widespread criticism and even a call-out from President George H.W. Bush, who publicly denounced it. But Ice T took it all in stride, even breaking off his deal with Sire in favor of releasing music under his own Rhyme Syndicate and Priority Records. And it's been a massive success, Ice T has since released numerous hits and collaborated with countless major Acts. Ice T has released seven studio albums with Body Count, who won a Grammy in 2021 for Best Metal Performance with the song "Bum Rush." 
Ice T's movies and TV shows
If Ice T's music career wasn't enough to marvel at, he was also exploring acting alongside it. He stayed booked and busy while launching his film and TV career in the late 1980s.
Ice T vamped his resume by taking numerous film roles, with some of his most notable film credits including  Leprechaun in the Hood, New Jack City, Ricochet, 3000 Miles to Graceland, Trespass, Tank Girl, and Johnny Mnemonic. 
But Ice T would gain the most traction in his television projects, especially SVU. Outside of Law & Order, he has guest-starred in several popular shows like 30 Rock, Unbreakable Kimmy Schmidt, and the One Chicago series.
Ice T also has an impressive reality TV career, starring in Ice T's Rap School, The Mediator With Ice T, Ice Loves Coco, and Ice & Coco. Another recent passion project is The Peacemaker: L.A. Gang Wars, a reality series that details the life of Malik Spellman, a gang mediator.
Ice T, wife Coco Austin, and their daughter, Chanel
Ice T and Coco Austin met for the first time in 2001 while on the set of a music video and married a few months later in 2002 during an intimate Las Vegas ceremony. They renewed their vows in 2011 and filmed the ceremony to be included in Ice Loves Coco. Ahead of the release of their talk show Ice & Coco, the couple announced that they were expecting their first child. Their daughter, Chanel Nicole, was born in November 2015. Ice T also has two children with former partners, a daughter LeTesha and a son Tracy Marrow Jr.
When did Ice T join Law & Order: SVU?
It's hard to believe that separate from these amazing feats, Ice T also had the time to change lives as SVU's Odafin Tutuola, but Law & Order fans are eternally grateful. He joined the cast of Law & Order: SVU in 2000 during the second season premiere. 
Ice T has since filmed over 400 SVU episodes and has become the longest-running male actor in a TV series for his role on the show. 
Watch Law & Order: Special Victims Unit Thursdays at 9/8c on NBC and the next day on Peacock.