NBC Insider Exclusive
Create a free profile to get unlimited access to exclusive show news, updates, and more!
Sign Up For Free to View
Ice T Has a Great Reason For Never Rapping on Law & Order: SVU
This makes total sense. Watch Law & Order: Special Victims Unit Thursdays on NBC.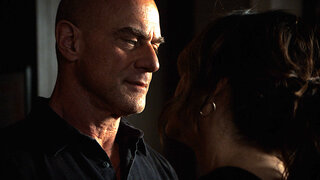 Ice T may have rose to fame as a rapper before his Law & Order: Special Victims Unit days, but that doesn't mean he plans on merging those two worlds any time soon.
"I wouldn't do that: That would be corny," Ice T told TODAY when asked if his character Odafin "Fin" Tutuola would ever drop a few bars on SVU. "Because Fin would be able to rap as good as I rap. So, they would have to try to make me rap half-assed, which I wouldn't do. Now, I got to draw the line somewhere."
However, Ice T has chosen to take his verse-writing skills elsewhere on set. He told the outlet that he wrote a rap for co-star Mariska Hargitay's organization Joyful Heart. "It's funny, though, Mariska has me write her raps," Ice T told the outlet. "She wants to rap, like, 'Write me a rap.' So yeah, I wrote a rap for Joyful Heart. She's got a little rap I wrote her early.
"She's like, 'It's time for you to write me a new rap.' All right, take it easy, Mariska," he joked. Now we're dying to hear Hargitay's flow!
Ice T then went on to talk about how fans tend to recognize him nowadays. "People don't really trip off me because … Fin is a character, but Ice T is bigger. So on the street, they don't call me Fin like they might call Mariska Olivia. But they don't call me Fin — they call me Ice," he explained.
"If you're under 23, you have no reference point to me as a rapper," he added.
To celebrate his prolific career, Ice T is soon receiving his own star on the Hollywood Walk of Fame "I grew up in L.A., and I knew the stars, and we used to walk up and down the street and see the stars. I never imagined I could get a star, but when they told me I was going to get one, I was like, 'OK, that's cool," he said of learning the news.
Watch Law & Order: SVU on NBC Thursdays at 9/8c and next day on Peacock.