NBC Insider Exclusive
Create a free profile to get unlimited access to exclusive show news, updates, and more!
Sign Up For Free to View
Fin's Past Came Back to Haunt Him in the Latest Law & Order: SVU
Ice T took the spotlight in the latest episode of SVU, and it was a thrill from beginning to end.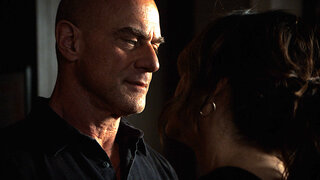 Any time Law & Order: Special Victims Unit shines a spotlight on Ice T as Sergeant Odafin "Fin" Tutuola, fans are in for an exciting episode. Season 24's "Dutch Tears" was no exception, as the curtain was pulled back on Fin's personal life and early days as a police officer. 
The episode begins with all our favorites celebrating Fin's recent accomplishment: the Harlem Heart Award. Captain Benson (Mariska Hargitay) stands up for a toast, giving a heartwarming tribute to her longtime SVU companion. "Over the past 22 years, I have had the privilege of bearing witness to all that Sergeant Tutuola has accomplished," Benson announced to the precinct. "So you know, we all love Fin's sorta easy, laid-back attitude and a sense of sarcasm that could cut a person's brake line-"
"Easy..." Fin teased, collecting a crowd of laughs.
"-but those of us who have been in the trenches with Fin know that he is truly a walking redemption story. Fin was raised in Harlem, and at the tender age of six years old, he witnessed his own mother's murder," Benson continued. "And the reason I say that is because Fin worked through his own pain and was determined to help other people work through theirs, so he became a cop. He joined the narcotics squad, and fortunately for us, found that his talents were better suited for SVU."
"So Fin, I just want you to know that you're not fooling anyone, And underneath that tough facade is a kind and compassionate man who has bravely triumphed over his pain and used it for so much good," Benson emotionally shares before concluding, "So will you all join me in raising a glass to this year's winner of the Harlem Heart Award, but also to the enduring power of redemption: Sergeant Odafin Tutuola!"
Pass the tissues, right? The emotional speech is a tender foreshadowing of what's to come, an episode packed with redemption and new beginnings.
Fin is all smiles during the party and has a few drinks with his SVU friends. Benson volunteers to walk an intoxicated Fin back to his apartment, and as Fin turns on the light to unwind for the night, he finds a shocking discovery: a man sitting in a chair with a gun pointed at him.
"Do I look familiar?" the man asks.
"No," Fin retorts. "But I'm sure you'll refresh my memory." And all this before the iconic theme song!
The man behind the trigger is Ivan "Dutch" Hernandez, a man Fin arrested 23 years ago during the early days of his police career. While maintaining his grip on the gun, Dutch reminds Fin that he picked him up on drug dealing charges and that after he sent him to prison, his life became a nightmare. Dutch reveals that after he learned the officer that put him away was now working with special victims, he decided he needed to track him down. 
Dutch reveals to Fin that after being arrested, a correctional officer allowed a rapist into his cell. He was violently sexually assaulted by a man he calls "Cream Cheese," who branded an "H" to Dutch's chest after the assault as a signal to others. The branding caused Dutch to be continually gang raped throughout his incarceration. After talking Dutch down from recounting the tragic ordeal, Fin asks him if the gun was even loaded. Dutch reveals it isn't, and Fin decides to help him find the justice that is so long overdue. 
Fin gathers his SVU crew to go after the officer who orchestrated the assault. After Dutch agrees to testify, Fin and Detective Bruno (Kevin Kane) and Fin pay the corrections officer, since promoted to Captain, a visit to his home. After revealing they know his involvement with the assault, his wife becomes aggressively defensive and kicks them out of their home. Fin decides to give Benson a ring to put the pedal to the metal for their investigation. 
Benson and Fin visit the residence of the released Cream Cheese, who flees as soon as they arrive. To add insult to injury, they discover he was tipped off by the CO's wife, who alerted Cream Cheese. Dutch becomes upset and complains that they should have shot him, but Fin assures him they will get the man who did this to him; they just need to be confident about the suspect. Fin reminds Dutch that he should find something new to live for rather than letting the assault take over his life. He encourages Dutch to open up about his daughter, but he is apprehensive. 
Bruno makes some progress in the investigation, learning that "Cream Cheese" is a man named Virgil Hatton. Dutch struggles to ID Hatton from a lineup of photographs, which causes ADA Sonny Carisi (Peter Scanavino) to worry about their case. Carisi arranges a meeting with the CO and his lawyer, providing proof that they can connect him to Hatton and that he sanctioned widespread sexual assault. The CO agrees to tell them Hatton's whereabouts, but they all know they need firm confirmation from Dutch that Hatton is the man who assaulted him all those years ago.
Carisi, Bruno, Fin, and Dutch all gear up to go to a club where Hatton allegedly hides out to get that positive ID. In the car on the way to the bust, a touching moment occurs between Fin and Dutch as they chat about Fin's family and fatherhood, which eventually leads to a masked confession from Dutch about his insecurities surrounding his estranged daughter. Fin tells Dutch that he needs to lay down his armor and that after the arrest, he should try to move on. 
While staking out the club, Dutch continues to struggle to identify Hatton from the bar guests. But after Bruno asks a suspect to borrow a lighter, Dutch recalls how the man looked while branding him, and successfully identifies Hatton. But right as Fin goes to put the handcuffs on Hatton, Dutch bursts from the police vehicle. Dutch attempts to strangle Hatton out of pure rage, but Fin talks him down. He reminds Dutch that he shouldn't allow revenge against Hatton to put him in prison again.
Carisi reports to Benson and Fin they have enough to charge Hatton and the CO and that Dutch will be recommended for court-mandated therapy. Benson and Fin have a heart-to-heart about the ordeal, where Fin admits he feels guilty about his role in Dutch's trauma, understanding that he thinks he inadvertently hurt him.
"Maybe, but in the last 12 hours, you did everything right," Benson tells him, before adding that he should go home for the night. But Fin has one last thing to take care of...
In the episode's closing moments, Fin brings Dutch into the SVU and admits that he arranged for a meeting between him and his daughter. Dutch is initially anxious, but Fin reminds him that it's his "baby girl" and that everything will be alright. As Dutch and his daughter meet each other for the first time, it's instantly clear a new and refreshing connection is made. After everything Dutch went through, it's well-deserved and is yet another sign that Fin always goes above and beyond as a police officer. 
Watch Law & Order: Special Victims Unit Thursdays at 9/8c on NBC and the next day on Peacock.