NBC Insider Exclusive
Create a free profile to get unlimited access to exclusive show news, updates, and more!
Sign Up For Free to View
All About Terry Bruno, Law & Order: SVU's New Detective
Now that Rollins has left the SVU, is there an opening for a new detective?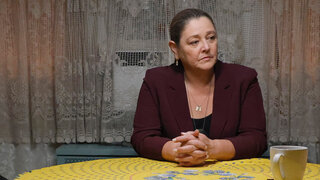 Season 24 of Law & Order: Special Victims Unit has been tense, with cherished characters leaving the squad and new faces settling into the new landscape. 
Captain Olivia Benson (Mariska Hargitay) has had her hands full ever since Rollins left the SVU. She's been relying on Fin (Ice T), Velasco (Octavio Pisano), and newbie Grace Muncy (Molly Burnett) to help see justice served as tensions have begun to rise in the Bronx. 
Benson's supervisor asked her to help the Bronx SVU with their surplus of open cases, and she was initially apprehensive because she was more concerned about her own squad. But after Benson was attacked by the Bronx-based BX9 gang, she realized she could potentially kill two birds with one stone. As Benson accessed the sitch at the Bronx SVU, she met Detective Terry Bruno. Bruno is a dedicated detective famous amongst the NYPD for winning a wrongful termination case against the Bronx SVU. But who is he, exactly, and why does he look familiar?
Who is Detective Bruno on Law & Order: SVU?
Bruno is played by Kevin Kane, an old friend of the Law & Order and One Chicago franchises. Kane has appeared in two episodes of the original Law & Order and played four minor characters in SVU. Kane also played a recurring character in Season 4 of Chicago P.D., Mike Sorenson, a patrol officer who resigned. Simply put, Kane is no stranger to playing a police officer, which was immediately apparent when Benson came face to face with Bruno. 
Bruno is a Bronx SVU detective who managed to successfully sue his department for wrongful termination after he spoke out about their malpractices; this led to a civil rights investigation by the Department of Justice and Bruno receiving a sizable settlement from the city. Despite being a freshly-minted millionaire and despised by many of his law enforcement colleagues, Bruno maintained his post at the mostly-abandoned SVU and is happy to see Benson is there to whip their unit into shape. 
As soon as Benson and Fin began working with Bruno on cases, they discovered he was a clever and resourceful detective. Bruno is as creative as he is empathetic, which makes him an instant ally for Benson and Fin as they wrap their head around Bronx's pile of open cases, including BX9.
After some nail-biting criminal chases and witness gathering, in Episode 12, "Blood Out," Bruno continued to prove his worth as Benson prepared for the trial of BX9's gang leader. Meanwhile, Fin and Bruno helped a woman who was drugged and left for dead. They quickly discovered it was a serial killer responsible, and Bruno helped navigate the situation into an arrest. 
After the head of the Bronx gangs unit was shockingly killed by BX9 gang members mere seconds after seeing Benson, all hands were on deck. Fin visited Benson at the precinct as she processed the developments. To try to help Benson look at the bright side, Fin redirected her focus. "We did catch the serial. Picked him up off a fake ID, DNA linked him to the rape kit. And I'm really impressed with Money Bags," Fin said, throwing some respect to Bruno. "This guy's driven. He's on a mission. I was thinking. Now that Rollins is gone, we could use another body."
Bruno earns his spot in Benson's SVU
Season 24, Episode 13 ("Intersection") was a fun episode for our newbie, as Fin finally gave Bruno the grand tour of the SVU. As Bruno went to sit at Rollins' old desk, Benson made it clear that Bruno would need to earn his keep. Basically: You're a good detective, but are you qualified for my SVU? With Rollins gone, there are some pretty big shoes to fill. After a car accident led to an EMT impersonator assaulting a woman, a prime opportunity to prove himself fell into Bruno's lap.
After another car accident and assault, Bruno theorized that the crashes were being coordinated by the fake EMT. After looking into the area's traffic lights, they realize that these accidents were triggered by someone controlling the lights remotely. Bruno's hunch was correct, and lucky for Benson and the squad, he has a firefighting ex-wife who knows a thing or two about that type of stuff. Benson and Bruno visited his ex at the fire station and confirmed Bruno's suspicions, while viewers learned a little bit about Bruno's personal life. He still cares deeply about his ex-wife but was responsible for their marriage's downfall, admitting this to Benson as they left.
Knowing how these assaults happened, the squad begins chasing down their perpetrator after yet another accident and assault occurred. Fin caught up to Benson to inform her that they tracked down the man responsible, but there was a catch: he had a hostage. Benson arrived on the scene and found his wife, effectively distracting him as backup arrived and took down the serial rapist.
Bruno was the key to solving this specific puzzle, not only in his connections but also in his intellect. Between his wit, dark humor, and exceptional detective skills, it's clear that Bruno is a valuable addition to the team. Even Benson had to admit that Bruno did a great job, and it looks like the future of the Manhattan SVU will be brighter with Bruno in it
Watch Law & Order: Special Victims Unit Thursdays at 9/8c on NBC and the next day on Peacock.