NBC Insider Exclusive
Create a free profile to get unlimited access to exclusive show news, updates, and more!
Sign Up For Free to View
Watch Here: The Dramatic Moment When Stabler Tried to Kiss Benson
SVU fans everywhere are still recovering from the steamy Bensler scene.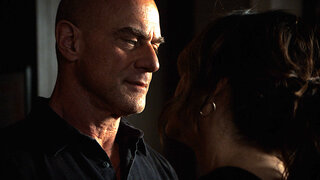 It was a jaw-drop felt around the world when Elliot Stabler (Christopher Meloni) tried to kiss Olivia Benson (Mariska Hargitay) on Law & Order: Special Victims Unit, and it's safe to say fans are still recovering. If you haven't seen the steamy SVU scene, please take a moment to watch for yourself, above, because it will go down in SVU history.
In the closing moments of Season 24, Episode 12 ("Blood Out"), everything changed for fans who have been rooting for Bensler to get together since the SVU early days. Benson and Stabler have always had a complicated relationship, and their endless chemistry exploded after they found themselves alone in Benson's apartment for the first time in a while. But just as Stabler went in for a kiss, Benson pulled away at the last moment.
"Elliot, I want to," Benson admitted. "I want to, but I can't."
"Why not?" Stabler asked.
"Because what if it doesn't work out?" 
"What if things work out?" Stabler challenged, echoing the thoughts of Bensler fans everywhere. 
"I'm not ready for this," Benson concluded, pulling away from Stabler. Alas, Benson and Stabler have gotten closer to admitting their true feelings for each other, but we are yet again at a standstill.
How did we get to this almost-kiss, you ask? Both Law & Order: OC and SVU have been exploring Benson and Stabler's feelings for each other, and with 24 years of history, there is some hefty baggage. 
Benson knows she feels for Stabler but is still working on trusting him after he abandoned her for a decade. And on the flipside, Stabler has finally started therapy and admitted he is in love with someone (no name) and ready to begin a new chapter. While Benson and Stabler are getting closer to a romantic collision, they both have some personal stuff that should be addressed before that romance becomes a reality.
Put simply, Benson and Stabler are not teenagers rushing into a fling. They could be end-game material. Based on that steamy scene, the chemistry is there, but the timing is off. One thing is for certain: Benson and Stabler are heading into uncharted territory.
Find out what happens between Benson and Stabler by watching Law & Order: SVU on NBC Thursdays at 9/8c and the next day on Peacock.