NBC Insider Exclusive
Create a free profile to get unlimited access to exclusive show news, updates, and more!
Sign Up For Free to View
Stabler Finally Admitted Why His and Benson's Relationship Has Been So Rocky
The impenetrable force that is Stabler is finally opening up.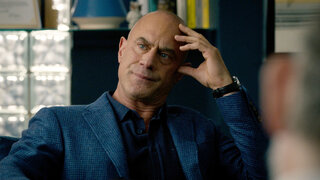 Needless to say, Stabler (Christopher Meloni) has been through a lot on Law & Order: Organized Crime. But simmering beneath these anxieties, he continues to be plagued by his relationship with Benson (Mariska Hargitay). The friendship between Benson and Stabler is more complicated than usual as of late, especially as they both finally consider what it would be like to become something more.
The two haven't seen each other in a while, and their once-harmonious relationship is now fraught. On the OC side, Stabler has admitted to being in love with a mystery woman while separately finally starting to see a therapist. On the SVU side, Benson revealed that the sudden possibility of something more with Stabler is "paralyzing," especially since she hasn't forgiven him for abandoning her for a decade. In Season 3, Episode 11 of OC, Stabler finally fessed up to his therapist about why he thinks things have been so rocky between himself and Benson.
"I recently lost a friend," Stabler confessed. "A very close friend. A partner."
"Care to tell me how that happened?" the therapist asked. 
"Through neglect, on my part," Stabler admitted. "Fear. Selfishness."
"Sounds like you're a man in the need of a new beginning," his therapist advised before a work call cut their session short (of course). 
Despite the turbulence they've faced lately, it's abundantly clear that Stabler and Benson care deeply about each other. They both have their fair share of baggage, and it appears they're heading toward a confrontation of some sort. But what's going to happen? One thing is certain: Fans can't wait to see. 
Watch Law & Order: Organized Crime on NBC Thursdays at 10/9c and the next day on Peacock.