NBC Insider Exclusive
Create a free profile to get unlimited access to exclusive show news, updates, and more!
Sign Up For Free to View
Did Stabler Just Admit to Being in Love With Benson on Organized Crime?
Let's examine the evidence.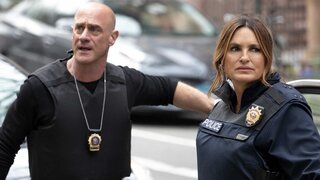 As Law & Order: Organized Crime continues to explore Stabler (Christopher Meloni) moving forward from the death of his wife, Kathy, many fans are wondering whether or not he and Benson (Mariska Hargitay) will finally become Bensler. The possibility of this was hinted at in OC Season 3, Episode 8, titled "Whipping Post."
Here's what happened: In the episode, Stabler worked a case with an Italian agent and former partner of his from abroad, Tia Leonetti (Ayelet Zurer), who's the spitting image of Benson. These two first crossed paths this season in Episode 7, and it became clear they had a previous entanglement while Stabler was abroad.
And they picked up right where they left off. Episode 7 ends with Stabler having a drink at home alone, gazing at a picture of Kathy. He then gets a call from Tia, who's arrived at his doorstep to rekindle their connection. But they don't hook up. Instead, they have a few drinks and spend the whole night talking, with Stabler crashing on his couch and giving Tia the bed. 
The next morning, the two joke about how much they had to drink, and Stabler ribs Tia for not remembering their conversation.
"I remember some things," Tia tells Stabler. "The important parts. I guess, yeah. Except her name."
"Who's name?" Stabler asks, clearly panicking on the inside while Tia smiles coyly. That's when Tia hits Stabler (and every Bensler fan watching) with the mother of all jaw-droppers. 
"You said there's a woman you're in love with," Tia explains. 
"I did?" Stabler asks, avoiding eye contact. Tia notes his discomfort and grabs his arm. 
"Love shouldn't be complicated. Love affairs, yes," Tia teases. "They can get messy. But love, that's different."
In classic Stabler style, he remains verbally and emotionally silent, and it becomes increasingly evident that Tia's attempt at a reforged love connection was likely for not. 
That said, Tia ends up staying in New York to help Stabler with an attempted murder case. But here's the real question: Who was the woman Stabler was referring to the night before? 
It's probably not Tia. Their chemistry this episode doesn't seem to go beyond harmless flirting. It's obvious Tia wants to say, but she knows the Mystery Woman Mentioned the Night Before is on Stabler's mind. Before she leaves, though, Tia offers Stabler some wise words.
"Whoever it is you're in love with," Tia tells him. "She's a lucky woman."
Of course, fans can't know for sure who this woman is, though there's a case to be made that it's Benson. From the moment Stabler's been back on Organized Crime, there's been electricity between Benson and Stabler. And remember the letter Stabler gave Benson in Season 2 of OC that ended with, "In a parallel universe, it will always be you and I?" Also, how about the dozens of times villains have used Benson against Stabler to get him riled up (please see: Richard Wheatley)? 
Unfortunately, Bensler fans will have to continue the Mystery Woman debate without much hard evidence for now. Hopefully, future episodes will help fans solve this case.
As always, watch Law & Order: Organized Crime on NBC Thursdays at 10/9c and the next day on Peacock.