NBC Insider Exclusive
Create a free profile to get unlimited access to exclusive show news, updates, and more!
Sign Up For Free to View
What Happened to Richard Wheatley on Law & Order: Organized Crime?
Is the Wheatley family gone for good?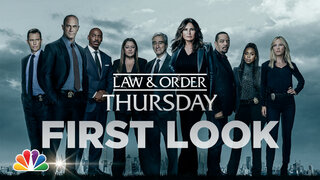 Law & Order: Organized Crime centers around Detective Elliot Stabler (Christopher Meloni) and NYC's Organized Crime Unit as they serve justice to some of the country's most high-level criminals. Stabler crosses paths with many insidious faces on the show, but viewers could never forget NYC's most corrupt businessman, murderer, and mob affiliate, Richard Wheatley, played by the talented Dylan McDermott.
Much of Season 1 and 2 of Law & Order: OC is a cat-and-mouse game between Stabler and Wheatley, with fans always anxious to see if Wheatley would finally face the consequences for his heinous crimes. 
Related: Benson and Stabler Teaming Up Again in the Law & Order Premiere Event Was So Exciting
Law & Order: OC has finally returned with an action-packed Season 3 premiere, featuring an entangled crossover plot with Law & Order and Law & Order: Special Victims Unit. While many viewers are excited about new obstacles, they may have noticed a distinct lack of McDermott. Is Richard Wheatley gone for good, or can Law & Order: OC fans anticipate an eventual return? 
Where did Dylan McDermott's character go on Law & Order: Organized Crime?
There is little Wheatley won't do to get what he wants: embezzlement, money laundering, drug trafficking, murder, assault. Wheatley is captivating because he knows the best ways to manipulate those around him to get everything he wants while rarely lifting a finger himself. Stabler brushes paths with Wheatley through his mob dealings but quickly realizes that Wheatley is also responsible for the murder of his wife, Kathy Stabler.
Season 1 of Law & Order: OC is Stabler tracking down Wheatley to prosecute him for his wife's murder, among many other criminal transgressions. The OC Unit has to jump through numerous hoops to get there, including putting Wheatley's wife, Angela Wheatley, in witness protection. But even when they manage to see Wheatley go to prison, it isn't that simple. 
The second season of Law & Order: OC begins with Wheatley being uncharacteristically cooperative with the authorities. Wheatley wants to become so helpful that no one will expect that he's become more dangerous than ever. Wheatley is eventually released with all charges dropped and continues to help the FBI. But viewers quickly learn this is all a ploy.
Did Richard Wheatley die on Law & Order: Organized Crime?
While alluding and misleading the authorities, Wheatley organizes a cyber attack on all of New York City, including rolling blackouts and a televised list of horrific demands for the OC Unit, including Stabler admitting his crimes as a cop while a local film crew records. The OC Unit restores power to the city, causing Wheatley and Angela to flee while Stabler pursues them. Wheatley and Stabler's cat-and-mouse chase only ends when Angela calls Stabler to confirm Wheatley's crimes before driving their car over a cliff. 
The OC Unit is able to recover Angela's body, confirming she died in the crash. As for Richard Wheatley, his ending is a tad more suspicious because his body is never found. Sgt. Bell (Danielle Moné Truitt) tells Stabler that based on the crash, "Nobody thinks it's remotely possible he could still be alive." Stabler is understandably apprehensive because, as Law & Order: OC fans know, Wheatley is excellent at worming his way out of trouble. 
Without a confirmed corpse, Wheatley's whereabouts are unknown. But OC fans shouldn't expect a McDermott return any time soon. From the Season 3 premiere, it looks like the OC Unit is pursuing a different world of organized crime, with Wheatley finally out of it.
Watch Law & Order: Organized Crime on NBC Thursdays at 10/9c and next day on Peacock.