NBC Insider Exclusive
Create a free profile to get unlimited access to exclusive show news, updates, and more!
Sign Up For Free to View
Who Is in the Cast of Law & Order: Organized Crime?
Christopher Meloni has been joined by many other great actors in this newest addition to the franchise.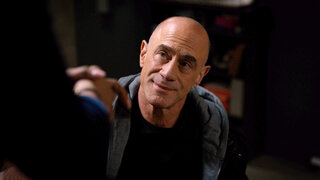 It's never a dull day for the Law & Order: Organized Crime detectives. 
With Christopher Meloni as Elliot Stabler, viewers can never guess which case the Organized Crime Control Bureau will go after next. Representing a specialized Task Force within the NYPD that targets the most well-hidden criminal networks, Stabler and the OCCB have seen it all. It takes a village to dismantle criminal empires, but the OCCB is a fearless machine that has torn down every insidious organization that's come their way.
Look back at the many talented Law & Order: Organized Crime cast members of present and past. 
Christopher Meloni as Detective Elliot Stabler
Seasons 1-3 
Christopher Meloni (as always) shines in his performance as Elliot Stabler, an Law & Order: Special Victims Unit veteran, and seamlessly transitioned back into hischaracter after a decade-long break from the franchise.
RELATED: The Emotional Evolution of Detective Elliot Stabler Through the Years 
Stabler joined the Organized Crime Control Bureau after the devastating murder of his wife by a large criminal organization (more on that later). After successfully closing that case, Stabler has been writing a new chapter in the big city, reconnecting with his cherished former SVU partner, Olivia Benson (Mariska Hargitay). The OCCB has only become stronger with Stabler in it, and we can't wait to see where it goes next.  
Danielle Moné Truitt as Sergeant Ayanna Bell
Seasons 1-3 
Every criminal-fighting team needs a strong leader to guide their way, and that's where Sergeant Ayanna Bell (Danielle Moné Truitt) steps in. Bell has served as the OCCB's fearless leader since the series debut, spearheading several nail-biting criminal cases. Ayanna Bell is the squad supervisor and Stabler's partner in crime-fighting, never faltering in her double duties.
RELATED: Why Danielle Moné Truitt Is Skeptical of That Benson-Stabler Almost-Kiss 
Bell always does everything she can to see justice served; it's always just a matter of time until she sees a case closed. Even when chaos waits at home, Bell always keeps her head in the game.  
Ainsley Seiger as Detective Jet Slootmaekers
Seasons 1-3  
While Stabler and Bell are often the last face these bad guys see before heading to prison, the force behind locating these criminals is the quick-as-a-whip NYPD officer and former independent hacker, Jet Slootmaekers (Ainsley Seiger).
While Stabler and Bell have been in the game for years, Jet brings a zillennial zest to the OCCB that keeps the Squad fresh. When the Task Force is at a loss for the bad guy's whereabouts, you can always count on Jet to track them down impressively fast. Jet doesn't just keep Stabler and Bell constantly in the know; she also keeps them on their toes with her effortless wit.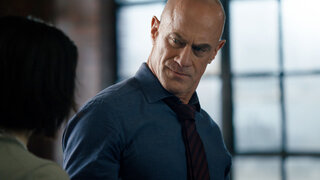 Sieger is an Organized Crime fan-favorite as Jet, bringing deadpan humor and never-failing computer skills to the team since OC's series debut. 
Rick Gonzalez as Detective Bobby Reyes

 
Season 3  
Bobby Reyes (Rick Gonzalez) was introduced to the Law & Order: Organized Crime cast in Season 3, Episode 1 ("Gimme Shelter"), when the Task Force sought out an exceptional undercover detective for their ranks. Enter: Jack-of-all-trades Detective Bobby Reyes, known by his colleagues as "The Invisible Man" for his paranormal skill for undercover transformation. Reyes introduced himself to the OCCB by disguising himself as an electrician for the interview, eavesdropping on their chatter about an investigation before making himself known.
Needless to say, Reyes made an amazing first impression. 
RELATED: All About Law & Order: Organized Crime's New Undercover Detective, Bobby Reyes
Reyes' chameleonic abilities have made him the perfect addition to the OCCB. Whether he needs to become an information-collecting inmate or an unsuspecting teenager eavesdropping on a conversation, Stabler and Bell can always trust Reyes to handle it. Reyes specializes in flying under the radar and catching suspects off guard, leading to many thrills and chills.  
Brent Antonello as Detective Jamie Whelan
Season 3
Whelan became a member of the Law & Order: Organized Crime cast in the Season 3 premiere alongside Reyes. Whelan instantly connected with Stabler, who viewed the OCCB newbie as a younger version of himself. Whelan was tenacious and results-driven, fearlessly throwing himself into harm's way to see justice served. Stabler and Whelan's similarities were undeniable, leading Stabler to become a sort of mentor to Whelan throughout Season 3.
Sadly, Whelan's OCCB tenure ended in Season 3, Episode 22 ("All Pain is One Malady") after he was shot and killed in the line of duty.  
Dylan McDermott as Richard Wheatley 
Seasons 1-2 
Organized Crime is centered around the insidious underbelly of various criminal networks — which necessitates several formidable Law & Order: OC villains. Richard Wheatley (Dylan McDermott) is easily one of the most vile criminals the OCCB has ever faced — and he is the man responsible for the murder of Stabler's wife, Kathy (Isabel Gillies). 
RELATED: What Happened to Richard Wheatley on Law & Order?
From his horrific introduction in OC's pilot episode, it was clear that the conniving and calculated Richard Wheatley needed to be stopped. Richard finally got a taste of justice in an exciting SVU crossover episode in Season 23, Episode 9 ("People vs Richard Wheatley"). Richard expertly manipulated the justice system to prolong his detentiont, even becoming an informant for the OCCB to reduce his prison sentence in Season 2.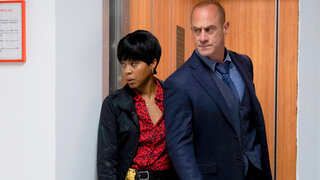 After he escaped from prison and committed city-wide cyber terrorism, Richard met his jaw-dropping demise in Season 2, Episode 14 ("...Wheatley Is To Stabler"). While on the run from the authorities with his ex-wife, Angela (Tamara Taylor), in the driver's seat, she decided to put an end to the madness by driving their car off a bridge. Angela's corpse was recovered from the wreckage, but Richard's body mysteriously disappeared.
Bell was positive Richard couldn't have survived the crash, but Stabler remained suspicious. 
Tamara Taylor as Angela Wheatley
Seasons 1-2 
Tamara Taylor shined in her portrayal as the enigmatic Angela Wheatley, Richard Wheatley's ex-wife.
Stabler investigated Angela throughout the first two seasons of the series to see how involved she was in Richard's misdeeds, leading him to play a flirtatious cat-and-mouse game with the ex-wife of the man he was tasked with putting behind bars. Angela and Stabler's fling was short-lived, however, upon the shocking discovery she had a role in Kathy's murder. 
Richard had lied and manipulated Angela to ensure she'd have a significant role in the conspiracy, which only occurred because Angela mistakenly believed Stabler has played a part in the murder of her son, Richie.
Stabler and Angela never mended their relationship, but Angela ended the entire harrowing ordeal with her murder-suicide stunt in Season 2, Episode 14 ("...Wheatley Is To Stabler"). Whether or not that choice was as fruitful as she believed it would be remains a mystery. 
Nona Parker Johnson as Carmen "Nova" Riley 
Season 2 
Before the Bobby Reyes era of OC, it was undercover investigator Carmen "Nova" Riley (Nona Parker Johnson) who excelled in the art of infiltration.
Nova was introduced in Season 2, Episode 1 ("The Man With No Identity") as an undercover narcotics detective sent to work with the OCCB to dismantle the Marcy Killers. Nova was quickly accepted as a bona fide member of the OCCB, helping Stabler and the task force infiltrate the Marcy Corporation from the inside by brushing shoulders with Marcy's crime boss Preston Webb (Mykelti Williamson). 
Johnson's final appearance as the passionate Nova was in Season 2, Episode 22 ("Friend or Foe"). During her time undercover, Nova succeeded in getting close to Webb, witnessing numerous horrific acts along the way. In the Season 2 finale — right when Webb seemed invincible — his dead body was found at the bottom of a canal.
Shortly after, Nova surprisingly resigned from the NYPD and left the city. Upon hearing the news of Webb's death, Nova explained that Webb's murderer "could be anyone," but the implication was that the departing OCCB member was the one who ended Webb's tangled network once and for all. 
This article was first published on June 9, 2023. It was updated on August 16, 2023.