NBC Insider Exclusive
Create a free profile to get unlimited access to exclusive show news, updates, and more!
Sign Up For Free to View
All About Law & Order: Organized Crime's New Undercover Detective, Bobby Reyes
The man is an investigative chameleon!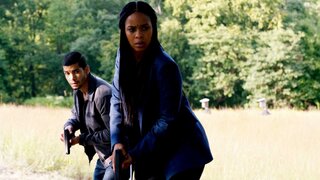 Law & Order: Organized Crime Season 3 has been a wild ride, as Detective Stabler (Christopher Meloni) and the Organized Crime Control Bureau tackle one of NYC's most wealthy crime families, the Silas family. Better yet, the OC unit has received a bit of an expansion with the introduction of a new undercover detective, Bobby Reyes (Rick Gonzalez).
Reyes joined the OC Bureau after excelling in his undercover assignments with the Narcotics and Anti-Crime units. Bobby takes his undercover position seriously, even introducing himself to his new coworkers by disguising himself as an electrician working in their office before revealing his true identity. Reyes is efficient, tactical, and an overall great addition to the team.
Who is Detective Bobby Reyes in Law & Order: Organized Crime?
Reyes hits the ground running in his debut episode, Season 3 Episode 2's "Everybody Knows the Dice Are Loaded," where Stabler and the OC unit go after the Silas family for the suspected murder of Henry Cole, a man protesting the construction of a Casino built on his property. Going undercover as a club employee and construction worker, Reyes helps Stabler conclude that Cole didn't die in an accident but was killed. Cole was murdered by a hired criminal, Kenny Kile, who they apprehend in Season 3 Episode 3, "Catch Me If You Can." But now, the OC unit needed to prove the Silas family was behind the hit.
In Season 3 Episode 4, "Spirit in the Sky," the OC Bureau has their hands tied when they realize Kenny refuses to confess who hired him. Meanwhile, Kenny has problems of his own because now that he's in prison, numerous prisoners and correctional officers are hired to kill him to keep him silent. Have no fear: Detective Reyes is here! Seeking an end to the stalemate, Reyes volunteers to go undercover as an inmate to convince Kenny to work with authorities. 
Reyes' assignment doesn't go as simply as planned. He quickly gets blowback from Kenny, who seems adamant about staying quiet even amongst inmates. When Reyes first tries to connect with him over similar criminal records, Kenny gets physically violent with him. The tides only begin to change after Reyes notices a fellow inmate is about to shank Kenny, throwing himself in front of the blade to save Kenny's life.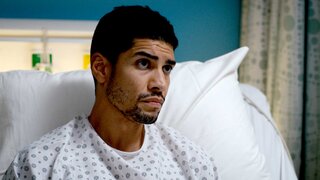 After being told by the OC unit to be more careful while in the hospital, Reyes successfully gains Kenny's trust by leveraging his wound against him. After Kenny reveals he is in danger, Reyes tells Kenny to work with the DA and ask to be transferred to a safer prison because the coordinated attacks aren't going to end any time soon. Kenny finally takes Reyes' advice, and with his cooperation, Stabler and Sgt. Bell (Danielle Moné Truitt) identify several higher-ups in Silas' organization. 
While Reyes' undercover mission was effective, the OC unit quickly realizes that Kenny was simply a tiny link within an insidious chain of command. It's not a matter of who hired the hit on Cole, but who is at the top of the crime pyramid. An intense shootout with Kenny's boss results in his death, and another boss commits suicide as soon as he realizes he has become a suspect. As the OC unit's leads disintegrate, they realize just how tangled the web has been weaved. 
Proving the Silas family is behind it all will be immensely difficult. But with Reyes on the force, getting into the nooks and crannies of the organization has never been easier. 
The Invisible Man has a dark past
The Organized Task Unit often juggles numerous cases at once, and the Robinhood gang was a huge problem this season, particularly with our newbie Bobby Reyes. Robinhood is a malicious group of criminals that pose as NYPD officers to carry out their evil deeds, and as it turns out, Reyes recognized a few of their top members. In Season 3 Episode 6, "Blaze of Glory," Reyes proved willing to bend the rules a bit to see his past aggressors finally see justice, and SVU fans got a better idea of how Reyes operates. 
Reyes reveals that three members of the Robinhood were his foster brothers, and while he hasn't seen them in years, he believes the events of their childhood have led them down the Robinhood path. Reyes identifies the Robinhood members as Vaughn Davis, Manny Rivera, and Dante Scott. Through a series of flashbacks, it's revealed that Reyes, Vaugn, Dante, and Manny were raised by an abusive foster father, Leonard Baker, who periodically abused all of his foster children.
Reyes thinks Leonard is likely still actively abusing foster children and visits his former home to see if his suspicions are correct. Reyes found multiple children at home, many with mirroring cigarette burns to his own from childhood. Before he could confront Leonard, the former foster dad flees the scene, but Reyes is determined. Despite getting numerous calls from Sgt. Bell and Jet Slootmaekers (Ainsley Seiger), Reyes continues tracking Leonard. 
Finally, Reyes manages to corner Leonard (after an impressive impression of a repairman) and confronts him face-to-face. Reyes loses it a bit, pulling a gun on Leonard as he asked him why he ran from him earlier. It comes out that Leonard was much more sinister behind closed doors, sexually abusive toward Manny, Dante, and Vaughn. Leonard denied it all, claiming he never did anything to hurt anyone. Reyes tells Leonard he is destroying children, and Leonard shrugs him off, knowing that he is spending time and resources to raise "children no one wants" so the courts will favor him. At the end of the day, Reyes doesn't have much of a case, but his gun remained raised at the end of their exchange. 
Reyes gives Sgt. Bell a call, who arrives to interrogate Leonard further about his involvement with Robinhood. Leonard reveals that Vaughn has been hiding out at the foster home, and Reyes manages to ensure Leonard will never do what he did to foster boys again. After learning about the dark circumstances of Reyes' past, it's interesting to see the OC newbie finally find some resolution to his trauma. How this will continue to shape Reyes in the present day is yet to be seen, but Reyes has proven that he will do anything to see justice served. 
Watch Law & Order: Organized Crime on NBC Thursdays at 10/9c and the next day on Peacock.