NBC Insider Exclusive
Create a free profile to get unlimited access to exclusive show news, updates, and more!
Sign Up For Free to View
Benson Got Shot and [Spoiler] Died in the Law & Order: Organized Crime Finale
We don't recommend watching the intense Law & Order: OC finale without tissues nearby.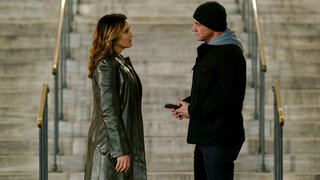 The Season 3 finale of Law & Order: Organized Crime finally saw Benson (Mariska Hargitay) and Stabler (Christopher Meloni) unmask the criminal behind the insidious revenge-for-hire website, Shadowërk. Here's what happened: 
Trigger warning: This piece contains descriptions of suicide and self-harm.
In a flashback from six months prior, we meet a young man named Kyle; he's emotionally fragile, anti-social, and living in his mother's attic while he works on something that's "going to change the world." Kyle is the malignant force behind Shadowërk. Disappointed by the state of the world, Kyle was on the cusp of dying by suicide, but then Shadowërk received its first listing for a hired murderer. Shadowërk getting traffic was the vindication Kyle needed to grow the site into what it's become today.
Operating under the name Hyakunin Giri six months later, it's clear Kyle has only become more passionate about his dangerous creation. In SVU's Season 24 finale, the OCCB and SVU monitored Hyakunin Giri /Kyle's server room based in his mother's office building and brought all the employees in for questioning. The arrests led Kyle to restore Shadowërk and place a hit on Benson and Stabler for $50,000 each, which was quite the obstacle at the start of OC's finale. 
Benson and Stabler learn one of the office employees, Linda, has a son named Kyle who fits Amanda Rollins' (Kelli Giddish) psych profile. Despite explaining to Linda that Kyle is their main suspect and likely put a hit on Benson and Stabler's heads, she emotionally shuts down and demands a lawyer. Linda tells them Kyle moved out months ago, and she has no idea where he went. But it's clear she's trying to protect him. 
Benson and Stabler have to lay low now that they're targets. They decide to go eat at a diner, but soon an armed man enters the restaurant, spraying tear gas in everyone's faces. The gunman makes a beeline for Benson and Stabler to take them out; thankfully, Benson manages to wet a napkin to maintain her vision. 
Benson goes to take a shot at the gunman, but during the ensuing chaos gets shot herself. A blinded Stabler pulls out his firearm, but he's unable to make the shot because of the tear gas. Benson leans over and guides Stabler's gun, assuring him she can still see, and snipes the gunman down instantly. The assailant is subdued, but Benson was shot in her left hip and isn't looking too good. A blurry-eyed Stabler picks her up and takes her to the nearest hospital.
Fin (Ice T) and Ayanna Bell (Danielle Moné Truitt) arrive at the scene and confirm the shooter was working under the Shadowërk listing. Later, the two sergeants interview Linda, who has lawyered up and still won't give up Kyle. Rollins recognizes the denial from the sidelines and joins the interrogation to speak with Linda about her son. Rollins shows Linda Kyle's suicide note from six months prior, which reveals he has had troubling compulsions for a while. Linda admits Kyle has always been a bit off, and Rollins reminds her there is no cure for sociopathy. Rollins' compassion becomes the ticket to Linda finally revealing Kyle's whereabouts. 
Later, Stabler visits Benson in the hospital, who's recovering from the shooting. As Stabler helps Benson get to her feet from the hospital bed, it becomes clear he might be more shaken up by the ordeal than she is. When Benson asks Stabler if everything is OK, Stabler admits that when he couldn't see anything but heard gunshots, he was afraid. 
"I thought I lost you," Stabler chokes out. 
"I can't imagine what that brings up for you," Benson says while comforting him. 
Stabler gets a call from Bell, who tells him the OCCB has successfully tracked down Kyle's location. The SVU and OCCB head to Kyle's hideout, a remote cabin in the woods. Rollins warns the detectives that Kyle would likely rather die than have Shadowërk taken down. Detective Whelan (Brent Antonello) and Reyes (Rick Gonzalez) take one area of the woods while Bell and Fin take another. 
The squads hear a gun fire in the distance, and Whelan and Reyes immediately head toward the shot. Bell spots an armed Kyle running in the distance, closing in on Reyes and Whelan's location. Kyle aims at the OCCB detectives, and while Reyes manages to wound him, Kyle still shoots Whelan in the neck. Reyes rushes to his fallen partner's side, insisting a medic responds immediately. As Reyes frantically attempts to stop the blood flow, Whelan tells Reyes that he can't feel his legs. 
Kyle continues to flee from authorities, and just as Bell zeroes in on his location, he pulls out a katana. Kyle recants the historic Japanese practice Hyakunin Giri, in which a soldier kills 100 people with one sword. Kyle tells them Shadowërk is his sword and will live longer than he ever will, then attempts to die by suicide with the weapon. 
The OCCB knows that Kyle can't die without taking down the website first. With one medic on the scene, saving Kyle would require Whelan to lose medical assistance when he needs it most. In a heartbreaking scene, Whelan tells the medic to help Kyle rather than continue working on him, and Reyes breaks down in frustration. There's nothing the OCCB can do but try to keep Kyle alive to prevent Shadowërk from continuing. 
A stabilized Kyle refuses to cooperate with the authorities, even telling them they shouldn't have saved his life. This blow comes much heavier with the added news of Whelan's condition; he's out of surgery, but the bullet went through his spine.
Kyle tells the cops he won't take down Shadowërk. To scare him, Stabler and Bell bring up his mother's role in the website. Linda may not have created Shadowërk, but she protected Kyle and slowed down their investigation, and the server was based in her office building. Bell and Stabler tell Kyle that if he doesn't take down the site, they'll arrest and charge his mother as an accomplice.
Reyes sticks by Whelan's bedside at the hospital, holding up the phone so that Whelan can speak with Jet (Ainsley Seiger). Whelan is on life support; he can't move his body, and the only way he can breathe is through a device sending shocks to his nerves. Whelan's melancholy is palpable, but Jet tells him to hold on to hope. Something could change and his condition could improve. But Whelan shrugs the idea away, and Jet tells him that she loves him. 
Whelan and Reyes have a sullen conversation about Whelan not being able to live in this condition. Whelan tells Reyes that he needs to do something for him while no one is around, insinuating he'd like Reyes to disconnect the life support device. Reyes encourages him to focus on the possibility of recovery. Before their conversation can go much further, Whelan's father arrives for a visit. Whelan tells Reyes he'd like to see him and breaks down in tears as soon as his dad enters the room. 
Linda seems to be the only person Kyle has any shred of empathy for, so he finally agrees to take down the site with no deal from the authorities. The OCCB and SVU gather to watch Kyle finally pull the plug on the Shadowërk operation, but before any celebration can occur, Jet gets a call from Reyes, telling her Whelan has died. As both squads tearfully mourn the loss of the dedicated detective, we see Whelan's distraught father exiting the hospital.
Before Whelan's funeral, Stabler visits Benson in her office. He tells her that losing Whelan reminded him about how precious life is. Stabler then gives Benson a gift and says it's meant to be a reminder for her to find happiness during his absence. (He'll be gone for a while to work on a new case.)
"I sure as hell am gonna try [to find happiness]," Benson promises.
"Me too," Stabler says before heartwarmingly adding, "Partner."
If you or someone you know is thinking about self-harm or experiencing suicidal thoughts, call or text 988 to contact the 988 Suicide & Crisis Lifeline.