NBC Insider Exclusive
Create a free profile to get unlimited access to exclusive show news, updates, and more!
Sign Up For Free to View
Inside Amanda Rollins' Thrilling Return to Law & Order
It's going to take a lot of brain power to crack this case, but Professor Rollins is perfect for the gig.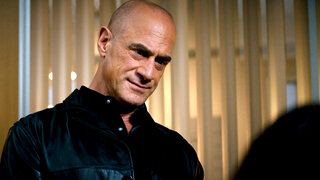 Detective Elliot Stabler (Christopher Meloni) knows better than anyone that there are rarely coincidences in the crime world. The Law & Order: OC detective has been navigating an intricate murder-for-hire ring that seems connected to something larger. And he's right. After reconnecting with Captain Olivia Benson (Mariska Hargitay), they realize they're working the same case from two different angles: he from murder, and she from sexual assault.
On Law & Order: SVU Season 24, Episode 21, fans learned Benson and Stabler are going after a former BX9 gang member named Junior Suarez, now an inmate. He's granted furlough to commit crimes he's hired for, ranging from murder to rape. (Stabler was investigating the murder-for-hires, while Benson was looking into the assaults.  After speaking to each other, the former partners quickly realized they were looking for the same perp.) The case is a tough one to crack, so Bensler brings in some extra help in the form of — wait for it — former detective and now-professor Amanda Rollins (Kelli Giddish)! Yes, the fan-favorite character made her return in Law & Order: OC Season 3, Episode 21 ("Shadowërk"). Here's what happened: 
Law & Order: Organized Crime Season 3, Episode 21 "Shadowërk" recap
Benson and Stabler have partnered up to take down an insidious revenge-for-hire ring with limited leads. All they know is that Junior Suarez is involved, but getting an ex-BX9 gang member to confess while behind bars is nearly impossible. Benson's had her hands full with BX9 nonsense all season, at one point even calling Stabler to take care of Noah because of an BX9-related attack. Stabler suggests they talk to whoever is goading Suarez into committing these crimes, which leads them to Greenview prison's Oscar Papa. 
As soon as Papa tries to get mean with them in interrogation, Stabler reverts to his early-era SVU  days and pins Papa against a wall. In classic Benson fashion, she throws herself between the two men to subdue Stabler. 
"Protect the case," Benson affirms. "Not me."
Benson and Stabler focus their efforts on the prison's computers and the only person able to talk: a nanny who's an assault victim in their case. While speaking with Ayanna Bell (Danielle Moné Truitt), the nanny confirms Junior Suarez as her rapist. When Bell asks the nanny if any men in her life would pay to have her assaulted, they get a lead for Derek Scully, the nanny's former employer, with whom she had a brief sexual relationship. The OC crew decides that if none of the perps are talking, they'll work backward by investigating Derek.
Detective Whelan (Brent Antonello) and Reyes (Rick Gonzalez) visit the Scully residence with an electronic search warrant to see if Derek hired someone to commit the assault. However, just when it seems the cuffs are about to be on, Derek's wife speaks up. Derek didn't hire someone to assault the nanny; his wife did after learning about his brief affair. 
Mrs. Scully never thought she'd get caught, so she's quick to spill the beans once realizing she'll go to prison. She reveals she hired someone to assault the nanny by using a website called Shadowërk, an invite-only forum on the deep web.
"It's like Kickstarter for human depravity. You pay with Bitcoin and a total stranger takes the job," Mrs. Scully explains, while clarifying the forum offers services for any revenge people may seek. Murder, sexual assault: You name it, Shadowërk provides it.
Cut to tech super-sleuth Jet Slootmaekers (Ainsley Seiger), who gains access to the site through Mrs. Scully's cooperation-based invite. Jet mentions they shouldn't process anyone surrounding the case because whoever runs Shadowërk is likely highly sophisticated around technology and may be checking databases. 
With just a few clicks, Stabler, Bell, and Jet find dozens of harrowing listings ("Someone wants to break a rival cheerleader's legs"), confirming how Suarez and these assailants are finding their gigs. Stabler finds the numerous victims he and Benson have been investigating in the "completed" portion of the site, confirming their suspicions. 
While the open murder and rape cases have been solved, Shadowërk turns out to be a much bigger issue. Jet discovers Shadowërk isn't some small online forum; it's a global network of weaponized anonymity. Jet sets up a heat map for live postings, and the team watches as hits are completed before their very eyes, indicated by bloody katana swords. 
Jet realizes the proof pictures must be emailed somewhere, so they arrange a set-up with an intended Shadowërk target. After the failed assassin is intercepted, he provides the contact information for the person that pays Shadowërk contractors, the email address of "some guy named Hyakunin Giri." Jet finds Hyakunin Giri's IP address, tracing Shadowërk server to Dublin, Ohio. At this point, the OC team gets the Feds involved. 
Cut to a delightfully pregnant Professor Rollins giving a lecture to her criminology students at Fordham. As we learned in SVU from her husband, Sonny Carisi (Peter Scanavino), and now see in OC, Rollins is expecting her third child. After asking a stupefying question to the class, Stabler confidently raises his hand from the back row, providing the perfect answer.
Stabler congratulates Rollins on the baby as they catch up over coffee. Stabler reveals the reason for his visit, giving her details about Shadowërk and its operations. 
After giving Rollins the name Hyakunin Giri, she confirms his research. Hyakunin Giri is not a name but a pseudonym inspired by the historic competition from Japan, also known as the Hundred Man Killing Contest.
"Where the goal of the contest is to see who can kill 100 people with one sword," Stabler reflects. 
"I did a lecture on that, too," Rollins confirms, later diving into her theories about Shadowërk's organizer, providing an impromptu profile. Rollins explains that Hyakunin is a chaos curator, someone who acts like a toddler to feel more in control. It's classic Rollins noodling a case! 
"I gotta tell you; you looked way more excited here than you did in that lecture hall," Stabler approaches. "How long have you been bored?"
Rollins admits that she loves her students but misses the thrill of solving a mystery. She's happy at Fordham but misses the SVU lifestyle. No one but Stabler knows Rollins is restless, especially because she hasn't been good at keeping up with Benson since leaving. 
"I think you and I can help each other," Stabler explains.
"How's that?" Rollins ponders.
"I bring a little bit more mystery into your life," Stabler pitches. "And you work up a psych profile on this Hyakunin Giri."
And just like that, Rollins is back in the Law & Order fold! 
Jet calls Stabler to tell him that a Judge has been targeted on Shadowerk, causing the Feds to hastily instigate a digital search warrant despite the OC team's warnings. Sadly, this alerts Hyakunin Giri, and the Judge is swiftly killed as a message. Adding insult to injury, Hyakunin Giri is aware someone is on his tail, so everyone needs to move forward with caution. 
Benson and Stabler survey the crime scene, baffled at Hyakunin Giri's swift action. Rollins arrives, much to Benson's surprise, with the psych profile for Stabler. Rollins reveals Benson and Stabler are looking for a highly antisocial and sophisticated man with an obsession with systems. 
"He sees the whole world as one that's been cruel to him. He understands the criminal pathology that's lurking within himself," Rollins details. "The site is set up as a call of the void to others that might be having similar thoughts but are afraid to act on them."
Rollins seems right on the money with her profile, concluding with the fact that Hyakunin will do anything to keep his control. Benson, Stabler, and Rollins have an incredibly tough case in front of them. But with this dedicated crew of sleuths coming together, anything could happen.