NBC Insider Exclusive
Create a free profile to get unlimited access to exclusive show news, updates, and more!
Sign Up For Free to View
What Happens to Amanda Rollins on Law & Order: SVU?
We're always rooting for Rollins!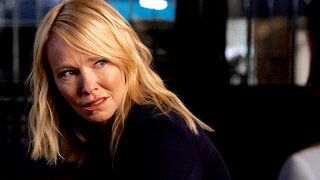 As one of the most hardworking detectives of Law & Order: Special Victims Unit, Detective Amanda Rollins, played by the amazing Kelli Giddish, is a bonafide fan favorite. First appearing in Season 13 of Law & Order: SVU, Rollins went through an impressive transformation throughout her 12 years on the show.
That said, there's no denying Rollins changed the most in Season 24. In the Law & Order: SVU midseason finale, which aired in December 2022, Rollins told Captain Olivia Benson (Mariska Hargitay) that she was leaving the department for an exciting new opportunity. As such an integral member of the squad for so many years, we're taking a look back at the key events that led to Rollins' bittersweet goodbye. 
Season 24 started with Rollins in grave danger
Season 24 began with a three-part Law & Order crossover against a sex-trafficking ring. Rollins was in charge of monitoring one of the key witnesses, who was placed in a safe house during the investigation. As the case progressed, Rollins traveled to the safe house to bring the witness back for questioning, but their situation turned south quickly. 
Just as they left the safe house, Rollins and the witness were attacked by a group of gunmen who tracked down their location. Rollins managed to protect the witness from the attack, but the beloved cop suffered a gunshot wound to the abdomen because of it. Things were not looking good for Rollins when the SVU arrived, and after she was taken away in an ambulance, Benson and Rollins' boyfriend, Sonny Carisi (Peter Scanavino), were left shellshocked and devastated.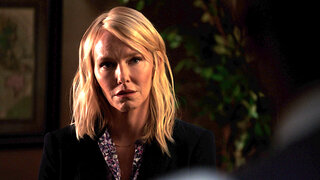 Thankfully, Rollins woke up in the hospital to find Carisi standing at her bedside for support. They both held hands and smiled at each other with relief, but it was clear that Rollins was rocked by the event. The safe house shooting was not the first time Rollins has brushed paths with bullets; she was also shot back in Season 14. But a lot has changed for Rollins since her early years in the SVU, and she has much more to lose now. 
Rollins struggles to recover while back at the SVU
Episode 2, "The One You Feed," picked up six weeks after the shooting, with Rollins out of the hospital and back at work. Unsurprisingly, she used the job to distract herself from her inner demons in the aftermath of the incident
Ever the concerned partner, Carisi checked in on Rollins, telling her to take it easy. Toward the end of the episode, Benson asked to chat with Rollins, admitting she was hesitant about her coming back to work so soon. 
Rollins told Benson how horrifying it felt to feel like she hadn't had enough time with Carisi and how scared she was to lose her children. 
"You never had anything to lose before," Benson told her, and Rollins solemnly agreed.
Detective Rollins became Professor Rollins
Season 24, Episode 6 began with Rollins standing in front of a classroom of law students giving a criminology lecture. "The predator's desire tends to overcome all rational thought," Rollins explained to them. "There's no limit to how far a sexual predator will go to satisfy his or her compulsions." 
As Fin (Ice T) and Rollins arrived at work the next day, Fin took note of Rollins' chipper mood. She revealed that Carisi was asked to teach at his old law school, Fordham, but he volunteered Rollins for the gig instead. And it seems the job prospect totally uplifted her mood.
"I'm in a good place," Rollins told Benson in the episode. "Figuring things out." 
Benson smiled. "Whatever you're doing, keep doing that," she sad. 
As expected, Carisi informed Rollins that she was offered a full-time teaching position at Fordham. But would she accept? 
Why Rollins leaves the SVU 
The Season 24 midseason finale was an emotional rollercoaster, focusing less on law or order and more on the developments in Rollins' personal life. Episode 9, "And a Trauma in a Pear Tree," began with Carisi contacting his SVU colleagues and asking to meet him at the courthouse. Being who they are, they all assume the meet-up is related to a case. Not exactly! As the squad gathered in the courtroom, Rollins rounded the corner in a wedding dress, shocking her colleagues with a surprise wedding. 
While spending time out of town, Benson had a case fall in to her lap, so she quickly recruited Rollins for help. Rollins and Benson's investigation quickly turned into a girl's night of confessions, which led Rollins to finally come clean about her big news: She's leaving the SVU to accept the teaching position. As one of Benson's closest friends and confidantes for the past 12 years, the update was hard for both women to accept. But eventually, they came around. 
That said, in the midseason finale, Rollins assured Benson she isn't leaving the city, so nothing needs to change with their friendship. Benson promised her the same, and they shared an emotional embrace. 
Rollins returns in Law & Order: Organized Crime
Rollins makes a return in Organized Crime Season 3, Episode 21, ("Shadowërk") to help Detective Stabler (Christopher Meloni) on a high-stakes case. After someone creates a horrific revenge-for-hire website, Rollins takes a deep dive into the perp's psych profile, telling Stabler and Benson what kind of guy they are tracking. Rollins has been killing it as a professor at Fordham but admits to Stabler that she misses the thrill of a good mystery. 
There's also a massive development in the Rollins-Carisi household, because Rollins is pregnant! Carisi spills the beans to Benson in SVU's Season 24, Episode 21 ("Bad Things"), but we get a visual confirmation in Law & Order: OC when Stabler congratulates her on her growing family.
The only unfortunate update is that she hasn't been great at keeping up with Benson since leaving the SVU. Amanda apologizes to her by the end of the OC episode, but we can likely expect some deeper conversations on the horizon.