NBC Insider Exclusive
Create a free profile to get unlimited access to exclusive show news, updates, and more!
Sign Up For Free to View
Brent Antonello's Whelan Leaving Law & Order: What Happened to the Character?
The OCCB has suffered a tremendous loss in the wake of Whelan's murder.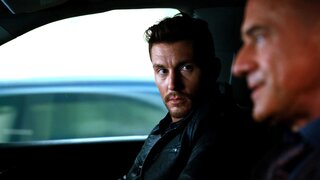 Stabler (Christopher Meloni) brought in backup on Law & Order: Organized Crime in Season 3 in the form of Detective ​​Bobby Reyes (Rick Gonzalez) and Detective Jamie Whelan (Brent Antonello). 
While Reyes' specialty is undercover missions, Whelan is more interested in detective work. Anyone who watched Meloni's seasons of Law & Order: SVU saw parallels between Stabler and Whelan. In fact, you could say Whelan was Stabler 2.0.
Here's what happened to his character on Organized Crime: 
Who is Detective Jamie Whelan?
Stabler is immediately caught off guard by Whelan's sudden appearance on the task force early in the season. "When does he go through puberty?" Stabler asks Sgt. Bell (Danielle Moné Truitt), which she finds funny.
Bell tells Stabler that he and Whelan are similar, and that's true; they're both hotheaded and abrasive with a deep hatred for anyone who questions their work. That said, Stabler and Whelan are also both incredibly hard-working, which has come in handy for the OCCB this season. 
Parts of Season 3 have focused on the infamously wealthy Silas family, who owns a NYC construction company that's building a massive casino in the city. The casino's construction is complicated by Henry Cole, a man who lives on the last remaining property un-seized by the Silas family; Cole's protests have stalled the construction. So when Cole is suddenly found dead in his apartment, the OCCB is quick to suspect foul play is involved. 
In Season 3, Episode 2 ("Everybody Knows the Dice Are Loaded"), Jet Slootmaekers (Ainsley Seiger) is tasked with breaking Whelan in and showing him how Stabler and Bell prefer to run things. We see Jet and Whelan go undercover at a nightclub, where Whelan blows his cover identifying the suspect, Kenny Kyle. While pursuing Kenny, Whelan jumps in the line of action and gets assaulted, and Jet rushes to his side for support. 
Whelan's eagerness to get to the bottom of every situation is noticed by Stabler, who still hasn't warmed up to him by this point. But things start to thaw in Season 3, Episode 3, titled "Catch Me If You Can." The OCCB tracked down Kenny for arrest, but unfortunately, a fellow cop was shot and killed in the pursuit. Jamie was visibly shaken up by the ordeal, and Stabler offered some helpful advice (that he seems to ignore for himself often).
"Can't do that...blame yourself," Stabler tells Whelan. "That is an emotion that will bury you in a deep, dark hole of grief that does not help you do this job." 
Stabler may struggle to implement that same patience with himself, but nevertheless it was touching to see him finally become a mentor to someone. Better yet, a younger version of himself. 
Whelan and Jet: Organized Crime's unlikely duo
In Episode 5, "Behind Blue Eyes," OC fans saw Whelan attempt to chip at Jet's no-nonsense outer shell with mixed results. 
The OCCB went on an undercover mission to a speakeasy in search of a member of the Robinhood, a gang that poses as NYPD police officers to carry out their misdeeds. While gearing up for the mission, Whelan asks Jet if she ever actually dances, referencing the day they met and awkwardly danced together. 
"The other night, when we actually had to look like we were having a good time on the dance floor," Whelan says. "I got the sense you're more of a person that goes and watches people." Jet wasn't having any of Whelan's commentary and gave him the cold shoulder. Whelan told Jet that he was attempting to find his way to fit in with the group, and he noticed that Jet seems more anxious than usual. Jet immediately brushes him off. "You're still new," she reminds him. "You don't get to make those calls about me." 
"If you want me to be a part of this team, you'll have to let me in at some point," Whelan replies. But Jet doubts that sentiment, and when Whelan tries to call her out again, their conversation was interrupted. Whelan is doing his best to fit in with his new team members, and the impenetrable Jet Slootmaekers is throwing him through a loop.  
Brent Antonello's Whelan leaving Law & Order: 
Whelan is tragically killed in the Season 3 finale of Law & Order: OC after making a heartbreaking sacrifice to see justice served. While tracking down the operator, Kyle, of the revenge-for-hire website Shadowërk, Whelan and Reyes were at the frontlines when Kyle took fire at the authorities.
Whelan is shot in the neck in the fallout, and just as a medic arrives to take care of his fatal injuries, the assailant attempts to mortally wound himself. Knowing they need Kyle alive to see the website shut down for good, Whelan insists the medic stabilizes Kyle first. Whelan is taken to the hospital, where they learn the bullet went through his spine. 
Jet and Whelan have grown very close throughout Season 3, so she takes the news of Whelan's condition hard. She calls Reyes in the hospital, who holds up the phone so she can speak with Whelan. Jet tells him to focus on the chances of potential recovery. However, Whelan insists that the hopes aren't high, and Jet tells him she loves him. 
Whelan asks Reyes to pull the plug on his life-support device, revealing he has no intention of living like this, but Reyes encourages Whelan to hold on. Before Whelan can continue his argument, his father arrives for a visit, and Reyes gives them the room. 
Shortly later, Whelan suddenly flatlines in his hospital room. Reyes is devastated by the development, all too aware of Whelan's last words to him. As Reyes gives Jet the heart-wrenching phone call, we see Whelan's father head for the hospital's exit.