NBC Insider Exclusive
Create a free profile to get unlimited access to exclusive show news, updates, and more!
Sign Up For Free to View
The Emotional Evolution of Detective Elliot Stabler Through the Years
Elliot Stabler is a living legend with over 23 years of growth on Law & Order.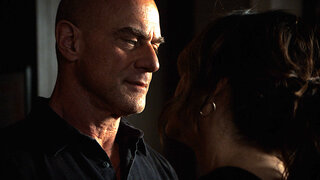 Elliot Stabler (Christopher Meloni) has been putting away bad guys for over 23 years, and Law & Order: Organized Crime fans wouldn't have it any other way. 
Stabler is a living legend, a dedicated detective who will do everything in his power to see justice served. Whether he's busting bad guys alongside Olivia Benson (Mariska Hargitay) during his original run on Law & Order: Special Victims Unit or investigating crime bosses on Law & Order: OC, Stabler is the detective you want on your case. He's smart, dedicated, and never afraid to get his hands dirty. But as the clock continues to turn, Stabler has changed, and the evolution of his character is evident. 
Throughout his SVU tenure and his return to the Law & Order universe in Organized Crime, Stabler has grown tremendously. The journey hasn't been simple, but he is on to bigger and better things. Below, read all about Stabler's evolution throughout Law & Order: SVU and Law & Order: OC.
Stabler's rough beginnings set his stoic tone
Stabler had a challenging childhood growing up in Queens. His abusive father was a cop who implemented some questionable police methods, and his mother had undiagnosed mental health issues. His upbringing led Stabler to develop anger management issues, which have bled into his investigations professionally. Stabler served in the U.S. Marine Corps after high school, and when he returned to the city, he decided to become a cop. Meanwhile, Stabler married his high school sweetheart, Kathy, and they had children. Stabler eventually becomes a detective for the Manhattan Special Victims Unit, where he meets his longtime partner, Olivia Benson. 
Stabler thrived in the Manhattan SVU
Benson and Stabler instantly clicked, with Benson's empathetic nature and Stabler's hard-hitting police tactics blending to create a fool-proof system. Part of what makes Benson and Stabler so perfect as partners is their shared obsession with their jobs. Stabler often takes cases personally and will spend hours fixated on finding the perp, but you can bet Benson is putting in overtime next to him, too. 
In the SVU early days, Stabler tended to get emotional during investigations, especially with cases involving children, as he would frequently imagine his own children in the victims' position. Stabler could be a bit abusive toward suspects, never afraid to twist an arm to get a confession or go undercover to unveil a suspect's secrets. At one point, Stabler admitted that he was tempted to kill a murderer and only stopped because there was a witness who would have been traumatized. 
Stabler's rage toward violent criminals was palpable and noticeable enough for his former superiors to recommend therapy on numerous occasions. Throughout his time in the SVU, Stabler had a complicated relationship with therapists, often resisting treatment to the dismay of his supervisors. After witnessing a father act abusively toward his son, Stabler decided to seek counseling from a psychiatrist and former police officer who helped him realize his repressed emotions toward his father had impacted his personal life in many ways.
Stabler's SVU tenure was action-packed and thrilling, but it came at a price. Stabler and Kathy came very close to divorce after Stabler struggled to balance his family life with work, but they reconnected after Kathy became pregnant with their fifth child. Through it all, Benson and Stabler became each other's ride-or-dies, understanding each other on a deep level. Which made it all the more shocking when Stabler decided to retire without telling his best friend. 
Stabler's SVU days come to a violent end
Stabler has been forced to use deadly force on numerous occasions, mostly in cases where the suspect is attempting to harm him. But in Season 12, a teenage girl, Jenna Fox, opened fire in the precinct in response to her mother's rape and murder, and Stabler was forced to shoot her to prevent more from being hurt. Fox died from her injuries, and Stabler was left shell-shocked by the ordeal. 
For context: While the investigation deemed Stabler's shooting as legal, this was far from the first time Stabler was forced to take lethal action. But the shooting, combined with his apprehension to go to mandated therapy to return to work, led many to wonder when Stabler would return to the SVU. And sadly, that day never came. Traumatized by the incident, Stabler retired and moved to Italy without giving Benson any heads up. 
Stabler's decade-long Italian hiatus
Benson discovered Stabler's sudden departure at the beginning of Season 13, and much of Stabler's movements after occur off-screen. Fans learn that Stabler left the city before the Fox investigation even closed, uprooting his entire family for a six-year "walkabout" in Europe. Stabler worked in private security before becoming a liaison detective in Italy for the NYPD.
Stabler didn't maintain contact with Benson after leaving the SVU, but while in Italy fell into his old habits. Stabler worked with various task forces to take down sex trafficking rings and solve mafia-related crimes. The experience would come in handy after Stabler and Kathy decided to return to NYC for an award ceremony for Benson. This was when everything Stabler attempted to build in Europe fell apart.
Stabler's return to NYC and the road to revenge 
Stabler's return to Law & Order screens came with tragic consequences after Kathy was killed in a car bombing intended to murder Stabler. After 10 years apart, Benson and Stabler reunited as she comforted her former partner. While in the hospital waiting for the grim news, Stabler apologized to Benson, admitting that he didn't tell her he was leaving because he was afraid that hearing her voice would have made him stay. 
Kathy's death wrecks Stabler, and he successfully joins the newly-formed Organized Crime task force to seek justice for his murdered wife. His first assignment was to investigate Richard Wheatley, an infamous crime boss who inherited his father's criminal empire. Wheatley was involved in Kathy's assassination, and Stabler became obsessed with seeing him brought to justice throughout Season 1 of Law & Order: Organized Crime. 
Stabler's hyper fixation became strong enough that Benson and his family called for an intervention, where Stabler told Benson he loved her before quickly clarifying that he loved his entire family. Stabler was focused on revenge at the beginning of Law & Order: OC, but with many of those demons put away, he is finally forced to attend to someone who has been brushed under the rug for decades: himself.
Stabler's new chapter
While working for the OC task force, Stabler has entered a new world of policing, which has led him to make some dramatic alterations from his SVU early days. Stabler is far less violent with suspects and more methodical within investigations and has even become a mentor figure to other members of the task force. He has gone undercover and is still deeply dedicated to the job over self-care, but there's no denying that there has been a shift within Stabler, especially in Season 3. 
Stabler began to reevaluate his actions as a police officer in Season 2 of OC when he learned his father was a corrupt cop, despite believing he was an acclaimed officer for earning a Medal of Honor. After Stabler earned the same award that his dad received, he questioned whether or not he deserved it. Moving forward, it seems that Stabler intends to uphold the integrity his father failed to embrace. As conversations surrounding police brutality continue, Stabler has demonstrated he wants to be a cop who others can trust, unlike his father.
But perhaps the biggest indication that Stabler is changing is his recent willingness to attend therapy, where he has explored his complex relationship with Benson. After 24 years of fans wondering whether or not Benson and Stabler might end up together, Stabler admitted his feelings and attempted to kiss her, but she pulled away. Now, Stabler is focusing on a new chapter centered around self-actualization, which has been long overdue. 
Watch Law & Order: Organized Crime on NBC Thursdays at 10/9c and the next day on Peacock.