NBC Insider Exclusive
Create a free profile to get unlimited access to exclusive show news, updates, and more!
Sign Up For Free to View
Stabler's Most Intense Law & Order: SVU Scenes Will Make You Sweat
After appearing in 15 seasons of SVU, Stabler is the star of many nail-biting scenes.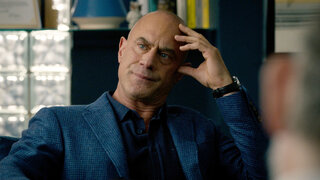 Elliot Stabler (Christopher Meloni) will always be one of the best detectives in Law & Order: Special Victims Unit history. And while he hasn't been an official member of the SVU since Season 12, he's been a player in many investigations since his return in Season 22 for Law & Order: Organized Crime. Between Stabler's badass nature and his tight connection with Olivia Benson (Mariska Hargitay), fans can't get enough of Law & Order's resident "Zaddy." Stabler is the detective everyone should want on their case because you can always rely on him to get the job done, even if he needs to get his hands dirty sometimes.
Read on to re-live some of Stabler's most intense scenes across all seasons of Law & Order: SVU.
Stabler's grim take on working in the SVU
"Pandora" (Season 4, Episode 15)
Stabler has seen many disturbing cases throughout his time as an SVU detective, and he eventually adopted a philosophy to help him handle the heat. Back in Season 4, Stabler shared his outlook with a friend that the only way he could be a good SVU detective was by hating his work instead of loving it. 
Any time Stabler disagrees with Benson
"Doubt" (Season 6, Episode 8)
Some of the most intense moments in the early days of SVU were when Benson and Stabler disagreed on a case. No one likes it when mom and dad fight, but in Season 6's "Doubt," that's what happened. After a heated investigation turned into a "he said, she said" case, Stabler and Benson took opposing sides, and the argument turned pretty ugly. Stabler and Benson fight rarely, but when they do, it's rough.
That time Stabler was seriously injured
"Blinded" (Season 9, Episode 7)
It can sometimes feel like the SVU detectives are invincible, especially considering how many bad guys they successfully put behind bars. In Season 9, Stabler was seriously wounded after being attacked by a perpetrator, which led to temporary blindness. After the suspect took Stabler down, Benson immediately rushed to her partner's side, supporting his head as they waited for authorities. Stabler was better by the episode's end, but every SVU fan was stressed watching that one.
When Stabler became a father
Season 9, Episode 9 ("Paternity")
Is there any moment more intense than becoming a parent for the first time? Of course, Stabler's mini-me didn't come into the world without a hitch: Benson had to swoop in and save the day when she and Stabler's wife, Kathy, got into a car accident on the way to the hospital. After Benson successfully helped deliver the baby, Stabler rushed to the hospital to express his gratitude. And just like that, SVU gave us the first Benson and Stabler hug.
That time a guest star took advantage of Stabler's emotions
Season 9, Episode 17 ("Authority")
SVU has some of the best guest stars in television, with Robin Williams' Merritt Rook becoming one of the scariest villains in show history. Rook was an audio engineer that hated authority and managed to kidnap Benson and Stabler. After, he placed Stabler inside a real-life Milgram experiment and tricked him into believing he was torturing Benson by playing horrific recordings of her screams. 
When Stabler went undercover as an animal smuggler
Season 10, Episode 7 ("Wildlife")
Fans rooting for Benson and Stabler to romantically link had a fun time when Stabler went undercover to expose an animal smuggling ring. After Stabler loses connection to the squad, Benson rushed to his rescue, but at the worst time possible. When the mobsters unexpectedly arrived, Benson and Stabler were forced to strip down to convince them they were sleeping together rather than working together, and it was tense.
That time Stabler entered himself into solitary confinement
Season 11, Episode 3 ("Solitary")
Stabler is no stranger to getting emotional about former cases, and after being haunted by a past case gone wrong, he seeks retribution by entering himself into solitary confinement. Stabler wished to understand the damage that solitary confinement could do to inmates, and after just a few days in the box, he begins to lose his grip. Once Stabler began hallucinating, he panicked and attempted to escape, only to be reminded that the sudden mental anguish was what many inmates experience.
Stabler's emotional apology and confession to Benson
Season 22, Episode 9 ("Return of the Prodigal Son")
It was a shock felt around the Law & Order world when Benson learned Stabler abandoned the SVU and suddenly moved to Europe in Season 13. Adding insult to injury, Stabler didn't bother to let his longtime best friend and partner know he was leaving, which left Benson devastated. So when Stabler returned in Season 22, the tension between the pair was overwhelming until Stabler finally addressed the elephant in the room. After a decade apart, Stabler apologized to Benson for abandoning her, admitting that he wouldn't have been able to leave if he'd heard Benson's voice.
When Stabler took the stand against another former SVU face
Season 23, Episode 9 ("People vs. Richard Wheatley")
It was a wild moment when SVU's Rafael Barba (Raúl Esparza) made a return to the screen during the Wheatley (Dylan McDermott) trial, and even wilder when he cross-examined Stabler about the murder of his wife. Wheatley was the one behind Kathy's tragic death, so Stabler got pretty upset when Barba began hurling questions his way. Barba betrayed Benson and Stabler, and it made for some nail-biting moments. 
Watch Law & Order: Special Victims Unit Thursdays at 9/8c on NBC and the next day on Peacock.