NBC Insider Exclusive
Create a free profile to get unlimited access to exclusive show news, updates, and more!
Sign Up For Free to View
Do Benson and Stabler Kiss in the Next SVU Episode? Here's Chris Meloni's Answer
Fans everywhere are wondering if Benson and Stabler kiss in the January 26 episode of Law & Order: Special Victims Unit.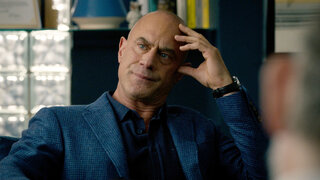 Ever since the promo for the January 26 episode of Law & Order: Special Victims Unit was released, fans of Olivia Benson (Mariska Hargitay) and Elliot Stabler (Christopher Meloni) have been going a little crazy. 
No one can blame them, either. The promo teases a very intimate moment between the two former partners. They're seen in Benson's apartment sharing a close embrace, only inches from each other's faces. But what happens, ultimately? 
Christopher Meloni stopped by TODAY to speak with Savannah Guthrie and Hoda Kotb about the topic. The TODAY Hosts hilariously grilled Meloni about the teaser, turning the studio into an interrogation room as they shined a spotlight on the actor. 
"Sir, you were there. You were in the apartment. You had the motive and you had the means: your lips," Guthrie pressed. "Did you or did you not kiss her?"
"I want my lawyer," Meloni professionally navigated. 
While the TODAY Hosts weren't able to pry many details about the highly-anticipated episode, they were keen to talk about SVU's established tenure and asked Meloni what he thinks it is about the series that maintains its passion with audiences. "Chemistry," Meloni said. 
Of course, that did nothing to distract us from the steamy SVU promo, where Benson and Stabler's chemistry seems explosive. Fans far and wide have rewatched the scene as it appears Benson and Stabler might kiss. Meloni spoke backstage at TODAY about what he did to prepare for the up-close and personal exchange.
"It was an interesting scene, a delicate scene, a difficult scene. Awkward, but that's all good. Because I think those were all elements that were part of the scene," he said.
The answer of whether or not Benson and Stabler will romantically collide is still unclear, but Stabler has certainly been exploring the option on the Organized Crime side. He's drunkenly admitted to being in love and has opened up to his therapist about neglecting Benson since moving back. Stabler has been stewing, simply put, and it looks like he'll finally get to talk to Benson soon. 
Find out what goes down between Benson and Stabler by watching Law & Order: SVU on NBC Thursdays at 9/8c and the next day on Peacock. 
Also: Watch Law & Order: OC on NBC Thursdays at 10/9c and next day on Peacock.