NBC Insider Exclusive
Create a free profile to get unlimited access to exclusive show news, updates, and more!
Sign Up For Free to View
Are Benson and Stabler Kissing in a New SVU Promo? Fans Are Flipping Out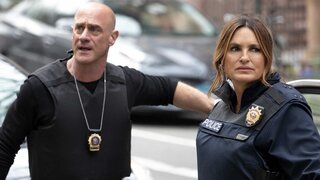 Are Benson (Mariska Hargitay) and Stabler (Christopher Meloni) kissing in this new Law & Order: Special Victims Unit teaser? It's unclear, but either way, fans are buzzing. 
In the intense preview for Season 24, Episode 12 (airing January 26), we see Benson cradling Stabler's head in her hands, and their faces lean closer and closer together. But does it end in a kiss? We'll have to wait until the episode airs to find out for sure. 
Viewers are certainly hoping for a smooch. "Plsssssss this should've been in [Season 1]," one fan wrote in the comments, while another added, "When I tell you I did a flip in my living room, then began hyperventilating and started crying..... I'm not kidding. Bring it, Bensler, show us whatcha got." 
As of now, Benson and Stabler have remained platonic, though recent developments have viewers perched. 
A few episodes back on SVU, Benson opened up to Rollins (Kelli Giddish) about her relationship with Stabler. "I did feel like Stabler was my home," Benson said. "But he left me, Amanda. And I'm not over it. And the thing is that I didn't have a right or a claim. He's somebody else's husband."
"He was your partner," Rollins responded. 
"And I know this sounds crazy, but sometimes I think it would almost be easier..." Benson mused. 
"If Kathy hadn't died?" Rollins asked. "She was the boundary."
"And with her gone, there's nothing but possibility, which is paralyzing," Benson admitted with a sigh. "And if things didn't go well, there's so much to lose. A whole friendship."
"[Bell] can tell that [Benson and Stabler] love each other. I don't know if Bell is concerned about whether it's a platonic love or a romantic love," Danielle Moné Truitt, who plays Stabler's partner, Ayanna Bell, on Law & Order: Organized Crime, told TODAY in an interview. "But she can see the bond that they have, and I think she's gonna want whatever's best for Stabler at the end of the day. I think she's a supporter of his emotional health, his mental health, and hopefully they hook up and get together, and it's a great relationship. I think Bell would definitely be on board." 
To find out what happens, watch Law & Order: SVU on NBC Thursdays at 9/8c and next day on Peacock.