NBC Insider Exclusive
Create a free profile to get unlimited access to exclusive show news, updates, and more!
Sign Up For Free to View
Benson Just Opened Up About Her 'Paralyzing' Feelings for Stabler on Law & Order: SVU
When the boxed wine comes out, so do the secrets.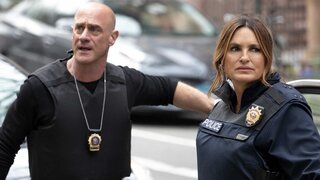 While Benson (Mariska Hargitay) and Stabler (Christopher Meloni) have kept things mostly professional throughout their many years of friendship on Law & Order: Special Victims Unit, the lines between "platonic" and "soulmate" often get blurred.  But for the first time in SVU history, they're both single, which theoretically could open some romantic doors. Where do these two stand, though? Well, we got an idea in the midseason finale of SVU on December 8th. 
Here's what happened: A case falls into Benson's lap when she discovers a camera in the hotel room she's staying in. Rollins (Kelli Giddish) travels to help her, and like true professionals, they close the case quickly. The women decide to celebrate by having some wine in Benson's room, and that's when the tea is spilled. 
"Here's to you, Amanda," Benson cheers, holding up her glass to toast Rollins' marriage. (She and Carisi finally said, "I do!" in this episode.) "Can I tell you how nice it is to see you happy?"
"It's so nice to allow myself," Rollins says before smoothly changing the subject. "When are you going to do the same?"
"With who?" Benson asks.
"Stabler?" Rollins suggests, echoing many SVU viewers watching at home. "Wow, I used to joke about you two in a hotel room, but now here we are."
"I did feel like Stabler was my home," Benson reflects. "But he left me, Amanda. And I'm not over it. And the thing is that I didn't have a right or a claim. He's somebody else's husband."
"He was your partner," Rollins insists.
"And I know this sounds crazy," Benson says slowly. "But sometimes I think it would almost be easier..."
"If Kathy hadn't died?" Rollins asks, realizing Benson's predicament. "She was the boundary."
"And with her gone, there's nothing but possibility, which is paralyzing," Benson admits. 
Related: Why Mariska Hargitay Says It Physically Hurts to Hug Chris Meloni
"And if things didn't go well, there's so much to lose. A whole friendship..." Rollins starts before Benson shifts the conversation once again.
"That is why I am so grateful for you," Benson tells her.
So, where does this leave Benson and Stabler in the long run? Find out by watching Law & Order: SVU on NBC Thursdays at 9/8c and next day on Peacock.  (New episodes start back January 5, 2023)