NBC Insider Exclusive
Create a free profile to get unlimited access to exclusive show news, updates, and more!
Sign Up For Free to View
Why Mariska Hargitay Says It Physically Hurts to Hug Chris Meloni
Apparently abs aren't the softest.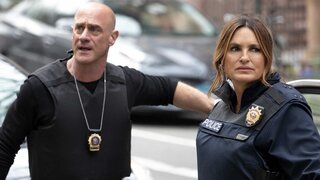 Nothing get Law & Order fans more fired up than anything involving franchise royalty Mariska Hargitay and Christopher Meloni! Although the duo has been open about their platonic friendship, viewers still can't help but swoon at Hargitay and Meloni's undeniable onscreen chemistry.
In an interview with Access Hollywood, Hargitay joked that Meloni 's statuesque physique is beyond toned. In fact, Meloni's muscles are so firm, it actually hurts to hug him. 
"When I see him all the time, sometimes it hurts to actually hug him because his chest is so hard," she said. "I'm like, 'OK, sweetie...'"
Related: Mariska Hargitay's Viral Throwback Photo With Chris Meloni Isn't What It Seems
Let's face it: This isn't the first time Meloni's five-star bod has gone viral. After returning to the Law & Order franchise with his own spin-off ( Law & Order: Organized Crime), audiences couldn't believe how ripped Meloni was (see: his nude Peloton ad). The hilarious response to Meloni's incredible form has secured him a forever seat in the "Zaddy" hall of fame. 
Meloni is flattered by all the positive attention yet he still remains humble.
"It's great. Are you kidding me? I'm 61 years old and a Zaddy. The lucky streak continues," he told People. "It's a second act to a certain degree."
The actor's high-profile Zaddydome also keeps his family entertained. 
"My wife, she's lovely, she gets it, Meaning she's like, 'Eh, whatever,'" he told People. "My kids, on the other hand, invariably once a month, it's 'Really? Really?' Their friends will send them a meme that's come out or whatever, but I think secretly in their hearts, they get it."
Watch Law & Order: Organized Crime on NBC Thursdays at 10/9c and the next day on Peacock.