NBC Insider Exclusive
Create a free profile to get unlimited access to exclusive show news, updates, and more!
Sign Up For Free to View
Mariska Hargitay's Viral Throwback Photo With Chris Meloni Isn't What It Seems
Read this before you fan-girl too hard.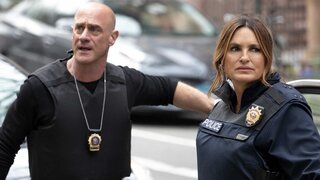 It's no secret that Law & Order fans adore the real-life friendship between Special Victims Unit's Mariska Hargitay and Organized Crime's Christopher Meloni. Even still, Hargitay broke the internet for SVU fans everywhere on October 12th by posting a throwback photo of herself and Meloni. 
But hold your applause! A picture may be worth a thousand words, but Hargitay's post needs only two: photoshop brilliance. 
The photo (see here) shows a young Hargitay and Meloni posing together, with Meloni's arm around the SVU star. While fans of Bensler instantly crazed over the swoon-worthy pic, the snap is actually photoshopped. If you're surprised, don't worry: You're certainly not alone. Many corners of the internet were fooled! 
The viral photo is a fan edit made by Twitter user @micayla_zee, who posted about the accidental pandemonium she caused. "No one gave me a copy of 'an idiots guide to navigating the internet when your idol unexpectedly shares something you made and bamboozles majority of the population into thinking it's real and now you don't know what to do.'…do you think they carry a copy at my local bookstore?" she wrote.
Related: This Timeline of Benson and Stabler's Relationship Will Make You Emotional
With 24 seasons under its belt, SVU has become a cultural phenomenon that has generated thousands upon thousands of fan-edited photos. But this particular edit hit hard, especially for viewers who hope Benson and Stabler eventually end up together. Unfortunately, though, this image is simply not what it seems.
Catch episodes of  Law & Order: Special Victims Unit and Law & Order: Organized Crime Thursdays on NBC.