NBC Insider Exclusive
Create a free profile to get unlimited access to exclusive show news, updates, and more!
Sign Up For Free to View
Chris Meloni and Mariska Hargitay Had a Best-Friend Date Night at the 2022 Emmys
"I love him, and I've never gotten sick of him," Hargitay told E! News.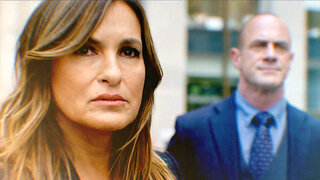 After sharing the small screen for more than a decade, Stabler and Benson are reunited—and this time they're at the 2022 Emmys.
In a moment that delighted Law & Order: SVU and Organized Crime fans everywhere, former co-stars and real life besties Mariska Hargitay (Olivia Benson) and Chris Meloni (Elliott Stabler) walked the the golden carpet together at the 2022 Emmy Awards. Hargitay wowed in a black V-neck gown, while Meloni looked dapper in a classic tux.
When asked about their years spent together on the hit crime drama and their chemistry as actors, Meloni told People, "It's effortless, we're very lucky."
Hargitay added, "It's effortless and it's weird, and I always look at it as some kind of gift. So much of it has to do with our shared sense of humor, or shared perspective, our now history."
She also later told Laverne Cox on E! about Meloni, "I love him, and I've never gotten sick of him."
Later on in the night, the two presented the award for Lead Actor in a Comedy Series to Jason Sudeikis. The award came after a hilarious video montage that acted as a nod to Stabler and Benson, ending in Meloni and Hargitay chasing a perp onto the Emmys stage. And when all was said and done, the besties shared an exciting (and joking) almost kiss.
Lucky for us, this isn't the last we'll see of the two side by side. They'll be joining forces for a historic Law & Order Premiere Event set for Thursday, September 22 at 8/7c on NBC. At three hours long, it will serve as the collective season premiere for Law & Order Season 22, SVU Season 24, and OC Season 3.
"Nothing demonstrates the power of the Law & Order brand more than an ambitious three-hour event with a story that is truly ripped from the headlines," show creator Dick Wolf said in a statement. "Rick [Eid] and Gwen [Sigan] did an amazing job writing a compelling script, and I can't think of a bigger and better way to launch the new season of Law & Order Thursday."