NBC Insider Exclusive
Create a free profile to get unlimited access to exclusive show news, updates, and more!
Sign Up For Free to View
The Biggest Questions Going Into Law & Order: SVU Season 24
Law & Order: SVU returns to NBC on September 22.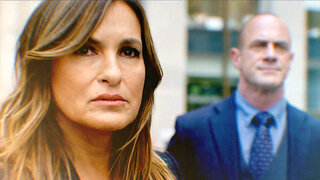 Law & Order: Special Victims Unit is an NBC staple, with Captain Olivia Benson (Mariska Hargitay) leading the sex crimes division as they put NYC's most heinous criminals behind bars. 
SVU boasts 23 action-packed seasons, surpassing the original Law & Order. Benson has been through a lot over the past two decades, and Season 23 explored numerous challenges that the SVU successfully navigates. While the legal action of SVU is often the hook for Law & Order fans, the characters and their personal journeys are what keep fans coming back for more. Especially as SVU continues to cross over with Law & Order and Law & Order: Organized Crime, the Law & Order universe has become a complex venue for drama and intrigue. 
Season 24 of Law & Order: SVU returns this fall, and fans are perched to learn more about what they can expect from the 24th season's storyline. That's why we're exploring a few of the biggest questions ahead of Law & Order: SVU Season 24. 
Where will Carisi and Rollins' relationship go from here?
From the moment A.D.A. Dominick "Sonny" Carisi, Jr. (Peter Scanavino) entered the SVU universe, all eyes were on his partnership with Detective Amanda Rollins (Kelli Giddish). The two partners become incredibly close throughout their time together, with many fans suspecting their affection might blossom into something more. Their suspicions were proven correct at the end of Season 22 when Rollins and Carisi shared an intimate kiss. During Season 23, Rollins and Carisi explored their relationship behind closed doors, with Rollins adamant about keeping their relationship secret from her children and the SVU until it became more serious. 
Needless to say, things get pretty serious and they finally tell Benson that they're dating in Episode 13. In Episode 15's "Promising Young Gentlemen," Carisi introduces Rollins to his family. Season 23 ended with the pair saying their first "I love you" and Carisi discussing the possibility of taking the next step with his church. That's right...the big step (cue the wedding bells!) Based on this, the Rollins and Carisi train appears to be heading in a great direction. 
Will Detective Joe Velasco return for Season 24?
Season 23 of SVU got a bit of a cast remix with the introduction of Detective Joe Velasco (Octavio Pisano) to the SVU. Initially joining the SVU as an undercover cop assisting with a high-profile case, Detective Velasco has become a series regular and will return to SVU for Season 24. We've seen many new Detectives make their way to the SVU, and in Velasco's case, he appears like he could be the character responsible for providing a fresh perspective to SVU's action. 
Will Benson and Stabler discuss their relationship?
The relationship that lingers on any SVU fan's lips will always be the iconic partnership between Benson and Elliot Stabler (Christopher Meloni). As SVU's OG partners, their relationship has evolved tremendously throughout the past 23 seasons. After Stabler left the SVU in Season 12, without telling Benson, she felt adrift without her best friend. But lucky for Bensler fans, Stabler and Benson are reunited when Stabler returns to NYC in Law & Order: Organized Crime. As fans continue to enjoy Law & Order crossover episodes, fans have speculated where Benson and Stabler's relationship will go now that they have reunited for good. 
Both Stabler and Benson are often confronted by other characters about the nature of their relationship, which surpasses that of most work colleagues. In the Season 23 finale of SVU, Benson met with her therapist, Dr. Lindstrom, as she discussed her feelings of discontent and unhappiness. While Lindstrom provided a few potential causes for her feelings, he brought up Stabler in a manner that echoes the thoughts of many die-hard SVU fans. 
"I think that you and Elliot either need to see if there's more there or move on," Lindstrom told Benson. "This idealized relationship that's hanging over you prevents you from true intimacy, Olivia, either with him or with anyone else." There is a substantial amount of love shared between Benson and Stabler, so naturally, fans wonder where that affection might lead. 
Season 24 of Law & Order: Special Victims Unit premieres on September 22 at 9/8c on NBC and next day on Peacock.