NBC Insider Exclusive
Create a free profile to get unlimited access to exclusive show news, updates, and more!
Sign Up For Free to View
Everything to Know About Law & Order: SVU Season 24
The Law & Order spin-off still holds the record for the longest-running primetime show, ever.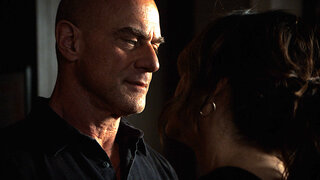 To call Law & Order: Special Victims Unit a phenomenon would be an understatement. As the longest-running primetime show of all time, fans can't get enough of this elite squad of detectives, led by the tenacious Captain Olivia Benson (Mariska Hargitay). Predictably, every episode of Season 24 had fans hooked. 
Here are some of the big things that happened: 
How many seasons of Law & Order: SVU are there?
Law & Order: SVU was renewed for its landmark 25th season in spring 2023. Season 25 of the show will premiere this fall. 
"I'm pleased to continue my four-decade relationship with Universal Television and NBC," Law & Order creator Dick Wolf said in a statement. "All six shows [in the L&O and One Chicago franchises] being picked up again is the ultimate accolade to our incredible casts, producers, and writers. I'd also like to thank our loyal fans who have kept our NBC shows on the air for what will be a cumulative 84 seasons."
"We understand the emotional connection our audience has with these characters and we can't wait to bring more of their stories to the forefront next season," Lisa Katz, the president of scripted programming at NBCUniversal and Streaming, said in a statement. "A huge thank you to Dick and his amazing team who are the masters of producing incredibly compelling television week after week."
Detective Rollins bid farewell to the SVU 
After 12 intense seasons of busting bad guys on Law & Order: SVU, Detective Amanda Rollins (Kelli Giddish) decided to venture into new horizons. After getting shot in the Season 24 premiere, Rollins began to reconsider her career. Once her husband, Carisi (Peter Scanavino), got her a gig teaching criminology at Fordham, Rollins decided the job may better align with her needs as a mother and partner. Rollins and Carisi decided to get married, surrounded by their SVU loved ones, before Rollins broke the news to her longtime BFF. 
Thankfully, Rollins returned in the two-week Law & Order: OC/SVU finale crossover event, with a growing development to share: a baby! Rollins is pregnant and Carisi is so thrilled (and terrified) to have his first kid, but as he's proven as the godfather and stepfather to Rollins' kids, no one is better suited for the job.
Fin and Benson recruited a revamped SVU 
Rollins' occupied her desk for many years, so naturally, she left some big shoes to fill in her departure's wake. The idea of building the squad back up was daunting for Benson, but luckily, Sgt. Fin Tutuola (Ice T) also had his eyes peeled for the most elite of the elite. The first investigator Benson recruited was Detective Grace Muncy (Molly Burnett), plucked from the Bronx Gangs Unit after the squad began going after BX9. Through Muncy's work at the SVU, she was offered a job on a DEA task force, leading her to bid farewell to her SVU colleagues. 
Two qualified detectives that Fin spotted during their investigations were Terry Bruno (Kevin Kane) and Officer Tonie Churlish (Jasmine Batchelor). Both recruits came from the Bronx SVU, which had been run into the ground with malpractice. Bruno and Churlish were more than happy to join Benson's tightly-run ship and have proved incredibly capable at their jobs. 
Detective Velasco proved himself and earned his keep
Detective Velasco (Octavio Pisano)'s criminal-adjacent history came to a head in Season 24, jeopardizing his position at the SVU. Velasco attempted to get a BX9 gang member to confess by relating to him, admitting to having been ordered to kill two people in the past. While listening to this roundabout and sketchy police tactic, Churlish began to record Velasco's "fake" recount, only to learn the details align perfectly with an actual open murder case. 
Velasco is swiftly thrown into the interrogation room, where he admitted he never killed anyone but was in the room when one of his childhood friends did. Velasco and his friend were forced into a cartel, leading to the grim indoctrination that Velasco couldn't carry out, causing his friend to step in to kill the two people. Velasco may not have killed anyone, but he was loyal to a murderer and had a lot of work to do to get Benson's trust back. Fortunately for Velasco, he was able to gather enough evidence against his friend to see some form of retribution in the future. Velasco is back in Benson's good graces, but it was a slippery trek to get there. 
Benson and Stabler got up close and personal
Benson and Stabler's will-they-won't-they dynamic came to a head when he tried to kiss her, but she turned away at the last minute. As indicated in her heart-to-heart with Rollins, Benson has some trust issues she needs to navigate before starting something serious with Stabler. After all, Stabler did leave for a decade without giving her a heads up.
The SVU and OCCB took down a horrific revenge-for-hire website
Benson and Stabler teamed up during the two-week Law & Order: SVU/OC crossover event on a case involving a corrupt revenge-for-hire website, Shadowërk. The OCCB and the SVU combined their efforts to track down the site's sociopathic leader and luckily pulled it off, despite tragically losing a valued OCCB detective in the fallout.