NBC Insider Exclusive
Create a free profile to get unlimited access to exclusive show news, updates, and more!
Sign Up For Free to View
Meet Detective Grace Muncy, Law & Order: SVU's Newest Recruit
The SVU is getting a bit of a staff shake-up.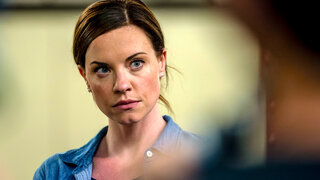 Law & Order: Special Victims Unit has said hello and goodbye to numerous detectives throughout its many seasons, but in the September 29th episode, "The One You Feed," we meet SVU's newest recruit: Detective Grace Muncy (Molly Burnett).
Related: Something Terrifying Happened to Rollins in the Law & Order Premiere Event
Fans of Dick Wolf's One Chicago universe may have thought Detective Muncy looked a bit familiar, and they would be correct. Burnett was a guest star on Chicago P.D., but she's now taking on a recurring role as Detective Muncy on Law & Order: SVU. But who is Detective Grace Muncy, and how did she end up in SVU? 
Meet the SVU's latest recruit, Detective Grace Muncy
In the September 29th episode of Law & Order: SVU, Captain Olivia Benson (Mariska Hargitay) and the SVU tackle a group of young gang members that rape a teenager and kill her father on the subway. Due to the suspects in question and a lack of staffing at the SVU, Benson and the team are swiftly paired up with the Bronx gang unit, where they meet Captain Mike Duarte (Maurice Compte) and Detective Muncy.
Who plays Muncy on SVU?
Molly Burnett!
Benson is apprehensive about working with Duarte and Muncy, mainly because Duarte has a bad reputation for getting too involved in gang-related undercover operations and his eagerness to work with the suspects to take down higher-up names. Benson wishes to focus on getting justice for the survivor of the ordeal, so it puts her at ends with Duarte and the Bronx gang unit for much of the episode. 
The tides begin to turn when the SVU asks the survivor to come in and identify the rapist. She correctly identifies the suspect, but breaks down after seeing him, wishing she could speak to her father but unable to because of his tragic death. Detective Muncy comes to the rescue in a heartwarming scene where she reminds the teen that she can always talk to her father and reveals that she still talks to her mother even though she passed away. Muncy's advice and empathy help the girl wind down, with Benson quickly taking note. 
Benson and Muncy touch base privately about the moment, and Muncy admits that as a woman in the NYPD's gang unit, she mostly deals with the girlfriends and survivors of the crimes. Muncy may be blunt and straightforward in her demeanor, but she has a great way of connecting with survivors when they need the support most. Naturally, this gives SVU's Sergeant a great idea of how to solve the staffing shortage. 
The episode concludes with Benson revealing to Duarte that she has moved Detective Muncy from the Bronx gang unit to the SVU, and Duarte can't do anything about it. Detective Muncy has proven that she has a great way with victims, with her future in the Special Victims Unit written in the stars. How will Detective Muncy entering the SVU impact future episodes? Considering much of Detective Muncy's character has yet to be revealed, Law & Order: SVU fans will have to wait to find out. 
Detective Muncy is the new kid on the SVU block
Detective Muncy is received with mixed feelings by the members of the SVU, despite her attempts to fit in with the squad. In Episode 4, "The Steps We Cannot Take," Fin (Ice T) and Benson refer to Muncy as an entitled millennial due to her age, inexperience, and relaxed demeanor among her coworkers. At one point, Benson even gives Muncy a "gentle reminder" that she is no longer working in the gang's unit, so she needs to "do something about her wardrobe." Despite being the new kid on the block, no one is giving Muncy special treatment in the Special Victims Unit.
Muncy takes it all in stride and even asks Detective Joe Velasco (Octavio Pisano) to accompany her to the department store to gather some new garb for her position. While struggling to choose between different-colored blazers, Muncy reveals to Velasco that she is color-blind. Muncy asked Velasco to join her to get his help with choosing the right colors for the office. Velasco steers her in the right direction (grey blazer, duh). Based on how well Muncy and Velasco hit it off, it appears the two SVU newbies are bound to be good friends.
 Watch Law & Order: Special Victims Unit Thursdays at 9/8c on NBC and the next day on Peacock.