NBC Insider Exclusive
Create a free profile to get unlimited access to exclusive show news, updates, and more!
Sign Up For Free to View
Who Is Officer Tonie Churlish on Law & Order: SVU?
Officer Tonie Churlish is giving the Manhattan SVU a bit of a shake-up!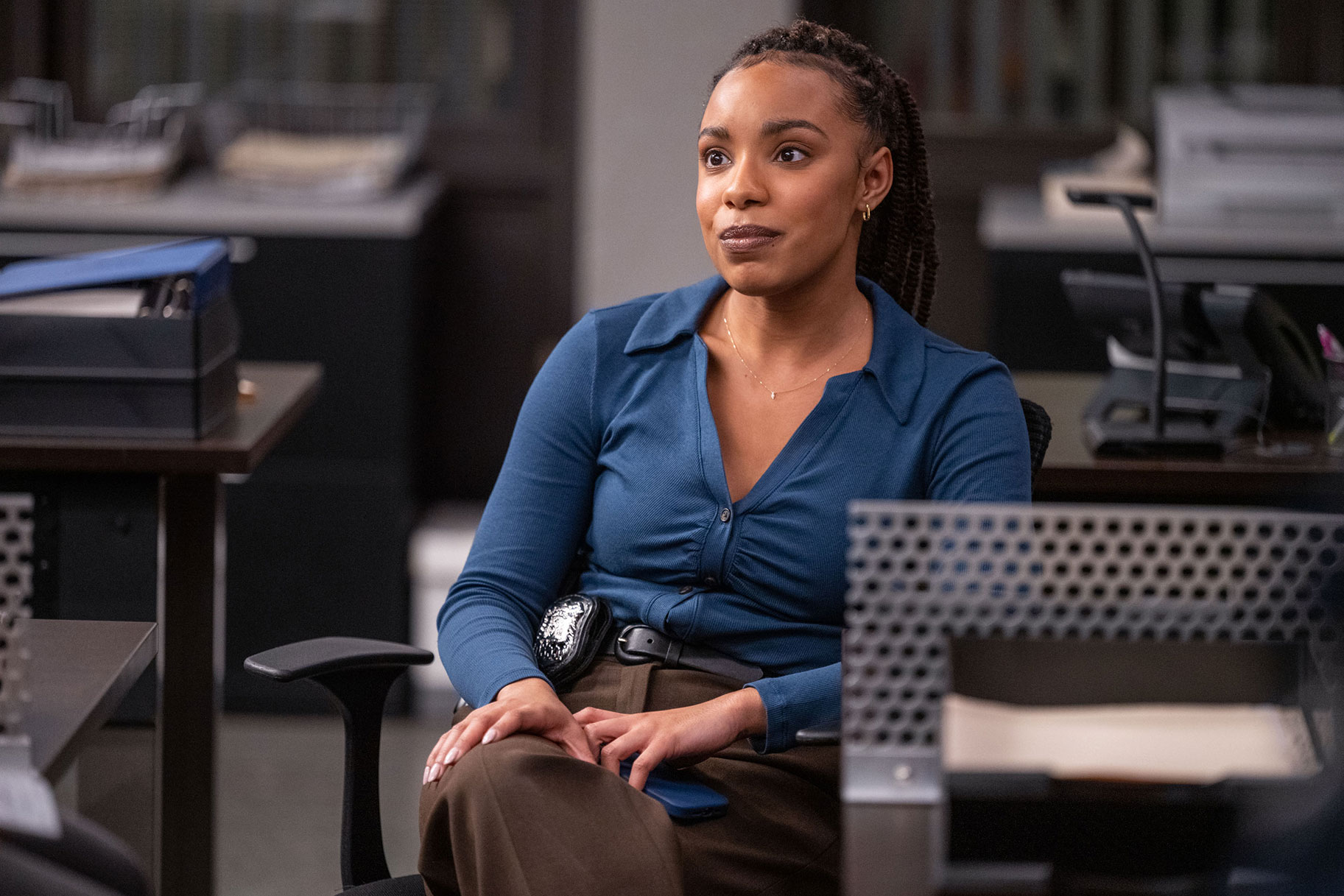 The heart of Law & Order: Special Victims Unit is the squad responsible for putting insidious perps behind bars, led by the tenaciously dedicated Captain Olivia Benson (Mariska Hargitay). Throughout Season 24, we've seen beloved squad members bid farewell while newcomers settle into their desks, and it's been an exciting watch. 
Officer Tonie Churlish, played by New Amsterdam alum Jasmine Batchelor, is one of these SVU newcomers. Batchelor played Dr. Floyd Reynolds' (Jocko Sims) sister, Courtney, on New Amsterdam, but lately, she's been brushing shoulders with Benson as a member of the Bronx SVU.
Churlish was introduced in Season 24, Episode 10 ("Jumped In"), an episode that kickstarted a trilogy of Bronx-based events. As Law & Order fans are well aware, Benson runs a tight ship at the Manhattan SVU, and she was asked to assist the Bronx SVU in closing their overload of open rape cases. Benson made her way over to the Bronx SVU with Sgt. Fin Tutuola (Ice T), and they met Detective Terry Bruno (Kevin Kane) and Officer Tonie Churlish. 
From the get-go, Churlish comes off as a dedicated and diligent officer but seems a tad misplaced at the laissez-faire Bronx precinct. Churlish abides by the rule book and passionately wants to see perps get put away for their actions, but she didn't have the support system to achieve that goal. That's where Benson came in! 
Benson helped Bruno and Churlish at the Bronx SVU as they went after the horrific BX9 gang. The combined forces of Benson's squad and the Bronx SVU led to them successfully arresting and charging BX9's gang leader, but it came with some heart-wrenching costs. Throughout the investigation, Churlish and Detective Velasco (Octavio Pisano) were tasked with interrogating gang members.
To coax a confession, Velasco manipulated a gang member by telling him he was once ordered to kill two people in Texas. Many fans were thinking, "But wait, isn't he a cop?" and they were in good company. Churlish was having none of Velasco's slithery police tactics, so she secretly recorded the conversation. After listening to the recording, the squad realized Velasco was describing (in great detail) an actual open murder case in Texas. 
So, did Velasco murder those people? Tutuola and Churlish were dead-set on finding out. Velasco was tossed into the interrogation room, where he confessed to being in the room where the murder happened. Velasco and his friend were forced to join a gang, but when he was commanded to kill someone, he was too afraid to pull the trigger. His friend knew Velasco would be killed for his inaction, so he murdered both people to prevent Velasco from punishment. A tragic story, sure, but Churlish was keen to point out that Velasco, a law enforcement officer, remains loyal to a murderer. 
After seeing Churlish in the box going toe to toe with one of her own, Tutuola told Benson that he was impressed with her work. It's been a minute since we've had a no-nonsense officer in the Manhattan precinct, but Churlish seems like the girl for the gig. Tutuola knows talent when he sees it!
"Really, Fin? Another stray?" Benson teased, referencing Bruno's recent transfer to the Manhattan SVU at Tutuola's request. Tutuola insists, and Benson tells him to have Churlish visit her office the next day for a job. It looks like Benson's squad keeps on evolving, and we can't wait to see what Churlish brings!  
Churlish suffers a rough introduction to Benson's SVU
Churlish is dedicated, driven, and ferociously hard-working, but in Episode 17 ("Lime Chaser"), fans learn that her perfectionist tendencies can occasionally become crippling. From the moment Churlish was formally introduced to the squad in Episode 16 ("The Presence of Absence"), it was clear settling into the Manhattan SVU wouldn't be simple. Churlish's type-A personality tends to clash with other squad members, and her role in Velasco's fall-from-grace doesn't help anything, either.
As a plainclothes officer, Churlish hits the ground running in hopes of earning detective status, and her hyperactivity is immediately noted by her colleagues. Churlish is almost the complete opposite of fellow Season 24 newcomer Detective Grace Muncy (Molly Burnett), and the women instantly clash. Churlish is an orderly, teacher's pet type, whereas Muncy is the laid-back, spit-fire transfer from Bronx's gangs unit. Muncy immediately notes Benson's fondness for Churlish's diligence, and it creates some tension between the two characters that Benson immediately attempts to squash.
The tension surrounding Churlish's entrance to the squad all came to a head in "Lime Chaser" when both Muncy and Churlish both found themselves too involved in a case. After Churlish realizes she has 30 days to prove to Benson that she has what it takes to stay at the Manhattan SVU, she goes a little too far to prove herself. The action begins with the squad called in for a date rape case.
The squad investigates the bar the woman attended the night before and finds that it's been the venue of an elaborate sex trafficking operation. A woman is drugged at the bar and later taken to a hotel where she is assaulted. If the spiked drinks weren't stressful enough, the investigation gets turned up a notch once the first suspect that comes up on their radar is Muncy's brother, Teddy. 
After a tense interrogation, the squad rules out Teddy as the orchestrator of the operation. But due to his proximity to the culprits involved in the crime, Churlish pitches the squad using him as a confidential informant to get closer to the sex traffickers. Benson tells the team it's the first productive thing anyone said that day.
Cut to Benson and her new crew in a surveillance van, watching Teddy as he sets up a deal with one of the known traffickers to launch the undercover mission. But everything goes sideways after Benson sees Teddy show a picture of Churlish to the perp. Benson, assuming it was Muncy, demands to know who did this. But surprise: It was Churlish's idea!
Benson is furious over Churlish stepping over her toes, as the officer has never done an undercover operation before. Churlish cites her harrowing experience at the Bronx SVU as ample experience and insists that she has what it takes to get the perp. Benson reluctantly agrees. The squad all take their positions, with the plan being for Churlish to order a tequila shot to bate the bartender into spiking her drink. 
Churlish discreetly dumps out the tequila shot but still finds herself collapsing in the bathroom shortly after pretending to take it. The squad rushes in to arrest the perps responsible only to discover Churlish has been whisked away to the hotel Teddy has been posted. Since Churlish didn't take the shot, they deduce the liquor was never being spiked. The traffickers were drugging the limes used for tequila shots. This a great reminder to SVU fans to pay attention to episode titles! 
Teddy helps Churlish once she arrives at the hotel, and even in her drugged state, she maintains her priorities by collecting her urine for a drug test to later use as evidence. The squad arrives and gets Churlish sent to the hospital, but Benson's worst fears are effectively confirmed by Churlish getting hurt. 
The squad pinpoint the location of the delivery driver's home and find the date rape drugs. While we have another case closed via Benson and her revamped squad, Benson had some strong words for Churlish once she was out of the hospital.
"Tonie, I appreciate and admire your work ethic, and how smart you are, and the aggressive neatness of your desk," Benson explains. "But you were reckless, and you almost derailed the entire case."
Churlish admits that she was only trying to impress Benson and wanted to make a strong first impression. Benson shuts her down, telling her that trust is much more valuable to her. 
"I need to know that you're here for the right reasons," Benson encouraged. "Because you care about survivors and trauma and healing, not because you want a promotion."
Churlish clearly does care deeply for survivors, but her zeal has landed her in a tough spot. Benson says that her team consists of imperfect investigators, and that is part of what makes it work. After revealing her parents were therapists, Churlish confides in Benson that she has always had a lot of pressure put on her to be perfect. 
"Perfectionism is a dangerous way to approach imperfect victims, let alone perps," Benson says. "But from now on, I expect teamwork from you, not perfection."
Will Churlish rise to the challenge?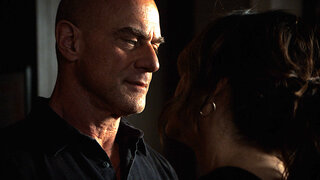 Watch Law & Order: SVU Thursdays at 9/8c on NBC and the next day on Peacock.