NBC Insider Exclusive
Create a free profile to get unlimited access to exclusive show news, updates, and more!
Sign Up For Free to View
You'll Cry Reading All the New Amsterdam Cast Tributes to the Show
After five emotional seasons, everyone will miss the cast of New Amsterdam.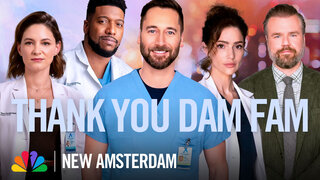 New Amsterdam has come to an emotional end after five seasons, and needless to say, fans are still processing that heartwarming two-hour series finale.
As everything wrapped up with a bittersweet bow, it was revealed that Max (Ryan Eggold) is leaving New Amsterdam; Reynolds (Jocko Sims) confessed his love for Gabrielle; and Iggy (Tyler Labine) and Martin worked out their issues and got remarried, starting a new chapter as a couple. Also: Bloom (Janet Montgomery) finally settled down in an apartment she can make her own. Everything has to end at some point, and as each character ventures into bigger and better things, New Amsterdam fans are faced with a bittersweet farewell. 
The actors are faced with that, too. And they took to Instagram after the series finale to share their feelings and reflect on the past five seasons. Read on, and try not to cry.
Janet Montgomery posted a collage of behind-the-scenes pics as Dr. Lauren Bloom
The caption: "The end is tonight and what better way to end this than with a double whammy of the Dam-my directed by two of my favorite people in the world. Don Scardino and Michael Slovis, the coolest cats behind the monitor, making the whole set feel like one big party. I want to say more…but how do you sum up the last five years in one Instagram post?" 
Jocko Sims shared an emotional story about landing his dream role as Reynolds
"After I became an actor, I always wanted to play a doctor. I watched other medical shows and dreamed of it..." Sims wrote. "So it turned out that my first job ever on NBC was playing Dr. Reynolds. A series regular. And…a doctor. It has essentially been 3 dreams come true in one...Dr. Floyd Reynolds has certainly inspired me. And he'll always be near and dear to my heart…pun intended."
Tyler Labine thanked New Amsterdam fans for the fun.
"To say that this show has made an impact on my life would be the understatement of the century," Labine wrote. "I have grown and lived and loved and learned and hurt and cried and lost and grown and learned some more. The last 5 years have been magical. New Amsterdam will forever be a centerpiece of who I am. I will miss this motley crew of folks more than I can even express."
Sandra Mae Frank detailed a tearful goodbye to Dr. Elizabeth Wilder
The caption: "It all ends tonight on #NBC… The #Series #Finale of #NewAmsterdam 💙 When I first read the finale episode, alone in my living room with my cat, I sobbed in tears. A bit of flashback to the past of our characters and how they all came to be. Giving hope for possibilities of the future and how YOU can help."
Ryan Eggold bids farewell to five amazing seasons as Dr. Max Goodwin
"I'm grateful for the people I've met along the way that have come up to me and told me that an episode or a moment meant something to them," Eggold wrote. "Or that they watch the show from the hospital with their grandma in bed. Or they too have wrestled with the juggernaut that is cancer. Or that they laughed or cried or maybe thought differently about something...I have met so many people I never would have met because of this show. And I am deeply grateful for that. I'm so glad we did this show. It was a F%ckin blast ❤️".
You can watch every episode of New Amsterdam now on Peacock.