NBC Insider Exclusive
Create a free profile to get unlimited access to exclusive show news, updates, and more!
Sign Up For Free to View
Jocko Sims Teases the Future of Reynolds' Love Life After New Amsterdam's Hiatus
"Reynolds wants some love," the actor tells us. "He wants a real family that he can hang onto."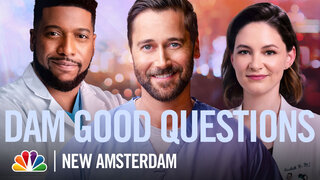 In New Amsterdam Season 5, Episode 10 (the midseason Finale), Reynolds (Jocko Sims) finally reached an understanding with his father, Horace. And this will hopefully make room for the one thing the doctor has always wanted: true love.
After the two spent the season trying to mend their estranged relationship, Horace's bipolar diagnosis actually brought them closer together. Horace even ended up moving in with Reynolds after he was released from psychiatric hold. But Horace soon realized in order to keep their relationship on the right track, Reynolds was sacrificing his love life with traveling nurse, Gabrielle. In light of this information, Horace decided to move out and offered his son one bit of advice. "Go for the girl," he said.
Earlier in the season, we saw Reynolds decide to date Gabrielle and ignore his hesitations about her job. And based on the most recent episode and a certain NSFW phone call, things seem to be going pretty well. So, when New Amsterdam returns on January 3, will we finally see Reynolds get the family he's wanted since the series began? Sims spilled to NBC Insider about what's to come.
"Reynolds wants some love," the actor tells us. "He wants a real family that he can hang onto. So he's a bit hesitant because she's a traveling nurse. But I will tell you that he's 'gonna fall for her and he's 'gonna give it a shot."
Sims continued, "We'll see what happens. Will he go with her? Will he try to get her to stay?...You don't know."
It looks like we'll have to wait and see what happens in the last few episodes of the series. With New Amsterdam wrapping up for good on January 17, Sims has some thoughts on how he wishes Reynolds' story will end.
"I hope that he finds happiness," he says. "I hope that he gets the family that he wants. I hope he can be very present in his daughter's life. And I hope for New Amsterdam, story-wise, we'll see that the legend will continue of the mantra of, 'How can I help?'"
New Amsterdam returns to finish out its final season on Tuesday, January 3 at 10/9c on NBC. You can watch every episode now on Peacock.