NBC Insider Exclusive
Create a free profile to get unlimited access to exclusive show news, updates, and more!
Sign Up For Free to View
This Is the Mysterious Heart Condition Reynolds Has on New Amsterdam
What Is Wolff-Parkinson-White Syndrome?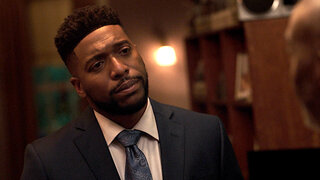 During the October 11th episode of New Amsterdam, Reynolds (Jocko Sims) took a page out of his father's book and was faced with a surprising diagnosis.
In Season 5, Episode 4's "Heal Thyself," Max (Ryan Eggold) awarded his staff to a day off that was dedicated to self-care. But while he saw it as a gift for the doctors to focus on themselves, many viewed this move as a punishment. For Reynolds, a routine check-up resulted in a surprise surgery after being diagnosed with Wolff-Parkinson-White Syndrome. In the final moments of the episode we saw Reynolds on his way to recovery (and flirting with a new nurse) after a successful surgery.
But the revelation has us fans wondering one thing: What even is Wolff-Parkinson-White syndrome? We found the answer, below
What is Wolff-Parkinson-White Syndrome?
According to the Mayo Clinic, Wolff-Parkinson-White (WPW) Syndrome is a heart condition that those affected are born with. The nonprofit describes the syndrome as "an extra signaling pathway between the heart's upper and lower chambers [that] causes a fast heartbeat (tachycardia)."
They continue, "The episodes of fast heartbeats seen in WPW Syndrome usually aren't life-threatening, but serious heart problems can occur."
But while the Mayo Clinic describes the condition as "fairly rare," the NHS describes it as "a relatively common heart condition" and Medline Plus describes it as "one of the most common causes of fast heart rate problems in infants and children."
WPW, also known as preexcitation syndrome, can be treated with a catheter ablation—as we saw with Reynolds—which is also referred to as a cardiac ablation. If diagnosed, your cardiologist may also prescribe certain medications or suggest specific actions to take, according to the Mayo Clinic.
For more information, consult a trusted medical professional.
Watch New Amsterdam on NBC Tuesdays at 10/9c and next day on Peacock.