NBC Insider Exclusive
Create a free profile to get unlimited access to exclusive show news, updates, and more!
Sign Up For Free to View
After Bloom's Surprise Confession, Will She and Reynolds Get Back Together?
What's next for their relationship?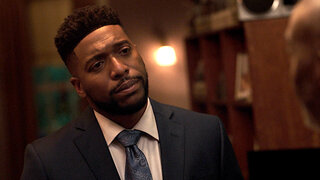 In New Amsterdam Season 5, Episode 7, the doctors were hit with a shocking new development. In keeping with the Supreme Court's landmark June 2022 decision to overturn Roe vs. Wade, the doctors faced a reality where obtaining an abortion was no longer a constitutional right.
They each dealt with it in their own ways. Max (Ryan Eggold)—of course—tried to find a solution, Iggy (Tyler Labine) got caught in the crosshairs of a protest, and Wilder (Sandra Mae Frank) was tasked with treating a patient who was staunchly pro-life. But when it came to Reynolds (Jocko Sims) and Bloom (Janet Montgomery), the news only unveiled long-held secrets. The biggest one? Bloom nearly fell in love with him.
What happened between Bloom and Reynolds in Season 5, Episode 7?
While giving a tour of the hospital to visiting high schoolers, Bloom told Reynolds that she'd had an abortion five years earlier—unintentionally revealing that it was while they were together. Longtime New Amsterdam fans know  the now-besties had a fling in Season 1. But while Bloom was ready to get serious, Reynolds had no intentions of taking their relationship any further. He was looking for a serious relationship, and specifically, to start a family with a Black woman.
Fast-forward to current day, and Reynolds is clearly shocked when he learns about Bloom's abortion. Throughout the episode, he pushes to know why she did what she did, and why she didn't tell him. This obviously rubs Bloom the wrong way.
"I should have told you because we're friends? Because it would have made a difference? No, I don't buy that for one second," she said. "This is really about you having a say in what I do with my life. It's what happens every time. Every time men, good men, have a conversation about abortion. It's all women's rights and we're your ally right up until the point the abortion affects them, and that is what's happening here, Floyd."
What does Bloom reveal about her and Reynolds' relationship?
When asked about the Roe vs. Wade decision by a student, Bloom finally gets vulnerable. She tells the group, with Reynolds looking on, that she's had two abortions. The first was in college after her drink was drugged and she was sexually assaulted.
However, when it comes to opening up about the abortion she had while with Reynolds, she drops some major news that has the potential to forever change their relationship.
"I was falling in love with someone who would have made an amazing father, but he told me that I didn't fit into his future," she said. "Those were both very difficult times for me, but deciding whether or not to have an abortion, that was clear. And I was able to do the right, responsible thing, and I was able to get it done safely and quickly. But you know what? The circumstances shouldn't even matter. You should be able to get an abortion simply because you are pregnant and you don't wanna be."
Will Bloom and Reynolds get back together?
So, will Bloom's revelation reignite old feelings—or was it simply a chance for her to express some things to Reynolds? According to executive producer Aaron Ginsburg, the two are likely to remain friends and nothing more.
"We talked about what we wanted their final season journeys to be, and it wasn't at the top of the list at the end of the day," Ginsburg told TV Line about a possible romance. "We wanted to dive more into what it means to be a family this season for all the characters."
Watch New Amsterdam on NBC Tuesdays at 10/9c and next day on Peacock.