NBC Insider Exclusive
Create a free profile to get unlimited access to exclusive show news, updates, and more!
Sign Up For Free to View
Jocko Sims Decodes New Amsterdam's Latest Surprise Ending
Reynolds' father had an unexpected reaction to his tentative diagnosis.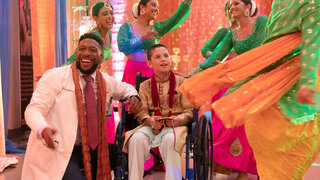 As we saw in Season 5, Episode 2 of New Amsterdam, Floyd Reynolds (Jocko Sims) is in for a bumpy ride with the revelation that his father, Horace, may have bipolar disorder. Now, with Season 5, Episode 3 (titled "Big Day"), we saw the doctor drop this news to his dad. But his reaction wasn't what anyone may have expected.
When Reynolds told his father that his tense relationship over the years with estranged family and friends may be due to his mental health, Horace was joyful that he now had something to explain for his past actions. He even refused to go to New Amsterdam to be officially diagnosed by a psychologist. 
"It's not my fault? Everybody's been making me out to be the bad guy, but I'm just a sick man?" he said. "I do think your mama owes me an apology, your sisters, too. I'm not any of those names they've been calling me for years. I couldn't control none of it. I'm sick. I got a condition. I gotta make some calls!"
NBC Insider spoke with Sims to decode what some would call an unusual response to such a life-changing revelation.
"He saw it as an opportunity in that moment to make excuses for his past," Sims says. "He saw it as an opportunity to forgive himself.  And I love these moments like that because it gives me, as an actor, an opportunity to watch and react to things that are unfolding and happening in front of them."
Sims also sees the storyline as a way to join the global conversation on being attentive when it comes to mental health.
"I think that the timing couldn't be any better than to do this now and to take it seriously," he says. "I know for a fact that this is going to get people to start thinking about mental health, as I think there's been a big movement and a lot of campaigns... just the fact that we have our audience that we've tapped into. We've infiltrated their hearts and minds and then we can just say, 'Whoop, here's a character you care about. Here's someone he cares about and here's what they potentially are dealing with. On their own.' And the fact that they'll be able to think about that and apply that to their lives, or learn something, is just so great."
Watch New Amsterdam on NBC Tuesdays at 10/9c and next day on Peacock.