NBC Insider Exclusive
Create a free profile to get unlimited access to exclusive show news, updates, and more!
Sign Up For Free to View
Does Reynolds Have a New Love Interest on New Amsterdam?
Nurse Gabrielle, we're looking at you!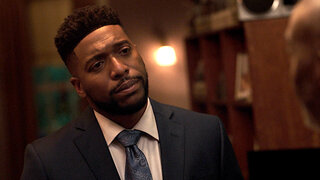 New Amsterdam is no stranger to romance, and it looks like yet another love story is blooming.
After a whirlwind Season 4, which resulted in an awkward love triangle and a baby, Reynolds (Jocko Sims) is finally back on the market. In Season 5, Episode 5's "Grabby Hands," the surgeon gets closer to the hospital's new traveling nurse. But what do we need to know about her? Here's everything we've learned so far: 
Who is Nurse Gabrielle on New Amsterdam?
We first met Gabrielle during Season 5, Episode 4. While Reynolds was about to undergo surgery for his Wolff-Parkinson-White Syndrome, he interrupted the procedure and suggested to Dr. Flores that he takeover and do it instead. That's when Gabrielle stepped in and set Reynolds straight for bulldozing the operation.
Afterwards, when she's checking his vitals after a successful surgery, she continues to show that she's not afraid to speak her mind.
"Dr. Reynolds, I have worked on four continents in six countries and 27 different cities, and I can say without a doubt that you are the worst patient I've ever encountered," Gabrielle tells him.
The encounter is brief, but there is clearly chemistry. We see her again in Season 5, Episode 5 when Reynolds nearly agrees to go on a date with her after work. But after realizing she's a travel nurse, and will only be working at New Amsterdam for two months, he has second thoughts. At the end of the episode, he almost turns her down again and explains himself.
"I'm just one of those doctors who's pushing 40, and I'm nowhere near where I thought I'd be outside this hospital," he says. "I'm looking for something more permanent and have been for a long time."
But Gabrielle doesn't take no for an answer.
"How's that going for you?" she asks about his dating history. "Maybe you've just been going about it all wrong. All I'm ;gonna say is, it's surprising how much fun you can have in eight weeks.
In the end, the two walk out the hospital hand-in-hand for drinks. There is definitely a new romance on New Amsterdam.
Who plays Gabrielle on New Amsterdam?
The travel nurse is played by actress Toya Turner. You may recognize her from Netflix's fantasy series Warrior Nun, in which she plays Shotgun Mary. She's also made small appearances in the One Chicago universe as a woman named Jayna Miles in Chicago Med's Season 2 premiere and as Peaches the Prostitute in Season 2, Episode 13 of Chicago Fire.
You can keep up with Turner on her Instagram @iamtoyat.
Watch New Amsterdam on NBC Tuesdays at 10/9c and next day on Peacock.