NBC Insider Exclusive
Create a free profile to get unlimited access to exclusive show news, updates, and more!
Sign Up For Free to View
Helen's Return Shocks Max in New Amsterdam's Midseason Finale
Things just got a little more complicated...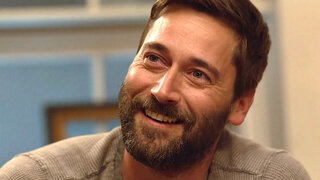 After a drama-filled two-hour midseason finale, New Amsterdam has left some of our favorite characters in puzzling limbo. Reynolds may or may not be ready for true love, Iggy's heart was broken, Bloom made a decision about her sister, and Max and Wilder finally got together. But their happiness lasted all of one second before the surprise appearance of an ex made things a little bit complicated. 
Below, find everything that happened in Season 5, Episode 10's "Don't Do This For Me."
Helen throws a wrench in Max and Wilder's romance.
Following episode after episode of their "will they, won't they" friendship, Wilder finally agreed to start dating Max (but not before turning down a job running the country's first Deaf medical school). Realizing that Max truly sees and hears her helped Wilder overcome concern that he'd never understand her because he's not yet fluent in ASL.
But before they could ride off into the sunset, Max is stopped in his tracks in New Amsterdam's waiting room when he sees Helen on TV. Yes, that Helen. It turns out she's in NYC in support of cancer research for the NHS.
It's been months since their heartbreaking split, and the two haven't exactly kept in touch. What will this mean for his very new romance with Wilder? We'll have to wait and see.
Reynolds and his dad reach an understanding.
While pursuing a relationship with his father, Reynolds took on a lot more than he bargained for. Not only was it revealed that his dad, Horace, may be bipolar, but he eventually suffered from a psychotic break. Reynolds had him committed to New Amsterdam on psychiatric hold and took him in once he was released. All this was happening as Reynolds started a relationship with the hospital's new traveling nurse, Gabrielle. By the midseason finale, finding time for romance while also helping with his dad's mental health was becoming a hassle.
Horrace caught on to this fact and gracefully took himself out of the equation, moving out and giving Reynolds some space and a little fatherly advice: "Go for the girl."
Bloom and Vanessa's relationship hit another low point.
Throughout the season, Bloom has struggled to maintain a relationship with her younger sister, Vanessa, who's still battling with addiction while Bloom is sober. And then there's the added baggage of their absent mother—also an addict—who died and ended up leaving her entire estate to Vanessa. In "Don't Do This For Me," everything comes to a head when Bloom's sister arrives at New Amsterdam after a near-fatal overdose. While there, Vanessa confessed that their mom wrote a letter in which she apologized to Bloom. She told Vanessa to pass it on to her sister, but she never did.
Along with the advice of Reynolds, Bloom concludes that in order to help her sister, she needs to put distance between them. Reynolds then passes on a message to Vanessa that she can find her at a Narcotics Anonymous meeting when she's ready.
Iggy suffers heartbreak.
Ever since Iggy and Martin decided to separate in the Season 4 Finale, they've been amicably co-parenting. Iggy even dipped his toe in the dating pool—but through it all, he's clearly still had feelings for Martin. Fast-forward, and Season 5's midseason finale begins with the two waking up together after hooking up the night before. All seems blissful and like they may even get back together. But by the end of the episode, Martin says he believes that after their time apart, they are too different to make their marriage work. "I think it's time to finalize the divorce," Martin says to a clearly-devastated Iggy.
Unfortunately, we'll have to wait a few weeks to see what's next for our favorite doctors. New Amsterdam returns to finish out its final season on Tuesday, January 3 at 10/9c. You can watch every episode now on Peacock.