NBC Insider Exclusive
Create a free profile to get unlimited access to exclusive show news, updates, and more!
Sign Up For Free to View
Sandra Mae Franks Explains Why Wilder Turned Down a Date With Max
"It's really complicated for Wilder," says the actress of her character's relationship with her fellow doctor.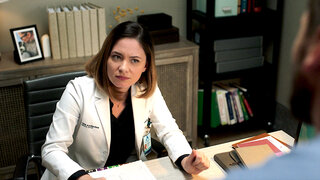 After a New Amsterdam season full of episodes that feature an obvious romantic connection between Max (Ryan Eggold) and Wilder (Sandra Mae Frank), their budding relationship reached a milestone at the end of Season 5, Episode 8.
That's right, Max finally asked Wilder out on a date. And this is a pretty big deal for him considering the devastating and surprising breakup with Sharpe last season. But in a confusing turn of events, Wilder seemed put off by his question and responded with a quick and direct "No." So did Max read the signals all wrong, or is there more to the story. Frank let us in on what Wilder may be thinking in an exclusive interview, below.
Why did Wilder say "no" to a date with Max?
Sandra Mae Frank: As all will be revealed in Episode 9. It's really complicated for Wilder. Let's put it this way: Imagine being close to someone that you care deeply for and suddenly, they're interested in dating. That'd change everything. That's how Wilder felt. Besides, she has her own reasons for not moving forward. 
Does Wilder not have feelings for Max or is there something else holding her back?
All I'll say is this: They work well together as they share the same drive to move mountains for their patients at any cost, defy the obstacles, and through all of that, they've become very close. Especially with Max learning ASL. But there's still a lot holding her back as it would complicate things between them. She truly admires Max on many levels, but to go deeper than that, it's like, why complicate things when they're good? 
What's it been like to work with Ryan Eggold this season? He told us you've been helping him with ASL and teaching him about the Deaf community.
It's been incredibly fun working with Ryan. Never a dull moment. He's brilliant, funny, really down to earth, and always open to learning ASL. I've shared with him the importance of learning the language while working with me and the more he knows the language, the more we can play off each other and we do that. He's been incredible, especially working with our DASL, Jackie Roth, whose job is to translate English script to ASL.
Do you think Max is ready for a relationship, or even dating, considering his breakup with Sharpe?
I believe that we all experience several great love stories in our lives, and there's no denying that Sharpe was Max's epic love. But sometimes great love stories come to an end, as it's a part of life and something we carry and learn from the previous love for the next one—perhaps learn more about ourselves. Only Max can determine when he's ready to date again. It takes time, just like in real life. 
Watch new episodes of New Amsterdam on NBC Tuesdays at 10/9c and stream them the next day on Peacock.