NBC Insider Exclusive
Create a free profile to get unlimited access to exclusive show news, updates, and more!
Sign Up For Free to View
New Amsterdam's 10 Most Nail-Biting Episodes of All Time
The medical series brought us plenty of drama for five seasons. But which moments stand out the most?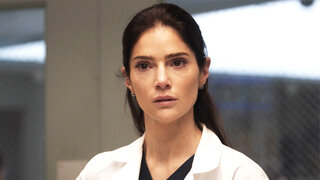 For five seasons, New Amsterdam brought us some of the most intense storylines that we'll never forget. From hospital power outages to amputations, life-threatening surgeries, unexpected diagnoses, and unpredictable patients, it's difficult to pick the ones that stand out the most.
Now, the Dam Fam may have differing opinions on the show's most nail-biting moments, but we believe the episodes, below, give all the others a run for their money. Read on. 
Season 1, Episode 10 ("Six or Seven Minutes")
During what's perhaps his lowest point while battling cancer, Max (Ryan Eggold) collapsed and was rushed to the hospital. With his arrival at New Amsterdam, the rest of the doctors were told about his disease. The medical director fights for his life, and, thankfully, Reynolds (Jocko Sims) and Helen (Freema Agyeman) figure out how to save him in an extremely close call.
Season 1, Episode 17 ("Sanctuary")
"Sanctuary" served as Part 2 to a two-episode arc in which New Amsterdam's power went out due to a devastating blizzard. Max desperately tried to do whatever he could to help patients, despite the less-than-ideal conditions and going through chemo. Sharpe also has a heart-to-heart with Max and steps down as his oncologist, sighting their close relationship. It also laid the groundwork for the Sharpwin romance that officially began in Season 3.
Season 1, Episode 22 ("Luna")
This happened on the heels of a heart-pumping episode that featured Georgia's dangerous at-home birth to Luna! Fans had minimal time to recover when Georgia, Luna, Bloom (Janet Mongtomery), Max, and Helen were in an ambulance crash on the way to the hospital. The finale ended on an excruciating cliffhanger that hinted at a character's death. We all know now that it was Georgia who died due to her accident injuries.
Season 2, Episode 10 ("Code Silver")
The hospital is thrust into lockdown when patients from Rikers jail escape their beds. The doctors then must balance taking care of their patients in a high-stakes and intense environment, with Bloom even forced to perform an appendectomy—despite being impaired after her own surgery—and Iggy (Tyler Labine) having a breakdown during therapy.
Season 3, Episode 1 ("The New Normal")
The premiere of the third season tackled the onslaught of the COVID-19 pandemic and its drastic effects on the medical community and its frontline workers. The beloved Dr. Vijay Kapoor even contracted the virus. 
Season 3, Episode 12 ("Things Fall Apart)
Max risked his life once again when he put himself in the path of a chemical spill in order to save the hospital. He became drenched in the dangerous liquid, with Helen later bathing him in the decontamination shower. Max overcame the poisoning, and he and Helen nearly shared a kiss. But sadly, fans had to wait just a little bit longer until they made things official.
Season 4, Episode 17 ("Unfinished Business")
After Helen and a handful of other doctors were drugged by an angry bartender, she's rushed to the hospital where it's revealed she's suffering from multiple life-threatening blood clots. Amongst a series of other surgeries, it's suggested she have a hysterectomy. Instead, she chooses another riskier treatment, which seems to work—at first. Helen is soon rushed off to emergency surgery and suffers from a massive stroke.
Season 4, Episode 22 ("I'll Be Your Shelter")
A Category 4 hurricane hits New Amsterdam, sending the doctors into a tailspin. Iggy saves patients from a carbon monoxide leak and electrocution, while Max powers through the storm under the assumption Helen is on her way back from the U.K. so that they could get married. But in a devastating finale, she leaves him at the alter with only a voicemail as a way of explanation.
Season 5, Episode 11 ("Falling")
Months after bailing on their wedding, Max hears from Helen for the first time when she texts him that she's in town and wants to talk. To distract himself, he forces the team on a hiking retreat that nearly ends in tragedy. Their guide falls from a mountain and the group is stranded with no cell service. They are saved in the end, which forces Max to face Helen. In the end, instead of facing her, he chooses to finally begin a romance with Wilder (Sandra Mae Frank) instead.
Season 5, Episode 13 ("How Can I Help?")
In the series finale of New Amsterdam we learn that Max is leaving New Amsterdam for his new job in Geneva and he's passing the torch to Wilder. But we also curiously meet another new medical director who happens to be...Luna in the future. Yes, the show ends with a fast-forward to Luna taking her dad's place years later as medical director. A perfect way to end the medical drama? We think so.
You can watch every episode of New Amsterdam now on Peacock.