NBC Insider Exclusive
Create a free profile to get unlimited access to exclusive show news, updates, and more!
Sign Up For Free to View
This Is Why Helen Wasn't in New Amsterdam's Series Finale
The medical drama's showrunner explains why Freema Agyeman didn't make a cameo in the final episode.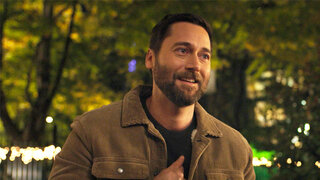 New Amsterdam sadly ended after five seasons in January 2023. We officially said goodbye to medical director Max Goodwin (Ryan Eggold) and made room for a new generation of doctors that (spoiler alert) are led by his daughter, Luna.
But during the finale, the Dam Fam couldn't help but miss Freema Agyeman (Helen), who departed the show following its fourth season in 2022. Her character, Helen, left Max at the altar at a heartbreaking rooftop wedding. All she provided as an explanation was an emotional letter, and Max spent the final season getting over his former fiancé and eventually fell for Wilder (Sandra Mae Frank) in the process.
Helen made a brief return to New York in Season 5, Episode 11's "Falling," when she texted Max that she wanted to meet with him to finally talk after their breakup. But he chose Wilder instead.
RELATED: New Amsterdam's Freema Agyeman & Ryan Eggold Reunited — and Got Tattoos Together
Why wasn't Helen in New Amsterdam's series finale?
Showrunner and executive producer David Schulner told TVLine that they did attempt to have Agyeman come back for the series' final episode, but there were scheduling conflicts.
"[Freema] was totally up for returning for the season finale," he said. "It's our one regret that her and Anupam Kher [Dr. Kapoor]—his character died, obviously, on the show—but we would have loved to honor those characters and actors as well in the finale, but we just couldn't make it work."
He continued, "We really did try with Freema, too, just to see if we could get her, and it just didn't time out right."
RELATED: Did Max and Wilder Break-Up In That Finale? The Show Creator Weighs In
However, with Max leaving New Amsterdam for Geneva and that surprising twist that sent us into the future, Schulner believes the series still ended on the right note.
"It all worked out the way it was supposed to work out, because the story we had for Freema in the finale wasn't as good as what we ended up with," he said. "So, on the plus side, we would've had Freema in the finale, but the downside is it wasn't as satisfying."