NBC Insider Exclusive
Create a free profile to get unlimited access to exclusive show news, updates, and more!
Sign Up For Free to View
Let's Recap That Emotional New Amsterdam Series Finale
Max asks, "How can I help?" one last time.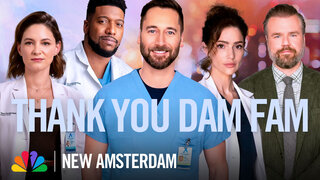 After five years, the time has finally come to say goodbye to New Amsterdam. The long-running NBC medical drama is airing its final episodes in a two-hour event on Tuesday, January 17 at 9/8c. And you can catch a full recap of the series finale, below, on NBC Insider.
For five seasons, the show has starred Ryan Eggold (Max), Jocko Sims (Reynolds), Tyler Labine (Iggy), and Janet Montgomery (Bloom) as they fight for their patients—and themselves—all in pursuit of answering Max's favorite question: "How can I help?" The Dam Fam will see their beloved doctors address that very thing for the last time across two emotional episodes. First: Season 5, Episode 12's "Falling" and then with the series closer "How Can I Help?" (Season 5, Episode 13). 
"Everyone has always been there to support each other and keep each other going and keep this show and this family together. And that is very moving to me and to say I'm gonna miss everybody is an understatement," Eggold told NBC Insider about the show coming to an end. "I can't imagine what's gonna happen on the last day. I'm gonna just fall apart. We'll put me on a gurney, wheel me out, give me a big bottle of tequila, and call it a day."
If you're looking for spoilers, check right back here at the end of each episode for a complete recap of the biggest moments from New Amsterdam's series finale. And make sure you bring a tissue—or two.
Recap of Season 5, Episode 13: "How Can I Help?" 
Max leaves New Amsterdam. 
In a speech to the entire hospital, Max recalls the first moment he heard the words, "How can I help?," which inspired him to be a doctor. He encourages staff to remember the instance that inspired them to get into the medical field as well, before revealing that it's his last day as New Amsterdam's medical director.  
He's moving to Geneva, Switzerland to work for the World Health Organization (WHO) as the head of Global Health Policy. But before he leaves NYC for good, Max is determined to take Luna to the annual Manhattan Mermaid Parade. His day off is quickly thwarted when he's called in to help a patient with an incredibly rare and potentially fatal disease. He soon leads a team of 53 doctors — including Dr. Cassian Shin (Daniel Dae Kim)— in an incredibly risky procedure that saves her life. 
There's a new medical director. 
We're introduced to an enthusiastic young woman who, fresh off a run, arrives at New Amsterdam and introduces herself as the hospital's new medical director. Throughout the episode we see her eagerly attempt to get acclimated to her new position despite the lukewarm reception from staff. 
Bloom reunites with her sister. 
The last time we saw Bloom's estranged sister, Vanessa, she barely recovered from a near-fatal drug overdose. A distraught Bloom decided that it was time to put distance between herself and Vanessa, passing a message to her though Reynolds that the next time she'd be willing to see her would be at an NA meeting. 
Fast-forward to "How Can I Help?," and Vanessa finally shows up at a meeting just as Bloom had hoped. The two hold hands, and it looks like they're finally on the road to repair their relationship. 
Reynolds has the family he's always wanted. 
Since Season 1, all Reynolds has wanted was to find love and have a complete happy family. And it looks like he finally got it as we see him sitting down to a joyous dinner with his loved ones that not only include Gabrielle, but his father, Horace, who grappled with his bipolar diagnosis earlier this season. 
Iggy and Martin get back together. 
Despite getting divorced earlier this season, Iggy and Martin get married once again in a small ceremony officiated by Gladys and only attended by their children. 
"We thought it would be great to show that just because you wanted something to end doesn't mean it's always gonna be over," show creator David Schulner tells NBC Insider. "And that's what that storyline gave us." 
Executive producer Peter Horton added, "There's something so human about it, too. 'Cause divorce is so painful and so hard. And there is just something so heroic about Iggy being willing to go through all of that, sign the papers and then come back and say, 'I want to charge this windmill again.'" 
Max passes the reigns to Wilder, and they go their separate ways—or do they? 
Before leaving for Geneva, Max gives New Amsterdam's keys to Wilder, signaling that she's the hospital's new medical director. He then indirectly confesses his true feelings for her. 
"It's time to make [Luna] the center of my life," he tells her. "Even if that means leaving behind all of the things I love." 
She then acknowledges his words with a knowing smile and says, "You'll be back. You can't leave this place for good." 
His response, "If I come back, it won't be for this hospital." 
"And what makes you think I'll be waiting for you?" she jokes back. 
Max and Wilder shippers may be frustrated by the ambiguous ending of their relationship. Are they over for good, or do they find one another again? Schulner isn't spilling just yet. 
"We had filmed something that clearly told you what was happening between them," he tells us. "But we give everyone else such a clear ending. It's always better to leave a door open." 
Luna has a surprising role in the New Amsterdam series finale. 
As it turns out, the new peppy medical director we meet at the beginning of the episode is actually... Luna. Yes, those scenes were fast-forwards into the future as Luna takes over the job that her father held years earlier. 
Just like Max, she gives a speech to staff about her background and why she became a doctor. As it turns out, she discovered her "How can I help?" moment on the very day Max was unable to take her to the annual Manhattan Mermaid Parade. 
"Over the course of the day I saw how hard he worked to save one life," she recalls. "And how hard everybody worked, together. And that's when I realized that New Amsterdam didn't take my father away from me. This hospital gave me my father. Showed me who he was, who I could be. And that's the day I realized I wanted to be just like him. It's the day I realized I wanted to be a doctor. So I wanted to start by asking all of you the same thing my father asked his staff every hour of every single day: How can I help?" 
Recap of Season 5, Episode 12: "Right Place" 
Max and Wilder are very much together. 
From the beginning of the episode, you can see that Max has let go of Helen and embraced his budding romance with Wilder, as the two are seen making out all over New Amsterdam. There is definitely a new couple in town. 
And by the end of the episode, after an ordeal with a potentially cancer-curing drug, the couple realize that both of their passions for being doctors makes them "perfect for each other" and they have "something real."  
Iggy makes things work with Martin. 
In an effort to start fresh with his now ex-husband, Iggy approaches their renewed courtship as if the two are strangers and know nothing about each other. Hesitant at first, Martin says he "can't keep playing make believe," but he soon understands the method to Iggy's madness, and the two have a second first date. 
Bloom finds a new apartment. 
She started out the episode in hopes of snagging the perfect NYC apartment ("a two-bedroom, two bath, with a view of the Hudson. With a pool and a vegetable garden"). But while on the way to her potential dream home—via ambulance—Bloom and Casey are sidetracked by an inconvenient medical emergency. 
In the end, Bloom doesn't get that Hudson River apartment. But she does happen upon a shabby loft that Casey calls "black hole chic." It needs a lot of work, but Bloom loves it and is determined to renovate it all by herself. 
Reynolds gets honest with Gabrielle. 
It's nearing the time for traveling nurse Gabrielle to leave her post at New Amsterdam for a new position all the way in Tanzania. She and Reynolds clearly have something special, but that doesn't stop her from asking him for a job recommendation.  
An intense case that involves returning and reversing a transplant is a temporary distraction. But by the end of the episode, Reynolds can't help but reveal his true feelings. 
"I leave for Tanzania tomorrow," Gabrielle said. "The recruiter, he said he had never heard a recommendation like you gave me. He said he had to make up an emergency just to get you off the phone. He said that you went on and on so much. Sounded like you were in-love with me." 
Reynolds' response? "I think I am." 
Max helps find a cure for cancer—almost. 
As a cancer survivor himself, Max is overjoyed to announce that New Amsterdam's partnership with Ithaca Pharmaceuticals has led to a revolutionary cure of bulky large cell lymphoma. But just on the heels of his celebration, Wilder breaks it to him that the groundbreaking clinical trial is "a sham." It turns out 89% of the study participants were white, with the cure not being tested on a diverse pool. 
A devastated Max and Wilder try to get to the bottom of the error and eventually discover that Sharpe approved the skewed study during her time as New Amsterdam's head of oncology. Wilder figures out that Sharpe signed off on the drug in hopes it would save Max's life when he was fighting cancer. 
"She did it to save your life," Wilder said. "The research was new. It would not have been a stretch to believe that 'lymphadrill' could cure you, too. She chose the fastest way to make that happen because she loved you." 
Wilder and Max both agree they wouldn't  do the same for each other because it's "unethical." However, they are clearly moved by Sharpe's efforts. In the end, they expand the trial on "lymphadrill" to test more demographics. 
The series finale of New Amsterdam is airing Tuesday, January 17 at 9/8c on NBC. You can watch every episode of New Amsterdam now on Peacock.