NBC Insider Exclusive
Create a free profile to get unlimited access to exclusive show news, updates, and more!
Sign Up For Free to View
This Is When New Amsterdam's Emotional Series Finale Is Airing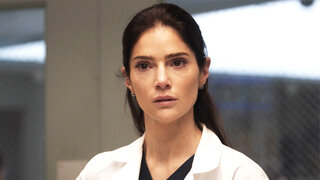 New Amsterdam fans. Dam Fam. It's about that time.
Yes, after five emotional seasons and nearly five dramatic years, New Amsterdam is coming to an end this January 2023.
Many of you know this news was announced in March 2022. "The story of Max Goodwin and his never-ending commitment to patients at New Amsterdam, has been inspiring," Lisa Katz, president of scripted programming for NBCUniversal Television and Streaming, told Deadline in a statement at the time. "We're so grateful to [creator/executive producer] David Schulner, [director/executive producer] Peter Horton, and our cast and crew for their incredible dedication, talent, and collaboration."
Erin Underhill, president of Universal Television, added, "When I first read the pilot script for New Amsterdam, I knew we had a winner. We cheered Max's disruption of the status quo and applauded when he asked his patients the simple yet profound question, 'How can I help?' Over the last four seasons, David, Peter, and our incredible cast have tackled important and thought-provoking stories that have touched on the human condition, but also made us laugh and imbued hope. We're so proud of this series and are indebted to everyone involved in bringing New Amsterdam to life. Bravo!"
When is the New Amsterdam series finale?
After a one-week break due to the Golden Globes, New Amsterdam will air its two-episode series finale on Tuesday, January 17 at 9 p.m. ET on NBC. This means that a total of 92 new episodes of the medical drama will have aired since its first season in 2018.
What will happen in the series finale?
While production is keeping tight-lipped, Tyler Labine (Iggy) did spill to Cinema Blend on what fans can expect from the show's ending after he read the final script.
"The way that we're leaving the show is very typical to New Amsterdam [but] not very typical of most TV shows," he said. "It's not going to be spoon-fed, 'Here's the answer to everything.' It's more like a very nurturing and caring hug, as we gently nudge you out into the world. There's a lot of care and a lot of thought that's going into what happens for these people. The whole story can never be told. We can give you some pieces and say 'Here, take that,' and hopefully that will make you happy."
And thanks to the penultimate episode and the midseason finale, we do have a couple cliffhangers that have to be addressed: Max picked Wilder over Helen, Iggy asked Martin out on a date after they finalized their divorce, and Reynolds (Jocko Sims) is on his way to finding lasting love with Gabrielle. 
"Reynolds wants some love," Sims tells us. "He wants a real family that he can hang onto. So he's a bit hesitant because she's a traveling nurse. But I will tell you that he's 'gonna fall for her and he's 'gonna give it a shot."
You can watch every episode of New Amsterdam now on Peacock.