NBC Insider Exclusive
Create a free profile to get unlimited access to exclusive show news, updates, and more!
Sign Up For Free to View
New Amsterdam's Showrunner Explains That Surprising Last Episode Twist
The medical drama's series finale continued Max's story in a very special way.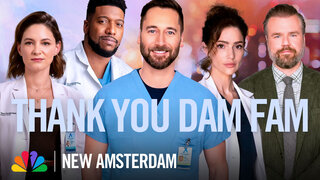 After five seasons, New Amsterdam has sadly come to an end.
Max Goodwin (Ryan Eggold) officially left his job as medical director to take on the impressive post as the head of Global Health Policy for the World Health Organization (WHO). That's right: He's leaving NYC, his friends, and Wilder behind for Geneva, Switzerland. But don't worry: All the other doctors had their happy endings, too.
But the Dam Fam will be pleased to know that New Amsterdam won't have to wait too long for another Goodwin to take it by storm. Read on for spoilers to find out the exciting twist that left us with a smile in New Amsterdam's last-ever episode.
How did New Amsterdam's last episode end?
Fans were first introduced to a young, enthusiastic—but unknown—new medical director at the beginning of the episode, "How Can I Help?" (Season 5, Episode 13). Throughout the hour, we're treated to glimpses of the young woman, played by actress Molly Griggs, but we never learn her name. That is until the end of the episode, when it's revealed that she's Max's daughter, Luna Goodwin, as an adult.
As it turns out, her scenes from the episode were a series of flash-forwards into the future. She's now returned to New Amsterdam to take on the exact job her father held years earlier.
"Over the course of the day I saw how hard he worked to save one life," Luna recalls in an auditorium speech, which is eerily reminiscent of Max. "And how hard everybody worked, together. And that's when I realized that New Amsterdam didn't take my father away from me. This hospital gave me my father. Showed me who he was, who I could be. And that's the day I realized I wanted to be just like him. It's the day I realized I wanted to be a doctor. So I wanted to start by asking all of you the same thing my father asked his staff every hour of every single day: How can I help?" 
Why did the New Amsterdam series finale end with the Luna twist?
Series creator David Schulner tells NBC Insider that the exciting twist idea first came to him from his daughter during a breakfast conversation.
"I was like, 'OK, 11-year-old daughter. Leave the writing to me,'" he jokes. " 'Eat your cereal.' And I totally blew it off. Then, a week later, Laura Valdivia, one of our writers, pitched me the same ending. And so I was like, 'Oh, OK, I'm 'gonna listen to you 'cause I pay you to come up with ideas.' And then a week later, [writer] Erika Green and I were sitting on set and she said, 'Call me crazy, but what if Luna came back as medical director in the finale?' So, just over three weeks something was in the air that was just pointing the arrow there."
Schulner continued, "We began the show with Max in that auditorium on his first day saying, 'I grew up in this hospital because my sister died here, and it made me want to be the medical director here when I grew up.' So to have Luna come on her first day and be able to say, 'My mother died here, I grew up here and seeing my father is what made me want to be a doctor.' It just felt like such strong storytelling to end where you began."
You can watch every episode of New Amsterdam now on Peacock.